Lifetimes in law
-
What happened to Nelson Mandela's law classmates?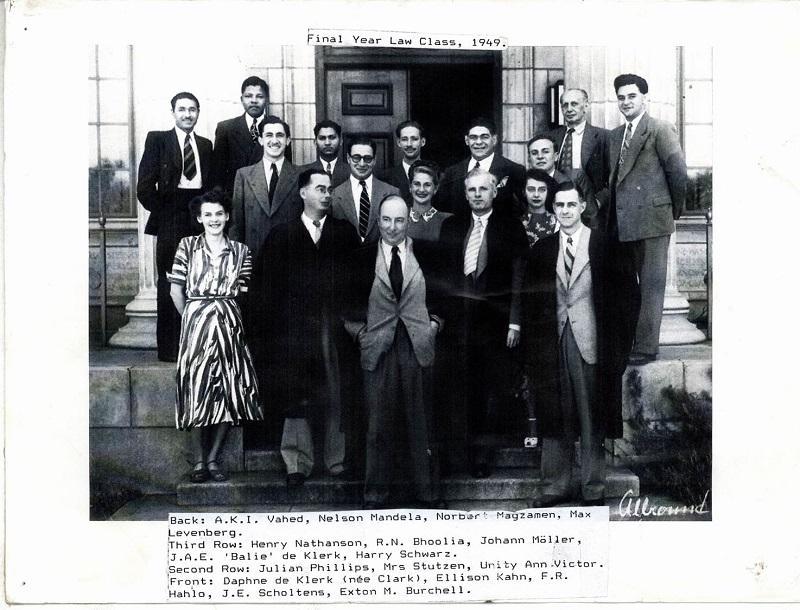 Nelson Mandela completed his BA degree and his LLB through the University of South Africa. He was the first black law student at Wits, studying part-time for his LLB from 1943 to 1949 while serving his articles with Sidelsky and Eidelman, but did not complete the degree at Wits. According to the Wits historian Bruce Murray, his request in December 1949 to write supplementary exams for three papers he had failed (when the rules allowed for only two) was turned down by the Law Faculty. He enrolled again in 1952 but could not pay his fees and was excluded. In 1974, in prison on Robben Island, he asked for permission to write his final exams through Wits. The enrolment application forms never reached him. In 1991 Wits awarded him an honorary LLD, saying: "With its doctorate in law, the University now honours a lawyer whose commitment to justice drew him out of his profession and into national leadership. … Mandela's life has been an inspiration, here and throughout the world, to all who are oppressed and deprived, and to all who care about oppression and deprivation. With this degree, the University records its own inspiration."
Abdul Kader Vahed (LLB 1951) was born in Ottawa on the KwaZulu Natal north coast in 1920 and grew up in Umzinto on the south coast. When his father moved to Durban, he went to night school and matriculated from Sastri College in 1939. He went to Johannesburg illegally as Indians were not allowed to move to the Transvaal. He worked as a tailor and studied part-time. He was a member of the Progressive Forum, a group of Trotskyite intellectuals affiliated to the Non-European Unity Movement. When he returned to KwaZulu Natal, the Law Society did not want to allow him to serve articles because he had been in the Transvaal illegally; however, he took the society to court and was successful. He served his articles with the Natal Indian Congress activist Debbie Singh and opened a law practice. He was subsequently joined by two other well-known political figures, Pat Poovalingam and DK Singh.
Vahed died in 1976, at the age of 56. He was married and had four children, one of whom, Rashid Vahed, is a judge in KwaZulu Natal.
Norbert Magzamen (LLB 1950) came to South Africa from his birthplace, Poland, after World War 2. He had already qualified in law at the University of Lwow and was reportedly a judge in Poland. After qualifying at Wits at the age of 50, he practised as an attorney in Johannesburg. He was found stabbed to death in his Parkview home in 1978. His wife, Carmela, had died in 1967.
Max Levenberg (BA 1947, LLB 1949, LLM 1985) became an attorney and practised law successfully in Johannesburg for more than 60 years. Through a process of amalgamations, he was the effective founder of the attorneys' firm Moss Morris and its senior partner for a number of years. In the late 1990s he left Moss Morris and joined Werksmans, where he was a partner for approximately 20 years until he reached the age of 82. He practised commercial law.
Max Levenberg's son, Peter Levenberg SC, says: "He often talked about the experience of being in Madiba's class. During those very turbulent times, Madiba was always calm, gracious and tactful. But one of the things that best typifies Madiba's statesmanship and penchant for reconciliation is his actions at the class reunion that took place in 1996, while he was the President of South Africa. He treated every one of his classmates as an honoured guest. He remembered all of their names and something personal about each one of them."
Peter Levenberg is a senior counsel at the Johannesburg Bar and has sat as an acting High Court judge on a number of occasions.
Henry Nathanson (BA 1947, LLB 1949) was born in 1927 and lives in Johannesburg. Having an older brother who was already a lawyer, he enrolled at Wits to study chemical engineering, but switched to law after a year. He was articled to Max Pinchuck at Wertheim & Becker, then started his own firm, Nathanson Bowman & Nathan. He practised as an attorney, notary and conveyancer for 50 years.
He remembers greeting Nelson Mandela when casting his vote in Killarney one year; Mandela said he remembered Nathanson but the latter says "I think he was just being pleasant". Nathanson attended and enjoyed the Wits law class reunion in 1996 and is seated directly behind Madiba in the official photo of that event.
He was married to Sheila (who died in 2002) and has a daughter, Anne Wilkinson. His two sons had cerebral palsy and died in 1980 and 1989 respectively. He was involved in raising funds for the Forest Town School for disabled children and for the Selwyn Segal Centre, and was a keen bowls player until recently.
Ramlal Bhoolia (BA 1945, LLB 1951) was one of struggle stalwart Nana Sita's seven children. When he failed one subject in his first year of law, by 1%, he did not want to go back to study. He told his father that there were enough children to educate in the family and that they did not have money for him to repeat, but his father encouraged him to return. He cycled daily from Hercules (in Pretoria) to the Pretoria station and then took a train to Johannesburg to attend night classes at Wits. In his third year he stayed with friends and relatives in Jeppe and Fordsburg, sleeping on the shop counters of tailor friends, until a family owning a café near the University offered him accommodation.
He was imprisoned for a month for taking part in the passive resistance campaign of 1946. He became a member of the Transvaal Indian Congress and practised law for over 40 years, until the age of 80, first in a building owned by the Chamber of Mines, then in an office near John Vorster Square.
He married Shanti, the daughter of another struggle veteran, Jasmat Nana. On his deathbed he asked to see Nelson Mandela, who was unable to visit him but wrote him a letter.
Johann Möller (BA 1957, LLB 1949) was born in the Keetmanshoop district of Namibia, matriculated from Hoërskool Upington and practised law in Upington from 1951 to 2007. He was involved in agriculture as well as law. He attended the Mandela class reunion in 1996 and died in 2012.
Jan Adriaan Enslin (Balie) de Klerk (BCom 1947, LLB 1951) and Daphne de Klerk (BCom 1947, LLB 1950) were married and practised in partnership as attorneys in Johannesburg under the name De Klerk & Le Roux. Their daughters, Tonnie (HD) Erasmus and Nakka (EA) de Klerk, are both practising attorneys at Couzyns Inc in Johannesburg.
Born Heinz Schwarz in Germany, Harry Schwarz (BA 1947, LLB 1949) came to South Africa with his parents in 1933. He attended Jeppe High School for Boys and served in the Air Force in World War 2. After the war he co-founded the Torch Commando in protest against the disenfranchisement of Coloured people in South Africa, and he chaired the Law Students Council at Wits. He served in the Johannesburg city council, Transvaal provincial council and parliament, represented James Kantor in the Rivonia Trial, and broke away from the United Party to set up the Reform Party. He visited Nelson Mandela in prison in 1989 and was South Africa's ambassador to Washington from 1991 to 1994, while US sanctions against South Africa were being lifted. He was known for his slogan "freedom is incomplete if it is exercised in poverty".
He was married to Annette and died in 2010 at the age of 85.
Julian Phillips (BCom 1947, LLB 1950) attended King Edward VII School, practised law in Johannesburg in the 1950s and later moved to Australia, where he lectured law at the University of Melbourne. In the 1960s he spoke out against South African sports tours to Australia. He chaired the state of Victoria's Equal Opportunities Advisory Council in the 1970s and was described as "an outspoken advocate for social justice and active in reforming various social issues including industrial law, the status of women, equal opportunity, sentencing, and homosexuality and its decriminalisation". Phillips died in 2006.
Mrs Stutzen: No information available
Unity Ann Victor graduated BA in 1947 and LLB in 1951. (No further information has come to light. If you have information, please contact alumni@wits.ac.za)
Professor Ellison Kahn (1921-2007) (BCom 1941, LLB 1944, honorary LLD 1990) was on the Wits staff from 1941 and served as Deputy Vice-Chancellor and Dean of the Commerce Faculty as well as teaching law and editing the South African Law Journal. He took academic silk in 1989 and retired that year. He wrote a useful article for Consultus (October 1989) about the history of the Wits Law Faculty.
Professor HR "Bobby" Hahlo (1905-1985) (LLB 1937, LLD 1963, LLD honoris causa 1973) came to South Africa from Germany in 1934. He became Dean of the Faculty of Law and head of the department in 1947 and kept these positions until he moved to Canada in 1968. He has been described as aloof, unsympathetic and domineering, but also hard-working. Advocate George Bizos wrote that Hahlo refused to allow black students to attend the Law Students Society dinner as it would have been illegal for them to be at the hotel venue. He then capitulated and black students could attend on condition they did not drink alcohol.
Dr JE Scholtens came from the Netherlands and taught Roman Dutch law at Wits from 1949 to 1970 (with a break from 1960 to 1966). Professor Kahn described him as a "consummate scholar" who created courses of excellent quality.
Exton Burchell (1917-1982) came from Cambridge to teach law at Wits in 1947. Professor Kahn wrote that he "was a superb lecturer, administrator and writer of legal works, and, above all, a fine gentleman. It was a sad day for Wits when he decided in 1954 to take up the chair at the University of Natal."
Sources include: Prof Goolam Vahed, UKZN History Department; Prof Bruce Murray, Journal of African History; Rand Daily Mail archives; Henry Nathanson (personal communication); Bhoolia family; Nakka de Klerk; Ellison Kahn in Consultus; Peter Levenberg
If you have more information, please contact us: alumni@wits.ac.za