The city's green veins
-
Two Witsies are doing what they can to preserve and share our natural environment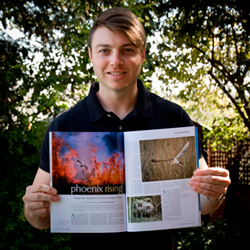 "My passion is to find new ways to conserve biodiversity in an urban setting where the pressures are highest," says Tyrone Mckendry (BSc Hons 2015). He is working on his MSc dissertation, "Identifying and Assessing an Ecological Corridor in Johannesburg", and is on the committee of the Greater Kyalami Conservancy, a rapidly developing area of Gauteng.
Tyrone is surveying and mapping important ecological features and Red Data species in the area. A keen wildlife photographer, birder and hiker, he heads the conservancy's African Grass-Owl research and conservation project, working with the Endangered Wildlife Trust to monitor and record nesting sites and individual birds.
"In a city like Johannesburg, open space and natural habitats are becoming more fragmented and degraded every single year," he says. "Roads, walls and fences cut up the landscape, creating barriers for wildlife, while constant construction projects continue to reduce open space and leave only fragments of the natural habitat that once existed. It is not hard to imagine why urbanisation is considered as the greatest threat to biodiversity globally."
Tyrone says parks and nature reserves are important but they tend to become isolated as the land around them is developed. "You are left with green islands that do not allow species to move into new areas in search of mates, food or shelter." The high value of urban land also creates a barrier to conservation.

"Ecological corridors [he also calls them "green veins"] make efficient use of the available land by utilising areas that are unsuitable for development, such as rivers and ridges, and creating connections between nature reserves and open spaces. Connectivity enhances genetic diversity and counters many of the negative effects associated with isolation."
Tyrone says "it is unrealistic to expect urbanisation to stop, but that does not mean all is lost. If sustainable development practices are implemented and effective long-term conservation plans, such as the ecological corridors, are established, there is hope for the biodiversity in Johannesburg."
For those lucky enough to get further than urban ecological corridors, one option might be a guided safari with conservationist and photographer Andrew Beck (BSc Hons 2007, MSc 2009). He did his Master's at Wits on electric fence induced deaths of animals, and now leads photographic safaris through his company, Wild Eye.