The art of grassland management
-
A controlled veld burn shows us what we need to protect
The artist Hannelie Coetzee presented her second Art/Science #FireGrazer performance at the NIROX Sculpture Park in the Cradle of Humankind in June. This entailed burning an image into the grassland – a process undertaken by the government-funded Working on Fire job-creation programme. This year's image, Locust & Grasshopper, overlaid the 2015 burnt image, Eland & Benko.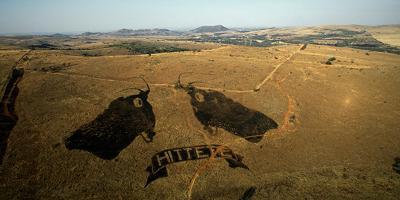 Coetzee has an Advanced Diploma in Fine Arts from Wits and worked in the Fine Arts Department in the 1990s. She worked with ecologist Professor Sally Archibald (BSc 1997, PhD 2010) and entomologist James Harrison (BSc 1994) on both #FireGrazer performances, using art as a tool to convey scientific ideas.
The images of insects emphasise the important role of these small creatures in savanna ecosystems. The word "hittete" comes from an Afrikaans idiom, "Dit was so hittete", meaning "it was touch and go", and refers to damage to the planet caused by humans.
In 2015-2016, research on the site tested whether small, managed fires created more productive grassland communities. Wits MSc student Felix Skhosana (BSc 2014, BSc Hons 2015) monitored antelope usage of the burnt veld. Now the research will go beyond grazing to look at the value of this habitat to bird, insect and wildflower species. The goal is to build consensus on appropriate land management, Archibald explains.