Central Block renamed in honour of Robert Sobukwe
-
PAC leader was a Wits alumnus and teacher
Central Block on Wits' East Campus was officially renamed Robert Sobukwe Block on 18 September 2017, in honour of the Pan Africanist Congress founder, who was also a Wits graduate and language teacher.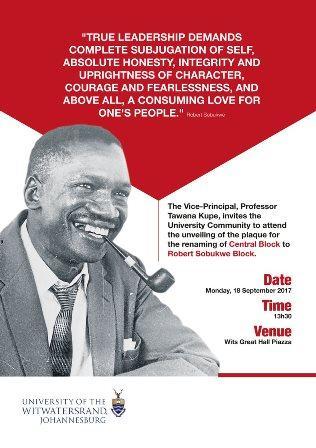 Wits Chancellor and retired Deputy Chief Justice Dikgang Moseneke, who was also a PAC prisoner on Robben Island, spoke at the unveiling of the plaque. He noted that this was the very building in which Sobukwe had edited "The Africanist" and had written the founding notes of the PAC.
Sobukwe's son Dini Sobukwe was also present at the renaming ceremony, and conveyed the thanks of his mother, Veronica Sobukwe, aged 90. Justice Moseneke described her as a "silent heroine". He also urged those present, especially members of the Pan Africanist Student Movement of Azania, to hold leaders accountable.
Sobukwe was a lecturer in African Studies at Wits from 1954 and graduated with a BA Honours degree in 1959.
Dini Sobukwe said the family had received a number of letters from his father's former students, saying he had helped them to see South Africa in a different way.
Bruce Murray wrote in his book Wits: The Open Years: "Known for his sharp intellect and delightful personality, Sobukwe was highly popular among his students. … As an academic, Sobukwe's guiding principle was to keep his teaching entirely separate from his political activity, and the University reciprocated by not interfering with the latter."
He was elected first president of the PAC in 1959. He resigned from Wits in 1960 when the movement launched its campaign against South Africa's pass laws. This was met by the Sharpeville massacre, when police killed 69 protest marchers.
Sobukwe was arrested and sentenced to three years in prison, which were continually extended so that he spent a further six years in detention on Robben Island. He was then placed under house arrest in Kimberley. He studied law and opened his own practice in 1975, but soon fell ill with lung cancer. He died on 27 February 1978.
Wits conferred a posthumous honorary Doctor of Laws degree on Robert Mangaliso Sobukwe in 2003.