Alumni networking event with Musa Kalenga
-
Inspiration for young people in business
Marketer, entrepreneur, author and Wits alumnus Musa Kalenga (BCom 2009) was the guest speaker at an alumni networking event on 31 October at the Wits Club.
He spoke about his book Ladders & Trampolines: Anecdotes and Observations From a Contemporary Young African Marketer, in discussion with broadcaster and entrepreneur Andile Masuku.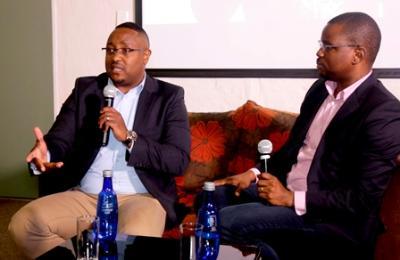 As the book's publishers explain, "The concept of a Ladder Mentality versus a Trampoline Mentality is a simple one. The step-by-step Ladder approach leads to incremental growth, which may be somewhat slow. However, the Trampoline approach, while using the same energy as climbing a ladder, produces exponential results."
Kalenga started his first business while studying at Wits and went on to become Group Head of Digital Marketing at Nedbank and Facebook Client Partner for Africa.