Wits tops global research rankings in Africa
-
An increase in Wits' research output has paid off with an improvement in the University's global ranking.
Wits University has moved into the top position in Africa in the latest Academic Ranking of World Universities (ARWU), also known as the Shanghai rankings.
Wits is now ranked 203 in the 201 to 300 category. ARWU has also ranked Wits in the Top 200 in the world in the field of Social Sciences.
"At Wits our research output has increased substantially in the last few years – noting, though, that this achievement is a culmination of work done over many years by our researchers. We are truly appreciative of this recognition, and we are particularly appreciative of our researchers, scientists, students and alumni to whom these accolades really belong," says Professor Zeblon Vilakazi, Deputy Vice-Chancellor: Research at Wits.
Vilakazi commended the Universities of Cape Town, Stellenbosch and KwaZulu-Natal, which have also been ranked among the top 500 universities in the world in the prestigious Shanghai rankings, saying it clearly demonstrates the strength of the South African higher education system.
"Our research output as a country is at one of its highest levels to date, and this bears testament to the high quality of research emanating from South Africa," he adds.
While rankings are one indicator of the quality of education at universities, it is not the only one. Wits is mindful that different ranking systems use different methodologies.
"For this reason and others, we believe that as a university we should not be driven by ranking systems. Rather, our focus should be on building a nationally responsive and globally competitive institution. This means concentrating on research and teaching, and embedding the institution in the work that is necessary to South Africa, the continent of Africa, and the rest of the globe," Vilakazi says.
The ARWU scores were released on 15 August by Shanghai Ranking Consultancy, an independent organisation which publishes global academic rankings for more than 1 200 universities.
The ranking is based on the number of Nobel Prizes and Fields Medals (a high honour for mathematicians), the number of highly cited researchers selected by Thomson Reuters, the number of articles published in the journals Nature and Science, and the number of articles in the Science Citation Index-Expanded and the Social Science Citation Index. The score also takes into account the number of academic staff at an institution.
Wits is also ranked highest among South African universities in 2016 by the Centre for World University Rankings. It was placed 79th in the world for quality of education.
A comparison of Wits and UCT in the ARWU table:
| | | |
| --- | --- | --- |
| | WITS | UCT |
| Alumni with awards | 18,5 | 18,5 |
| Academics with awards | 0 | 0 |
| Highly cited individuals | 14,5 | 10,3 |
| Nature and Science articles | 15,7 | 12,6 |
| Research output | 35,2 | 38,1 |
| Per capita performance | 21,3 | 21,4 |
| TOTAL | 17,06 | 16.19 |
Dr Mahomed Moolla, Head: Strategic Partnerships Office at Wits, explains that all scores are compared to the highest score attained. The highest score is given a value of 100 and all other institutions' scores are then adjusted accordingly.
Wits University has shown remarkable improvement over the past 13 years in the ARWU rankings, as this graph shows: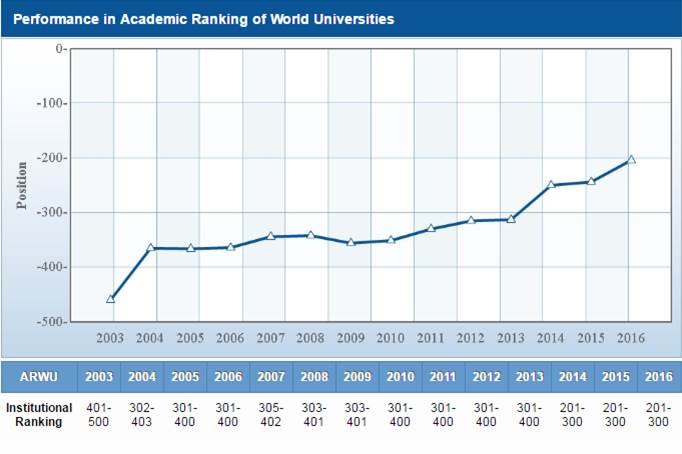 Source: ARWU