Wits-UoE research partnership 'heads to Space'
- Wits University
Researchers from Wits and the University of Edinburgh held a symposium to explore collaborative opportunities for Space Research projects.
Already nestled in a strong strategic partnership, both universities recognise that as Global South and Global North institutions, there are unique opportunities to utilise their complementary strengths to collaborate on future-thinking research projects such as Space Research.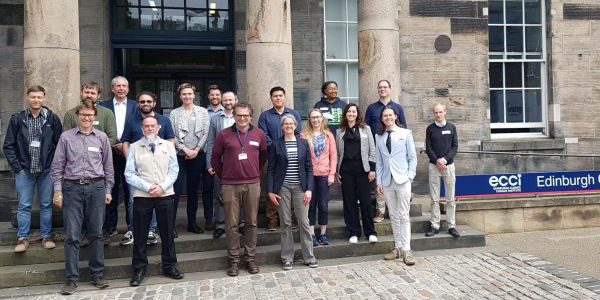 The aim of the symposium held in Scotland, was to connect academics, researchers and also Scottish and Nordic space companies, and to hold discussions focussed on research areas related to space and satellites, such as big data, bio-mimicked propulsion, biorecycling in space, robots and AI applications, removal of space junk, remote monitoring of fires, and counting livestock and elephants from satellite images.
Professor Ken Nixon from the Wits School of Electrical and Information Engineering, explains: "The 'space' part was about looking up from the earth, the 'satellites' part was about looking down at the earth."
Researchers engaged through panel presentations and discussions about their research areas and projects. From Wits, Professor Benjamin Rosman, Head of Robotics, Autonomous Intelligence and Learning (RAIL), highlighted that RAIL, as one of the biggest AI research labs in the southern hemisphere, is ensuring African involvement in Artificial Intelligence, Machine Learning, and Robotics.
Similarly, Professor Sally Archibald from the Wits School of Animal, Plant and Environmental Sciences and Principal Investigator of the newly established Future Ecosystems for Africa (FEFA) – an Africa-led, Africa-centred programme that aims to identify African ecosystem vulnerabilities and tipping points while leveraging African-informed transformative change opportunities - presented on how FEFA uses satellite-generated earth observation data to monitor mining land use, plan and rehabilitate vulnerable ecosystems and livestock systems, and develop biodiversity funding models, among other activities.
The following Wits researchers also made presentations: Randall Paton, Senior Lecturer in the School of Mechanical, Industrial, and Aeronautical Engineering, and Laven Naidoo, Senior Researcher from the Gauteng City-Region Observatory. Researchers from various Labs and Schools also joined the discussions online.
Says, Lynda Murray, Head of the Wits UK Office, the longstanding Wits-UoE partnership has significantly expanded its collaborative research projects in the last five years, and priority areas relate to inequality studies, health informatics, digital innovation, rangeland management, amongst other fields. Enterprise and innovation are also common priorities for both institutions.
"This was a first exploratory workshop with Wits and Edinburgh colleagues on Space, a hot topic for research and innovation internationally. It brought together researchers as well as possible industry partners, with the aim to ensure that, from inception, collaborative projects cross multiple boundaries," says Murray.
This initiative was driven by Wits' Research Office through Dr Renee Goretsky, renee.goretsky@wits.ac.za as well as by Wits' UK Office by Lynda Murray, Lynda.murray@wits.ac.za. It was hosted by Professor Iain Woodhouse of UoE's Space & Satellites specialist area.
Read more about the Wits-UoE partnership.