Wits – Edinburgh to collaborate on academic, research and innovation projects
- Wits University
Universities committed to translating MoU into action that benefits staff and students.
Wits University and the University of Edinburgh (Scotland, United Kingdom) have renewed a partnership and signed a Memorandum of Understanding (MoU) to co-operate on teaching, research and community outreach activities and projects, over the next three years.
"This partnership enables Wits University and the University of Edinburgh to collaborate and co-operate on multiple projects; by renewing and extending it, we can continue to share information, experience and skills; develop effective working practices, and work collaboratively to identify solutions to the pressing problems of the 21st Century," says Professor Peter Mathieson, the Principal and Vice-Chancellor of the University of Edinburgh.
The universities' collaborative projects have grown significantly over the last three years in priority research areas related to inequality studies, health informatics, digital innovation, rangeland management, amongst other areas. Enterprise and innovation are common priorities for both institutions that will also be explored.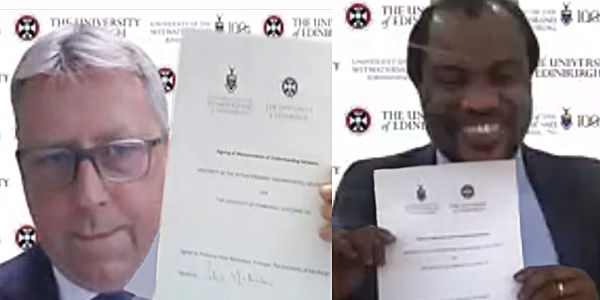 Students should also benefit from this partnership as joint student exchanges, scholarship programmes, and articulated degrees are envisaged.
"It is an honour to advance our partnership with the University of Edinburgh in common priority areas," says Professor Zeblon Vilakazi, the Vice-Chancellor and Principal of the University of the Witwatersrand. "This strategic partnership will help us to advance multidisciplinary teaching and research excellence across continents, and will enable us to foster impactful societal innovation as we approach our centennial anniversary in 2022."
Both universities are committed to social action and justice, and are keen to advance the public good.
Professor Ruksana Osman, Senior Deputy Vice-Chancellor: Academic at Wits University explains the potential of the academic partnership: "The exchange of knowledge and cooperation between academic staff will be encouraged, and shared postdoctoral training opportunities, building on current models in water and earth stewardship, molecular bioscience, and forest management will be explored. We look forward to a mutually beneficial relationship with the University of Edinburgh."
"Looking ahead we really want to focus on the student experience and deepen the relationship around joint degrees and joint student activities because this is one of the ways to develop a full rounded partnership. Wits and Edinburgh share much in terms of values, reputation and size. What makes us unique is our different contexts and that is where we add real value to each other. These different contexts offer opportunities for students, academics and professional services staff to engage in transformative work," concludes Professor James Smith, Vice-Principal International at the University of Edinburgh.