Unleashing the potential of university-based archives
- Gabriele Mohale
Towards the creation of a future Civil Society and Human Rights Archive and Research Hub at Wits.
The recent reintegration of the South African History Archive (SAHA), one of the most important social justice archives in the country, into Wits University once more raises the status and role of archives as well as the crisis many archives face in South Africa. This article does not seek to be repetitive. Rather, Gabriele Mohale, Acting Head and Archivist, Historical Papers Research Archive and Wits Digitisation Centre, The Willem Cullen Library, investigates the importance of archives in universities as active sites of research and custodians of collective memory.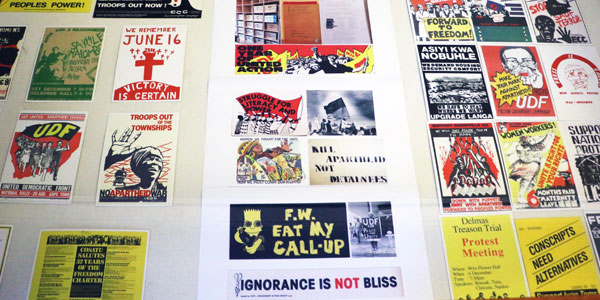 What has emerged over several decades now is the fact that universities, particularly public-funded institutions, are increasingly becoming custodians of not only private and prestigious collections, but more so of organisational, corporate, and even government records, for various reasons.
This trend can be observed globally, and again, its cause is manifold. But at the heart of it lies a certain confidence, in that universities would qualify to be worthy keepers. This perception might suit the depositors of such collections, but where does it leave the university, with is core existence and mandate firmly placed in teaching, learning and research?
Related to the latter is a delicate spread of funding and resources at universities, much of which is geared toward their mandate. And yet, looking at the South African landscape, a number of universities are home to extensive and most outstanding independent archives.
What then informs a university's commitment to archives, given the extent of resources needed for the upkeep of a physical archive, and often its digital repository, and what is the potential that these archives hold for the institution?
Archives for research and learning
The role of publicly funded universities is crucial for heritage holdings, in a country where government institutions are severely under-resourced and neglected. As much as universities too are facing serious financial challenges, they seem to be in a favourable position to uphold that continuity, stability, reliability, and support that many state-owned entities can no longer provide.
Universities also have the intellectual capacity to shape engagement and discourse, be it within the academy or beyond. At the same time, they have a vested interest in assets that can contribute meaningfully to teaching, learning and research.
Universities attract funding from organisations and the corporate world precisely because of their status of being capable partners. It is for these reasons that the holdings which this university keeps on its campuses, be it in archives, museums, libraries and galleries, should yield returns.
Towards an archive and research hub at Wits
The framework which was developed during the conceptualisation of the reintegration of SAHA at Wits University, outlined benefits as well as responsibilities, both for SAHA and for the University, which can be applied to the three main independent archives at Wits University, being the Historical Papers Research Archive, the South African History Archive (SAHA) and the Gay and Lesbian Archive (GALA).
The proposal highlighted the most outstanding aspects around the archives as institutions of heritage but more so as a gauge for the level of democracy in South Africa, or any state for that matter. It also paid specific attention to the potential of the archives for teaching, learning and research, particularly through collaborative projects with academic departments such as the Wits History Workshop, the latter having been a longstanding and guiding partner for the archives.
The proposal culminated in a suggestion for the development of a future 'Civil Society and Human Rights Archive and Research Hub' at Wits University, based on the following points:
Teaching and research for the promotion of historical awareness
In the post-1994 South Africa, research and archival institutions had to reposition themselves in the context of the new democratic dispensation. One of the defining moments which characterised that period was the establishment of the Truth and Reconciliation Commission (TRC) in 1996. Throughout its work, followed by its comprehensive report and recommendations, the archives became a focal point for investigating and exposing apartheid crimes.
Nearly 25 years later archives have remained absolutely committed to documenting, supporting and promoting greater awareness of South Africa's colonial and apartheid history, and past and contemporary struggles for justice.
By creating a Civil Society and Human Rights Archive and Research Hub it would be possible to harness our collective strengths to contribute more systematically to teaching and research programmes at the University.
This could develop in a number of overlapping ways, through augmenting each archive's role as sites of research; expanding our partnerships with civil society and community groups; promoting the development of archives from below; becoming a site of training for community-based archivists; and to create an opportunity to consider the development of an interdisciplinary postgraduate course on archives and public history.
Archival institutions for deepening our democracy
Going forward, the shaping of the intellectual terrain around archives remains essential for the upholding and deepening of our democracy. Here, archives have been catalysts, advocates and activists, particularly through community engagement, the promotion of access to information, history education, educational publications, workshops and exhibitions, as well as using national and international platforms. All this in order to ensure administrative duties of the state and to serve the citizens in all aspects of administrative as well as transitional justice.
Building capacity in communities to tell their own history
In addition to being at the forefront of archival activism, there has been a sustained focus by the archives on building capacity in communities to collect and tell their own history, not only in South Africa, but also on the African continent, even emphasising wider connections with the global South. The archives, together with the Wits History Workshop, have made their mark in the latter and have provided a platform to pursue archival activism. Bringing them together at the university will create a strong, independent, and unique archival centre of excellence and research hub in South Africa, in the interest of knowledge creation and progressive activism for civil society.
Consolidating archival activism
Having outlined the above, it is imperative to stress that essentially there are only two regional centres of archival activism in South Africa, one being in Johannesburg at Wits University, and the other at the Mayibuye Archive at the University of the Western Cape. These institutions have particularly positioned themselves in respect of archival activism, mainly due to the character of their archival holdings, and to a strong collaboration with academic colleagues in their respective institutions.
Creation of a combined archival digital platform
Another strong point for the formation of an Archive and Research Hub at Wits University is the fact that the archives have excellent reputations for working to archival standards and good practice, allowing them to adopt a strategy for their content to be digitised and made available on a standard based digital platform. This has created excellent possibilities for global access to the collections in our archives.
A digital repository with the combined archival holdings of all archives, together with a number of existing projects such as the 'Afrapix Consolidation Project', the 'MEDU Consolidation Project' and the 'Robert Sobukwe Learning Centre and Museum', is a resource which can presently not be matched by any other academic institution in South Africa.
This is the Vision (with a capital letter) which was put to the University and has been embraced by this institution with a strong message of commitment by the Vice-Chancellor and Principal, Professor Zeblon Vilakazi, which he delivered at the relaunching event of SAHA.
And this is where the circle closes. Let us unleash the potential of the archives at Wits University.