Health Sciences student wins Wits FameLab
- Wits Communications
Mpho Mathole won the Wits leg of the international science communication competition and will go on to participate in the nationals later this year.
Mathole, member of the Faculty of Health Sciences Student Council, impressed the judges by explaining how he is researching using biostatistics in improving healthcare provision in South Africa. In the three minutes allotted to him, Mathole communicated his research clearly and concisely to the audience. He won the chance to go through to the national semi-finals of the competition, and then stands a chance to represent South Africa at international level. Mothole says his leadership role motivates his study because it is about moral progress from self-regard to thinking about the greater good of the community.
Mothole just edged out Johanna Marais, a master's student in neuroscience, while Boiltumelo Tlhaole came in in third place.
"FameLab has inspired me and my love for my study and field of work," says Marais, whose research investigates the prevalence of obstructive sleep apnea in a cohort of cis-gendered women living with HIV and how that impacts cardiometabolic health.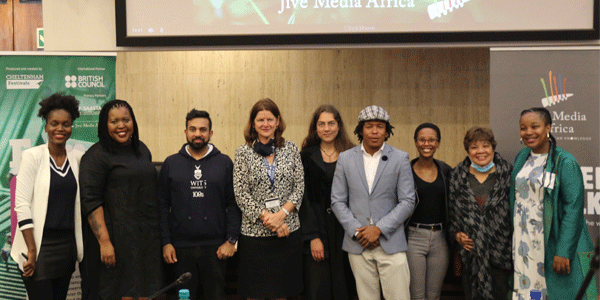 FameLab is the biggest science communication competition in the world. The competition aims to find and support students across the Science, Technology, Engineering and Mathematics (STEM) fields to present and communicate their research better. The first FameLab competition was held in Cheltenham 17 years ago. In South Africa, the competition has been running since 2013 and is made possible by a partnership between the South African Agency for Science and Technology Advancement and Jive Media Africa.
The Wities' presentations cut across various fields, from Astrophysics to health sciences, and asking and resolving local community issues to global problems. This included third place Tlhaole's, work, which looks at taking waste from South African staple, maize and making it into highly valuable chemicals and hydrogen energy.
FameLab alumni and training facilitator Keneilwe Bontle Moropa, says training in science communications and in communicating scientific concepts eloquently, makes science fun, interesting and accessible to the next generation of scientist.
The two-day competition is made up out of two stages. Day one was spent training participants in a science communication workshop. Participants were trained on how to best communicate their scientific idea to a general non-scientific community; to enhance their interpersonal communication and presentation skills as well as to effectively and confidently communicate an idea.
"Leaving this session, I feel equipped to effectively communicate my concept to potential investors or funders," says Iyanu Emmanuel Williams, master's student in the School of Chemical and Metallurgical Engineering.
On the second day, the students participated in a heat session where they were each given three-minutes to present their science concept to a judging panel made up of Renee Le Roux Goretsky, head of Head Pre-Award Support at Wits University, Phontsho Pilane, author, media training and communication professional and Dr Shivan Parusnath, regional lead, Africa for National Geographic Society.