SA-French research cooperation fostering scientific excellence with CNRS-Wits bipartite agreement
- Wits University
Wits and the French National Centre for Scientific Research (CNRS) today signed a bipartite agreement of research cooperation to foster scientific excellence.
The agreement was signed by Professor Antoine Petit, Chairman and Chief Executive Officer of the CNRS and Professor Zeblon Vilakazi, Vice-Chancellor and Principal of the University of the Witwatersrand, Johannesburg.
This signing ceremony took place by video-conference in both Johannesburg and Paris and was witnessed by H.E. Aurélien Lechevallier, Ambassador of France to South Africa, and Professor Lynn Morris, Deputy Vice-Chancellor: Research and Innovation at the University of the Witwatersrand.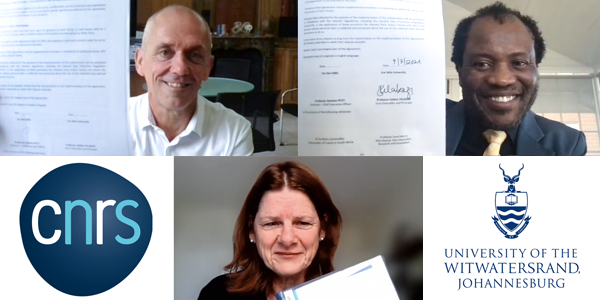 This framework agreement aims to strengthen the existing successful collaboration between both institutions, to promote collaborative research, to advance international cooperation and to be at the forefront of scientific innovation and transfer of the research results into successful innovation for the benefit of both institutions.
The collaborations will see staff and information exchanges, the implementation and promotion of joint activities and joint programmes, as well as the organisation of joint scientific events.
Collaborations between Wits and CNRS are already active in a diverse array of science fields such as physics, astronomy/astrophysics, palaeosciences, environment and ecology.
The CNRS and Wits this year launched their first call for the Joint PhD programme, which led to selecting and financing new scientific collaborations and training by research in ecology, physics, atmospheric sciences and anthropology.