Hat-trick of wins for Witsies at Science Oscars
- Wits University
Three Witsies in human genetics, economic geology, and public health research data respectively have won National Science and Technology Forum (NSTF) awards.
Professor Michèle Ramsay, Professor Judith Kinnaird, and Associate Professor Mark Collinson were winners in their categories at the NSTF-South32 Awards, a live-streamed gala event that took place on Thursday, 30 July 2020.
The prestigious annual Awards, considered the 'Oscars of Science', recognise outstanding contributions to science, engineering, technology (SET), and innovation, in 13 categories.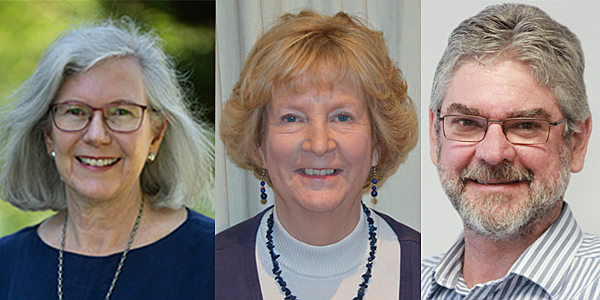 Finding factors that contribute to African diseases
Ramsay is Professor of Human Genetics in the Faculty of Health Sciences at Wits, Director of the Sydney Brenner Institute for Molecular Bioscience, and Chair of the Department of Science and Innovation National Research Foundation South African Research Chair Initiative (SARChI): Bioinformatics and Genomics of African Populations.
She won the Lifetime Achievement Award for pioneering genomic medicine approaches in Africa and leading the transcontinental study on factors that contribute to African diseases.
"I feel that this is a great honour, not just for me, but for the wonderful groups of people I have worked with throughout my career. My inspiration comes from my students, postdocs and colleagues and I believe that a healthy and supportive work environment brings out the very best in everyone," says Ramsay. "Putting the need for generating good quality data in Africa at the forefront, and especially the much needed population health and genetics data, is very close to my heart. We need more investment in exploring the central role of African genomes in disease risk, but also for their potential to discover novel treatment approaches that will benefit not only Africa, but the world. We are after all the cradle of humankind."
Everyday metals for now and the future
Kinnaird, who won the Management Award, is Associate Professor and Director of the Economic Geology Research Unit and Co-Director of the Department of Science and Innovation Centre of Excellence (CoE) for the Study of Mineral and Energy Deposits in the School of Geosciences at Wits.
"I have had great opportunities at Wits especially to be able to co-direct CIMERA, a national Centre of Excellence for the study of Minerals and Energy. The CoE is nationally relevant to government and industry and internationally recognised for the quality of its research. Through the CoE, it has been possible to make a difference to student lives and careers. I count myself privileged to have such an interesting and rewarding opportunity," says Kinnaird.
The Award acknowledges Kinnaird for directing economic geology research studies on metals for everyday needs, now and for the future.
"I would like to acknowledge my sponsors, Professor Zeblon Vilakazi and Dr Robin Drennan, and no award such as this would be possible without the support of colleagues. In particular, I would like thank Professor Roger Gibson and Professor Paul Nex, and my admin assistant, Dan Duarte. I have greatly appreciated the financial support from mining and exploration companies for my postgraduate students, the next generation of geologists and leaders," she says.
Public health data from the Wits rural campus in Mpumalanga
Collinson is Co-Director with Professor Kobus Herbst of the South African Population Research Infrastructure Network (SAPRIN), a national research infrastructure that has harmonised core data from all three of South Africa's Health and Demographic Surveillance Systems (HDSS) and is developing new interconnected HDSS nodes in multiple urban settings.
Collinson and Herbst won the Data for Research Award for collectively conceiving, developing and implementing SAPRIN, which produces up-to-date information on health and socio-economic wellbeing, representative of South Africa's population, for scientific analysis, embedding research projects and policy evaluation.
"These NSTF Awards play a good role in making the public aware of the value of science for the country. They showcase the contributions of government, research councils, universities, NGOs, and the private sector to advances in knowledge for human development and well-being," says Collinson. "Regarding my own award, for SAPRIN leadership, along with Kobus Herbst, it's a pleasure and honour to get it on behalf of our large, multi-skilled teams in KwaZulu-Natal, Mpumalanga and Limpopo, and the communities in which the work is embedded."
Each SAPRIN node is located at a university. In Collinson's case, this is at Agincourt, Wits' rural campus in Mpumalanga officially known as the South African Medical Research Council-Wits Rural Public Health and Health Transitions Research Unit. Agincourt is located within the Wits School of Public Health.
SAPRIN recently initiated an urban health and population node in Gauteng, called GRT-INSPIRED, in Western Tshwane and inner-city Johannesburg, run collaboratively by Wits, the University of Pretoria and the University of Johannesburg as the Gauteng Research Triangle.
Professor Zeblon Vilakazi, Wits Vice-Chancellor and Principal Designate congratulated the trio: "Witsies are fearless in their pursuit of new knowledge and innovation, are critical thinkers, problem-solvers, pioneers of science, and agents of. They are valued for their independence and ingenuity; their fight against injustice; their pioneering work in advancing the humanities and the sciences; and their strength in advancing economic development."