Wits students create genetics app
- Wits University
Wits science students have created an app to teach people the basics about genetics.
The SCOP Genetics app was launched at the African Society of Human Genetics meeting in Kigali, Rwanda in September 2018.
Click here to download the free SCOP Genetics app for Android developed by Mahtaab Hayat, Jorge da Rocha, Heather Seymour, and Natalie Smyth.
These postgraduate students in the Wits Sydney Brenner Institute for Molecular Bioscience (SBIMB) and the Division of Human Genetics in the School of Pathology run the Wits Human Genetics Community Outreach Programme (SCOP).
Part of this student-developed and student-run initiative is to visit local schools and deliver presentations about how genetics works, how it is studied, how genetics can treat disease, identify individuals, and develop precision medicine.
"We visit schools and give presentations educating learners on the basics of genetics and genetics research in action. We found that the learners were intrigued. They asked many questions and definitely showed an interest in learning more. We thought [an app] would be a great interactive way that schoolchildren can learn in their own time and in a way that's easily accessible," says Hayat, also a PhD candidate in Human Genetics.
Extract your own DNA at home
The app is designed as a library containing simple explanations of genetic concepts. It is a beginner's guide to the science of genetic concepts and provides information via SCOP video presentations. Concepts are described mainly with pictures and the language is simplified to enhance accessibility. The app is divided into Basics, Advanced, and Real World Examples:
Basics explains the concepts of inheritance (getting DNA from our parents), what cells are and where the DNA is within them, and how genes work.
Advanced provides more information about chromosome structure in humans, how differences in genes lead to different features, how we can design medicine to fit our genes, and a safe experiment to show you how to extract your own DNA at home.
Real World Examples highlights major studies that form the foundation of genetics studies (including exciting African projects) to inspire learners by showing that they could do this incredible work too.
Coding 101 to teach Genetics 101
The SCOP team designed and wrote the content for the app themselves after teaching themselves to code in HTML5 with some basic CSS.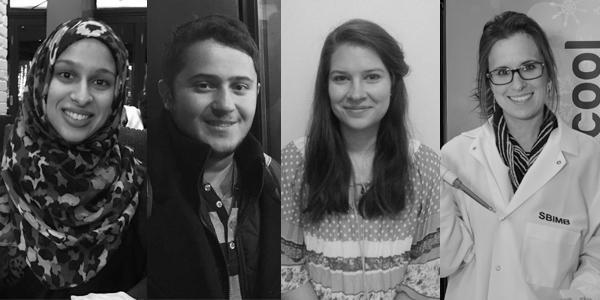 "These languages are great to code cross-platform apps, so we hope to have our app available on iOS devices soon. We even have plans to get our app translated into other South African languages," says Da Rocha, also a PhD candidate in Human Genetics.
Genetics is what makes individuals unique and knowing what you inherited from your parents, which traits you share with your siblings, and the diseases you are susceptible to is increasingly compelling to people.
"There are so many new ways in which people are learning more about these sorts of concepts. We hope the app will help high school learners better understand the topic of genetics in the Life Science syllabus and help the public understand the implications of inheritance of traits and disorders and thus help inform decision-making that involves genetics," says Hayat.
Click here for info on the SCOP Genetics App on Android.
Download the SCOP Genetics app for Android.