Fifth A-rating for 82-year-old engineer
- Wits University
An 82-year-old engineer at Wits has received an A-rating from the National Research Foundation for the fifth time.
Emeritus Professor Beric Skews is founder and director of the Flow Research Unit in the School of Mechanical, Industrial and Aeronautical Engineering at Wits and a global expert in the field of compressible gas dynamics. He was awarded the NRF A2 rating earlier this year.
NRF A-rated researchers are those who are unequivocally recognised by their peers as leading international scholars in their field for the high quality and impact of their recent research outputs.
A researcher with the A2 rating is recognised by the overriding majority of reviewers as a leading scholar in his field internationally for the high quality and impact (either wide or confined) of his recent research outputs.
This is the fifth cycle of five years that Skews has distinguished himself as an international leader in his field. Furthermore, he is one of the few to have moved directly from an initial C-rating (which denotes an established researcher) to the highly sought-after A-rating, which denotes a global leader.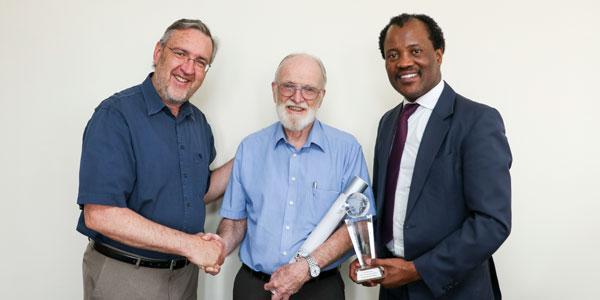 Skews is amongst the most productive and insightful researchers in the Faculty of Engineering and the Built Environment. His field of expertise is fluid dynamics and particularly the study of shock waves as they propagate across solid surfaces. His achievement is all the more remarkable given that he is now almost 83 years old!
"To maintain an A-rating means that one is not only productive but leading the way in the development of new ideas, new questions and new results. The University acknowledges this great achievement, from a great Witsie," says Professor Zeblon Vilakazi, Deputy Vice-Chancellor: Research and Postgraduate Affairs."