Academy of Science SA elects Wits researchers for their scholarship and social impact
- Wits University
Seven scholars from Wits were inaugurated into the Academy of Science of South Africa at its annual Awards Ceremony held on 11 October 2017.
Wits academics were amongst 41 members elected on the basis of two principal criteria: Academic excellence and significant contributions to society.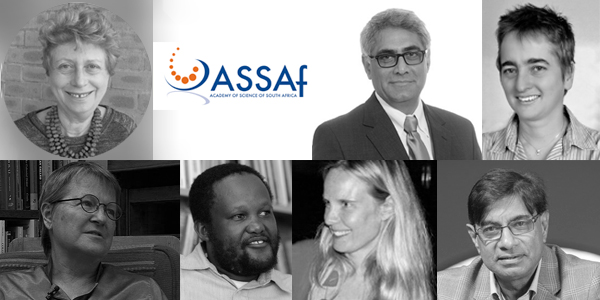 Professor KAREN HOFMAN is Director of PRICELESS SA (Priority Cost Effective Lessons for Systems Strengthening), which is an independent research unit in the School of Public Health at Wits. PRICELESS analyses how scarce resources can be used effectively, efficiently and equitably to achieve better health outcomes. Hofman has led advocacy for taxing sugar-sweetened beverages, based on research that shows fiscal measures will mitigate dangerous and expensive public health outcomes, including obesity and diabetes. Hofman is a graduate of Wits Medical School and trained as a paediatrician. She served as Director of Policy and Planning at the US National Institute of Health, Fogarty International Center. She is widely published in international, peer-reviewed journals.
ISABEL HOFMEYR is Professor of African Literature in the Faculty of Humanities at Wits and Global Distinguished Professor at New York University. Her current research focuses on Africa and its intellectual trajectories in the Atlantic and Indian oceans. Her work addresses questions of Africa's intellectual place in the world, and the material and aesthetic history of texts and their transnational circulation. She has published extensively in the fields of postcolonial literary studies, print culture, book history, oceanic studies, and Indian Ocean studies. Hofmeyr has served as Acting Director of the Centre for Indian Studies in Africa, which she helped establish.
Professor PENELOPE MOORE is a Reader and DST/NRF South African Research Chair of Virus-Host Dynamics at Wits and the National Institute for Communicable Diseases. She holds an MSc in Microbiology from Wits, studying gastroenteritis-associated adenoviruses, and a PhD in Virology (Medicine) from the University of London, when she studied the Hepatitis B virus. Moore's current research focuses on HIV broadly neutralising antibodies and their interplay with the evolving virus. Recent studies published in PloS Pathogens, Nature and Nature Medicine highlighted the role of viral escape, the findings of which have implications for HIV vaccine design – and thus profound effects on society.
Professor SARAH NUTTALL is Director of the Wits Institute for Social and Economic Research (WiSER). A literary scholar by training, she won a Rhodes scholarship to read for a DPhil. at Oxford. Her research interests and prolific publication record have established her as a leading cultural commentator and critic, and one of the leading scholars of her generation. She has edited several path-breaking books and her influential monograph, Entanglement: Literary and Cultural Reflections on Post-apartheid, explores mutuality, transgression and embodiment in contemporary South Africa.
Professor VISHNU PADAYACHEE is a Distinguished Professor and Derek Schrier and Cecily Cameron Chair in Development Economics, School of Economic and Business Sciences at Wits. He holds a PhD in Economic History/Economics and is a member of the board of directors of the South African Reserve Bank. He was inducted as a member of the Royal Society of South Africa in 2012. In his research, Padayachee explores: varieties of South African capitalism; news directions in central banking and monetary policy; inequality, macroeconomics and capitalism; and South Africa's great economic policy debate, which refers to the evolution of ANC economic and social policy from 1943 to 1996 and how this shapes contemporary policy choices.
BHEKIZIZWE PETERSON is Professor and Head of African Literature in the School of Language, Literature and Media at Wits. His research interests include African literature, performance, film and popular culture; Southern African literary studies; black intellectual traditions and transnationalism; and studies of the black diaspora. He has served on various editorial, statutory and artistic committees, juries and boards across the continent and has held invited Fellowships at Yale University and Birmingham University, UK. He is the writer and/or producer of internationally acclaimed films including Fools, Zulu Love Letter and Zwelidumile and Born into Struggle, The Battle for Johannesburg and Miners Shot Down. In 2012, he published Dignity, Memory and the Future under Siege: Nation-building and Reconciliation in the new South Africa.
Professor IMRAAN VALODIA is the Dean of the Faculty of Commerce, Law and Management at Wits. He is a professor of development economics and his research interests include employment, the informal economy, gender, and industrialisation. Valodia chaired the Advisory Panel on the National Minimum Wage appointed by Deputy President Cyril Ramaphosa and he initiated a five-year interdisciplinary project to focus on inequality in South Africa. This Southern Centre for Inequality Studies (SCIS) project will be launched on 25 October 2017.
About the Academy of Science of South Africa
The ASSAf was inaugurated in May 1996 in response to the need for an Academy of Science consonant with a democratic South Africa. Its mission is science and scholarship for the benefit of society. Its mandate encompasses all scholarly disciplines that use an open-minded and evidence-based approach to build knowledge. The "science" in ASSAf reflects a common enquiry, rather than an aggregation of different disciplines.
The ASSAf honours South Africa's most outstanding scholars by electing members across disciplines. This prestigious election takes place annually. Members are the core asset of the Academy and volunteer their time and expertise to serve society.
When Parliament passed the Academy of Science of South Africa Act (Act 67 of 2001), effective 15 May 2002, the ASSAf became the only academy of science in South Africa officially recognised by government and representing the country in the international community of science academies and elsewhere.
The South African Young Academy of Science
Last month, the South African Young Academy of Science (SAYAS) inaugurated Benita Olivier, an Associate Professor in Wits Physiotherapy Movement Analysis Laboratory in the School of Therapeutic Sciences.
SAYAS is the voice of young scientists and aims to:
contribute solutions to national and global societal challenges
provide a platform for young scientists to influence policy decisions
develop scientific capacity in South Africa through mentoring and role-modelling
foster opportunities for interdisciplinary collaborations amongst young scientists.