Jar of Hope restores smiles
- Razeen Gutta
The Department of Physiotherapy in the School of Therapeutic Sciences at Wits was involved in two projects to meet the needs of the community after the lockdown had a negative impact on income generating capabilities within the community.
As per tradition, the Department began 2020 with a list of social outreach initiatives to extend their services to communities. However, the onset of the global pandemic shifted this to a different direction as the department witnessed first-hand the effects of the nationwide lockdown.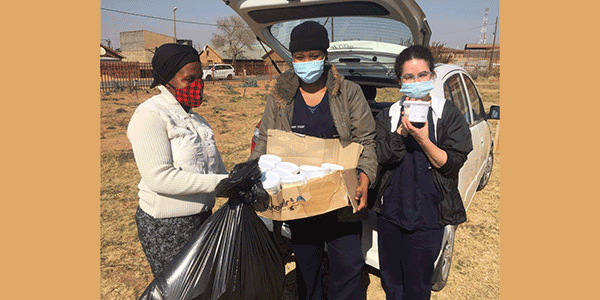 Physiotherapy Student Council Chairperson Nina Simon says they had to act: "Being healthcare workers, we saw first-hand how the pandemic affected people. Children who didn't have enough to eat, our gogos and umkhulus who couldn't go to the grocery store anymore to buy bread because they were scared, the patients in ICU who couldn't hold their spouses hands because of protocol. It was so easy to become overwhelmed and desensitised to all of it; but we truly believed that we have a responsibility to love and to do our best to help in any way possible."
The first project that the Department undertook was the #WellnessTogether Face Masks initiative. This was done in collaboration with Phila Sonke, Rehab Matters and the Pharmacy and Pharmacology Department. 5000 cloth masks and information sheets on Covid-19 were distributed to the elderly at SASSA points at the Maponya Mall and Kopanong on June 3 and 4, 2020.
The Jar of Hope project was the next initiative undertaken by Simon and the Student Council. "The aim of this project was to provide the community with a 'Jar of Hope' — jars filled with non-perishable items that were filling, nutritious and could feed a family of four," who was doing her fourth year in 2020.
"Each jar cost about R15 to make. With the help of lecturers, students and many hours of hard work, we made over 4000 meals which we could donate to the community. We wanted to help in any way we could, even if it was one R15 jar," she adds.
These initiatives have earned the students and the School recognition as Wits Covid-19 Heroes.
Student Council member, Austin Lloyd says it is an honour to be named Wits Covid-19 Heroes: "We really appreciate the compliment but I think we can all agree that the people who were able to donate their items, time and effort were the true heroes. Without them, we wouldn't have been able to help so many people."
Fourth year student Roni Allen says that their goal was never to be heroes: "Our goal was to provide outreach and help as many people as possible. One of our biggest roles as physiotherapists and healthcare workers is advocation, mediation and enablement."
"This is a professional lesson we learnt. Our profession is not solely based on the techniques we learn to treat patients, we can also treat patients in the form of knowledge and education. Our goals for 2022 are to help and support others as much as we can."
The School continues with various outreach projects and is involved in Covid-19 vaccination drives. The profession is also affected by Covid-19 and offers essential rehabilitation support to Covid patients.
Recently, the Department partnered with Phila Sonke organization on a Covid-19 vaccination campaign. They worked with Lead change, an organisation that empowers persons with disabilities, and conducted a dialogue about Covid-19 and the importance of vaccination.
Acting Head of School Sonti Pilusa says people with disabilities are more vulnerable to contracting Covid-19 and are usually neglected when it comes to health promotion campaigns. The School therefore has a huge role in prevention care and health promotion, particularly when it comes to people with disabilities.
About Wits Covid-19 Heroes
The Wits Heroes Series celebrates staff and students who went beyond the call of duty at the onset of Covid-19 in 2020. Wits Heroes were nominated by members of the Wits community. Discover other Heroes.