A Servant to the youth
- Wits University
"I'm that person that if you want someone to work with in assisting students, people just think of Lucy."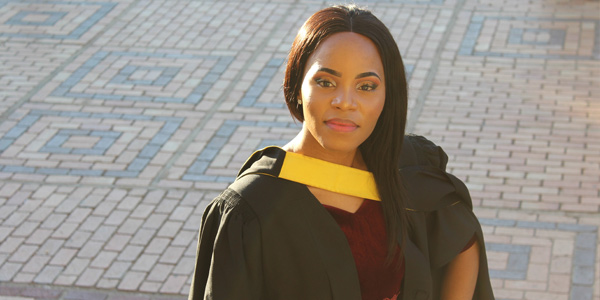 Founder of Adopt a Student During the Pandemic Lucy Khofi is living her dream of giving back to the community, one student at a time.
"I had this idea that I want to give back to communities in one way or another. So when I came to Joburg in 2008, and even before I started with my term in the SRC, I would normally assist students where I can and I think from there, that's when students decided to nominate me for the Student Representative Council," says Khofi.
This resolve was tested in 2020 when it became clear that the lockdown was negatively impacting students and Khofi sprung into action.
"I still remember when the president announced the lockdown for the first time. I was still in the SRC and a lot of students were sending me WhatsApp messages and emails. They were so confused, especially the first years, they didn't know what they were going to do or how they were going to study," says Khofi, then a Gender and Transformation Officer in the Wits SRC and a Masters in Medical Anthropology candidate.
It was then that the Adopt a Student During the Pandemic initiative was born says Khofi, who was recently featured under the health category of the Mail & Guardian's 200 Young South Africans, a list of under 35s to look out for and making an impact in society.
The initiative assisted over 300 students at Wits University and an unknown number of students from other universities at the beginning of the 2020 lockdown, with food and data. It also organised industry focused mentorship programmes and mental support using the Counselling Careers and Development Unit and the South African Anxiety and Depression Group.
During the start of the 2020 lockdown universities nationwide had not yet made data or laptop arrangements for students and there was still confusion as to how the academic year was going to continue.

Khofi and a team of postgraduate students who had connected mostly through Twitter availed themselves to assist struggling students whether it was organising food parcels, buying data for students, housing or administration - some financed using money from their own pockets.

Celebration church located in Midrand, is one of the organisations that reached out to Khofi to donate food parcels at the start of the initiative. "They really assisted so many students who were left behind and didn't have food to eat, especially those who were in private accommodation," she says.

Khofi recalls that at the beginning of the initiative it was still scary for people to go outside because people were still very frightened by Covid-19 and did not yet understand the nature of the virus. For her, ventuing out despite the fear was about helping "someone who might go to bed hungry".

She also received assistance from the Wits Consortium, the Wits Development and Leadership Unit, the office of the Dean of Students and Study Trust where she is currently employed as a Wits Campus Coordinator.
Khofi says the operation was more of a collective effort and she used her knowledge and networks to connect students to relevant partners in the different organisations for the necessary support.

Some of the students still keep in touch with Khofi to share their progress and academic transcripts.

Yonela Zatshikile, a second-year biomedical engineering student at Wits University and a mentee at Adopt a Student During the Pandemic credits the initiative for what could have been a disastrous 2020.
"I went through a lot last year and the programme has really helped me academically and mentally, having someone to talk to has been great and it was one of the best things to ever happen to me," who still receives mentorship from the programme.

The feedback and impact of the initiative has motivated Khofi and the rest of the team to continue with the initiative and are currently working on an expansion.

"We want to take as many students as possible and this time we want to make it very different because we will have sponsors and be able to assist students on a higher level," says Khofi.