Game changer: Hanli Geyser
- Deborah Minors
Hanli Geyser, head of Game Design in Digital Arts in the School of Arts at Wits, doesn't like being called a 'gamer'.
She thinks that evokes an image of a pimply adolescent white boy with a console in his Mom's basement. Geyser is far from that. In fact, she's a mother herself and more closely resembles Velma Dinkley, the brainy bespectacled redhead in Scooby Doo.
Geyser is the brains behind the Digital Arts degree majoring in Game Design at Wits, which was a first for Africa when it launched in 2012.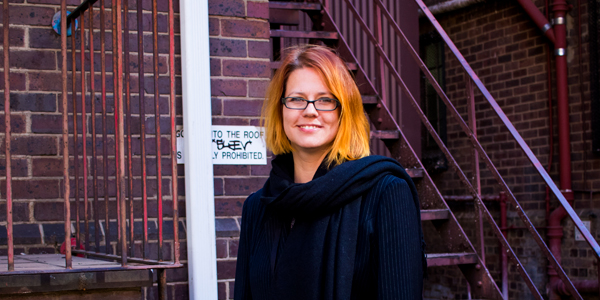 Games the gateway drug
Geyser got hooked early. She's been playing games her whole life. Her first game was Space Invaders played on a floppy disk, years before high school at Hoërskool Linden. Joburg has always been her playground, including Wits where studied Fine Arts and then earned a Master's in History of Art.
"Games are the gateway drug to tech," says Geyser, having long since moved on from the floppy disk. These days her favourite games are role playing games (RPGs) like Dragon Age. She favours Massively Multiplayer Online (MMO) games such as Guild Wars 2 and gleefully anticipates playing the new Mass Effect - Andromeda. MMOs enable her to test her wits against her daughter, Ally, who at seven-years-old is already a devout gamer who particularly enjoys Star Wars -The Old Republic.
"I play for the communal spirt, or the story, and I play to keep up with my students," says Geyser. She also enjoys good old fashioned board games (table-top games) like Imperial Assault and even Dungeons & Dragons. Despite the advances in technology – or, perhaps, because of it – there's been a resurgence in tabletop games.
"This is probably because they're easier to fundraise for and easier to distribute," she says.
Lean forward vs. lean back
What makes a good game? Geyser says it's interactivity and the level of engagement the game elicits from the player. The end-user is the priority. Gaming is not passive like watching television, for example. Gaming engages a different part of the brain that demands interaction and dexterity.
"Even reading, which is complex and analytical, is less demanding than gaming," says Geyser, herself a voracious reader who "reads anything that stands still, including the label on the shampoo."
A good game is a "lean forward rather than lean back" experience. It's about immersing yourself in the game – pure escapism.
Permission to play
Geyser toyed with the concept of playfulness in a TEDx Johannesburg Women 2013 talk, entitled Experience the joy of play through games. She lamented that people feel guilty for playfulness, relegating it to childhood.
"But the need to play is innate and children play without guilt. From ring a'rosies to Snap, word games to emotional games, people have always played. No one feels guilty about visiting an art gallery or watching a ballet so why feel guilty about enjoying the escapism of gaming? All the arts give pleasure."
The pink aisle in the toy store
Geyser says gaming, and game creation, is white male dominated and changing the status quo starts with education. The gender disparity starts in the pink aisle in the toy store, she says.
"A boy gets a robot as a present and says, 'Cool! What does it do?' And you can programme it, remote control it, push buttons etc. A girl gets a doll and asks, 'What can it do?' Well, it's just a doll," says Geyser (who isn't a fan of pink anyway).
Research confirms this. Professor Jason Cohen in the School of Economic and Business Sciences at Wits co-published a study on university students' intentions to pursue IT careers. Drawing on social cognitive career theory, the results showed that male students have higher levels of computer self-efficacy [one's belief in one's ability to achieve] and lower levels of computer anxiety than female students. Race was also associated with computer anxiety, with Black and Indian students demonstrating the highest anxiety levels. An independent sample confirmed that females have lower IT occupational self-efficacy than males.
The playing field
Game design as an academic field is only about 30 years old internationally and it's a burgeoning industry in South Africa. In fact, it is the most rapidly expanding arts industry. Its profits grew from R29m to R100m in just two years between 2013 and 2016, according to non-profit industry body Interactive Entertainment SA (IESA). Game design is ripe for entrepreneurship and the Wits course teaches a skills-set that is multifaceted and applicable across professions, from technical to artistic.
"There's a huge demand across multiple industries for game design graduates but there's a dearth of research on how we teach game design here. We have only European and US models," says Geyser, who was a founding member and served on the inaugural steering committee of MakeGamesSA, the original industry body for game development in South Africa that developed into IESA.
She is committed to nurturing her fledgling student cohort and transforming gaming through education. She has supervised 15 Honours and 17 Master's students in the field since starting the programme.
"Wits is graduating the most female and black students in this field ever. Amongst first-years, the female intake in Game Design now stands at around 40% and people of colour at 65%, with 40% black African students," she says.
Decolonising the Monopoly
Geyser says the gaming industry in SA is keen to incorporate women and people of colour but there need to be more educational institutions teaching game design – not just Wits and UCT.
"People need to know this is an option so we need people who can teach it. My PhD aims to explore possibilities of decolonizing gaming and game design by focusing on pedagogy," she says.
Gaming and game design have huge potential for education. A game, by design, has to pose a challenge so it's easy to steer it into a learning context.
"There's a massive demand for teaching with games and for educational games, or 'serious games' as they're known in the industry – with political or activist themes," says Geyser.
At Wits there's currently a multi-faculty project in development involving stakeholders in the Medical School, Behavioural Psychology, and Digital Arts to develop a game for children on antiretroviral treatment at Baragwanath Hospital.
Roll the dice. Pass start. Collect R200. Hanli Geyser is changing the game.
Read more about the interface between humanity and technology in Wits' new research magazine CURIOSITY, the iHuman edition.