The finance minister merry-go-round
- Judith February
We have a new Finance Minister. Again.Tito Mboweni takes over amidst a recession and with a tricky political tide ebbing and flowing precariously.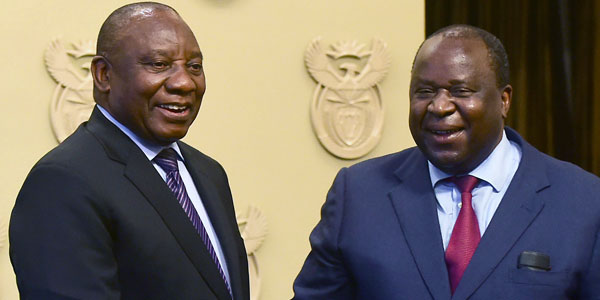 Even before former Finance Minister Nhlanhla Nene began his testimony to the Zondo commission of inquiry into state capture last week, allegations were swirling around him. EFF leader Julius Malema, who has a distinct penchant for leaking inside ANC information, has for a while now sought to discredit Nene even – or maybe especially as - allegations about alleged links to cigarette smugglers and allegations of tax evasion surround Malema personally.
Nene has had a fraught political journey. As the 'new dawn' arrived in February, so a bit of poetic justice came with it. Nene was restored to his position as Finance minister. The decent man was back, we all said, relieved.
And so in the build-up to Nene's testimony, allegations that he had used his influence as chair of the Public Investment Corporation (PIC) to secure funds for his son's business sat uncomfortably. He had also previously told a news reporter that his interactions with the Guptas were casual. Yet as Nene gave evidence and described in detail how he was axed for trying to save us all from the disaster that was the nuclear deal, it also became clear that he had had more than a casual 'bumping into' with the Guptas.
In fact, he had met them at Saxonwold 6 times in total. That's more than casual.
Immediately afterwards Nene released a statement begging for our collective forgiveness and admitting to the folly of meeting the Guptas at their home. It was a sincere and heartfelt apology. He also pledged further assistance to the Zondo commission. What he neglected to deal with was the allegations regarding the PIC.
The immediate question after last week's big apology was – 'what do we do with this?' Has any South African politician ever given the grand mea culpa, after all? We wait for the apology from Jacob Zuma for taking our country down a rabbit-hole of near-ruin, for Nkandla and laughing at us all, or from Malusi Gigaba for being found to have lied under oath, and from Bathabile Dlamini whose misdeeds are legion. It has never happened. And so when a politician apologises in such a heartfelt way, it puts us firmly in the 'grey zone' where there are no heroes or villians.
We must applaud Nene for his courage in not signing off on the nuclear deal. For that we owe him a debt of gratitude. South Africa may have been able to forgive him for meeting with the Guptas even though we do not know why he met with them so many times. But, it was the uncomfortable allegation regarding the PIC that became more urgent. The Democratic Alliance has asked the hapless Public Protector to investigate the matter. Thus far she has not inspired confidence, yet the institution must be utilised and itself held to account. Perhaps the Zondo commission will get to the bottom of the allegations too?
Malema seems to fly various kites yet has not offered this Nene information to the commission either. One wonders why he chooses to fight political battles in the media? Perhaps it is because he believes in the politics of populism and opportunism and because he is not an institutionalist despite pretending to be one?
Nene asked to resign and President Ramaphosa acceded to that request, pained as he may have been by the decision. A compromised Finance Minister just cannot 'sell' an economic stimulus plan or credibly talk about ethics or conflicts of interest in public finance when he himself may be compromised. 'Team Treasury' needs to be united on all matters including ethical issues. That is its power.
It's been another rough and tumble week in South African politics, but Mboweni is a sound choice. His first job is to bring about stability within the National Treasury and then to deal with the economy - no easy task.
Judith February is a Visiting Fellow at the Wits School of Governance. This article was first published online on https://ewn.co.za/.