'Science Oscars' for three Witsies for research excellence
- Wits University
Professors Roger Deane, Nosipho Moloto, and Andrew Thatcher each won in their category at the 2022/23 NSTF-South32 Awards.
The National Science and Technology Forum (NSTF) annual awards, sponsored by mining company South32, recognises outstanding contributions to science, engineering, technology (SET), and innovation.
The hybrid, multi-city gala events of the prestigious so-called 'Science Oscars' took place on Thursday, 13 July 2023.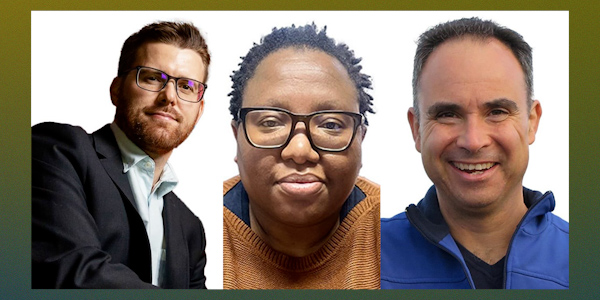 Intergalactic communication
Professor Roger Deane (pictured left above) is the Director of the Centre for Astrophysics at Wits and of the Wits Digital Dome Working Group. He is the Department of Science and Innovation (DSI)/National Research Foundation (NRF) South African Research Chair (SARChI) Chair in Radio Astronomy.

Deane won in the Communication category for his achievement of the R75 million digital upgrade of the Johannesburg Planetarium into the Anglo American Digital Dome, a Wits Centenary Project and flagship science and technology engagement facility.
He has clearly communicated cutting-edge astrophysics research – such as the first image of a black hole in the centre of our galaxy – with the public on a national stage, in combination with leading the communications and fundraising campaign.
Capacitating chemical catalysts
Nosipho Moloto (pictured middle above), Research Professor in Inorganic Chemistry in the School of Chemistry, Faculty of Science at Wits, holds the DSI/NRF/Nedbank SARChI Chair in Energy Materials and is the Deputy Director of the African Research Universities Alliance Centre of Excellence in Materials, Energy and Nanotechnology.
Moloto was a co-winner in the Engineering Research Capacity Development category. Her work focuses on finding simple synthetic methods for semiconductor nanocrystals that can be used as essential components in the development of affordable solutions to produce clean water, renewable and clean energy, rapid diagnostics of diseases and fast and easy to operate sensors.
Moloto was also a finalist in the TW Kambule-NSTF: Researcher category.
'Green ergonomics'
Andrew Thatcher (pictured right above), Professor in the Psychology Department, School of Human and Community Development, Faculty of Humanities at Wits, won in the Green Economy category, for his work on extending our understanding of Human Factors Ergonomics – or "green ergonomics" – to consider the entire Earth system. Ergonomics is the study of people's efficiency in their working environment.
Thatcher's contributions have included theoretical developments, empirical investigations, and systematic reviews of the impact of these activities, leading to mutually supportive human-natural environment systems.
Professor Lynn Morris, Deputy Vice-Chancellor: Research and Innovation, says: "We are delighted that Wits has brought home three NSTF awards which, apart from recognising scientific research excellence, also acknowledge innovation.
We congratulate Professor Roger Deane and Professor Nosipho Moloto in the Faculty of Science, and Professor Andrew Thatcher in the Faculty of Humanities, for their achievements in significant categories including communication, capacity-building, and enabling Earth-friendly work environments.
We're proud of all seven Witsies who were finalists, two of whom were finalists in more than one category."
Notable nominees
A total of 11 Witsies were nominated for the 2022/23 NSTF-South32 Awards in various categories broadly covering:
Scientific research
Innovation and development
Management and related activities
Capacity development in engineering research
Environmental sustainability and biodiversity conservation
Medical research
Water research and innovation
​Data for research
Science communication
In the hotly contested, prestigious, and demanding 'Science Oscars,' four Witsies – excluding the three Wits winners – were finalists. They are:
Dr Kimberley (Kimi) Chapelle, a Postdoctoral Fellow in the Evolutionary Studies Institute, who was a finalist in the Emerging Researcher category
Dr Robin Drennan, Director: Research Development, in the Management category
Professor Craig Sheridan, a chemical engineer in the School of Geography, Archaeology and Environmental Studies and the Claude Leon Foundation Chair in Water Research, in the Water research category
Dr Charl Verwey, Head of the Department of Paediatric Pulmonology in the Faculty of Health Sciences, who was a finalist in both the Clinician-Scientist category and the Emerging Researcher category.
The national NSTF-South32 Awards are the largest SET and innovation awards in SA since 1998. An important aspect of the Awards is the showcasing of South African SET and innovation to the public, which includes the year-long engagement programme between NSTF-South32 Award Winners, and school learners, called the NSTF Share 'n Dare Programme. These top scientists share their knowledge and experiences with young people, 'daring' them to follow in their footsteps.