Seminal book strengthens research-evidence-policy links to improve science implementation
- Wits University
Several Witsies contributed to a book that provides a first-hand account of public health progress and challenges in SA between 2015 and 2020.
This book, The South African Health Reforms 2015-2020: The Road Ahead, is a case study covering the South African government's efforts to deliver on the expectations brought about by the onset of democracy, the HIV epidemic, as well as respond to the ongoing Covid-19 crisis.
The book was first launched in South Africa in September 2022 and there was a session dedicated to it at the Health Systems Research Symposium in Bogota, Colombia, which took place from 31 October to 4 November.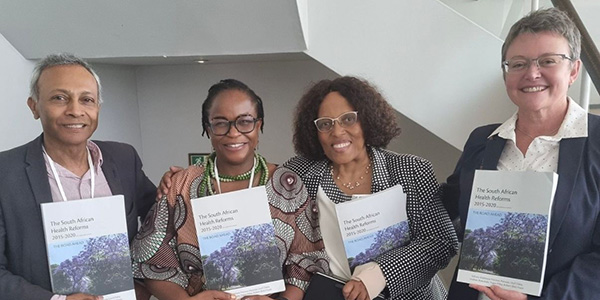 The book is significant because it brings together for each chapter a mix of policy makers and implementers to work with academics and researchers.
This effort by 78 contributors aims to strengthen the links between research, evidence, and policy and improve the role of science in implementation.
Amongst the contributors is Precious Matsoso, Director of the Health Regulatory Science Platform (HRSP) at Wits, who co-wrote the Introduction to the book, along with Usuf Chikte, Lindiwe Makubalo, Yogan Pillay, and Robert (Bob) Fryatt.
The HRSP is a new division of the Wits Health Consortium (WHC) and located in the Department of Pharmacy and Pharmacology in the Faculty of Health Sciences at Wits.
With the global call for improved access to quality healthcare and therapeutic interventions, and the emerging problems of health security, the HRSP is positioned as an advanced training platform and to generate models and pathways in regulatory science.
If informed by sound policies, regulatory science ensures that regulations are in the public interest.
The HRSP aims to help shape the relationship and bridge the gap between the state, citizens, and businesses – an integral part of effective regulation and good practice in public governance – and one of the outcomes expected of the Health Reforms book.
Chapter 11 of the book focuses on occupational health and safety. Wits co-authors include Spo M. Kgalamono, Chair of Occupational Health in the School of Public Health at Wits and Executive Director of the National Institute for Occupational Health, and Robyn Hayes Badenhorst, Head: Group Strategy at WHC.
Dr Barry Kistnasamy, Compensation Commissioner at the National Department of Health, led the co-authors of Chapter 11, which included Muzimkhulu Zungu, Mohamed Jeebhay, and Rajen Naidoo.
Dr Joe Phaahla, South African Minister of Health, wrote in the Foreword: "The analysis and recommendations that have come from this huge effort, involving so many commentators, experts, managers and policymakers, will surely assist us on the road to achieving the country's ambitious goals."
Click here to read a free e-version of the book (ISBN 978-0-6397-2368-6)
Email info@witshealth.co.za to order a hard copy of the book via the Wits Health Consortium.
Further details and assistance, Lize Grobler: lgrobler@witshealth.co.za