First-year students ready for life at Wits thanks to Gateway to Success
- Wits University
The Gateway to Success programme prepares new undergraduates for life on campus with a curriculum that combines both social and academic components.
The Gateway to Success (GTS) programme is the first step of the first-year student experience. This compulsory two-week programme, which ran from 6 to 20 February 2023, integrates academic content and skills, student life, health and wellness, and faculty-specific support and orientation.
For the first time since its inception in 2021, GTS has been able to run a fun-filled blended programme both on campus and online, without the need for heavy restrictions because of the Covid-19 pandemic. Students were able to engage actively with their peers and mentors, and through campus tours explore various spaces new to them.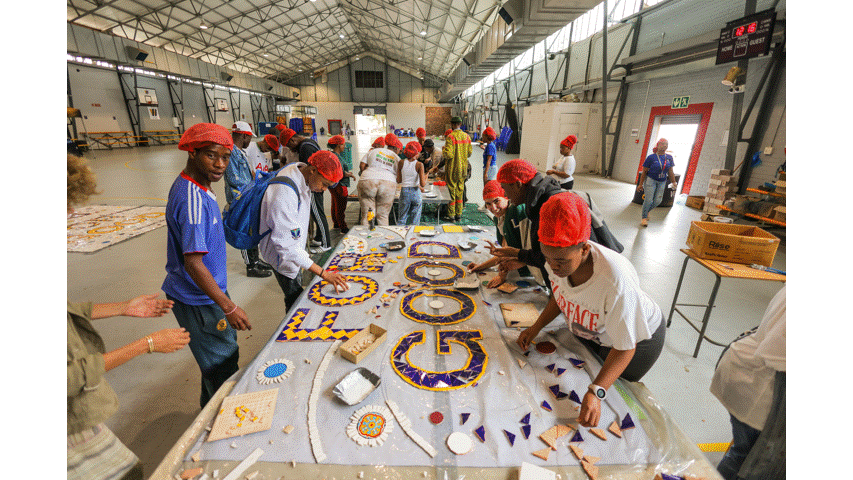 Mentor-Mentee Connect
"Having the Gateway to Success programme run for the first year without Covid-19 restrictions really allowed students to have quite a vibrant experience and get to know one another," said Kristan Sharpley, a student development practitioner at Wits University.
Sharpley, who coordinated the student life component of GTS, said that mentorship is an integral part of student life at university and is set up as a support structure for first-year students.
"There was a lot of engagement facilitated through mentorship, and the mentorship programme allowed students to feel a sense of connectedness to the peers around them," said Sharpley.
Students were also treated to a visit from a special guest during their Mentor-Mentee Connect session. Former Miss Universe Zozibini Tunzi addressed first-year students and left them with a message of hope as they start their academic journey.
Tunzi congratulated the group who spent an important part of their schooling under lockdown during the Covid-19 pandemic. She urged them to maintain their commitment to their education and hopes to see them graduate at the end of their academic journey.
Academia, money, and climate change
The GTS also focuses on academics, which was facilitated through faculty-specific courses and three online courses run through Ulwazi, the Wits online learning management system.
At the heart of the online academic part of GTS is an interdisciplinary short course called Climate Change and Me. In the course, students tackle this critically important topic while learning important academic skills at the same time.
The programme also included sessions on how to manage money, facilitated by Old Mutual, as students traditionally grapple with their finances throughout the year. The 'On The Money' session showcased various ways of making the bucks stretch to cover student expenses such as accommodation, transport, and data.
First-year Computer Science student Charlene Moetjie said that she was impressed with how diverse the GTS programme turned out to be.
"I expected to learn about life in the classroom and got so much more than that. They told us about support groups on campus and had fun activities like the campus tour. Instead of just giving us a tour they made a game out of it so that we could navigate campus and at the same time build relationships with other students."
Fun on campus
The second week of the programme exposed students to an array of social activations on campus such as a fun day, comedy night, and entrepreneurship market. They were also spectators at the legendary Wits Spirit Game which saw the Wits football team take on Orlando Pirates in a 3-1 win on home turf. The spirit game is a momentous occasion that heralds new students as officially 'Witsies for life'.
"I am so impressed with how diverse this place is. Students are well-catered for, so I feel very comfortable being here," said first-year student Rowann Hermans, who left her home in Gqeberha to study Fine Arts at Wits.
"I'm glad that we got exposure to support systems and tutoring services, because I think lot of new students don't always know where to go for help. I'm just excited to be here," she said.
In an effort to ensure that the class of 2022 were introduced to the idea of Wits For Good, students took part in a food packing session during their student life component.
This was done through Rise Against Hunger Africa (RAH), a volunteer-based meal packaging and results-oriented nutrition programme, which was started in South Africa in 2009. This was also done in connection with the Wits Citizenship and Community Outreach (WCCO), which aims to promote active citizenship and community service by encouraging Witsies to donate their time, skills and talents to volunteer for local communities.
A new home
"Never, ever feel like this is not your University or your place," said Dean of Student Affairs Jerome September as he addressed an auditorium full of Engineering first-year students. "There will be times when you may feel challenged, but always remember: this is your place. You worked hard to get here and we are here to support you on this journey."