Wits-Makerere strengthen partnership through joint centennial celebration
- Wits Communications
Wits University and the University of Makerere in Uganda cemented their long-standing partnership with a virtual signing of a Memorandum of Understanding.
The year 2022 holds a special place in the hearts of Makerere University in Uganda and the University of Witwatersrand, Johannesburg as both universities celebrate 100 years of academic excellence on the continent.
As a way to commemorate their joint 100-year anniversary, both institutions have announced a partnership to strengthen their bonds in leadership, research and innovation.
Makerere is Uganda's largest and oldest institution of higher learning, first established as a technical school in 1922. It has been able to transform communities and societies through its wealth of human capital, numerous research outcomes and technological innovations that have served Uganda, East Africa, Africa and the world in general.
The centennial celebration presents both Wits and Makerere with a significant opportunity to map out a joint collaborative future. Both institutions held a virtual centennial celebration, hosted by their respective vice-chancellors, to commemorate their anniversary.
The partnership was formalised through a Memorandum of Understanding signed virtually by the Vice-Chancellor of Makerere University, Professor Barnabas Nawangwe, and the Vice-Chancellor and Principal of Wits Professor Zeblon Vilakazi (FRS).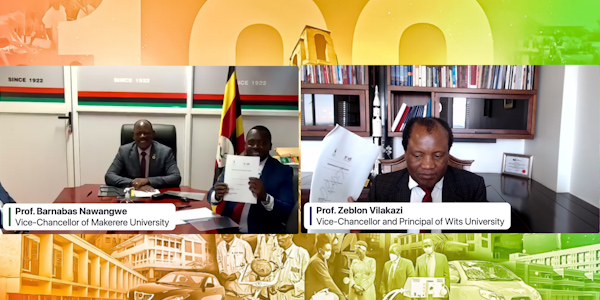 Professor Nawangwe, who serves as the Board Chair of the African Research Universities Alliance (ARUA), said that the MoU will give both institutions an opportunity to increase their collaboration with one another as two of the continent's leading research universities.
"Wits was one of our first partners in South Africa and that partnership has grown tremendously. Many of our faculty members were trained at Wits and our researchers have collaborated with Wits in the past. That is what we should be doing across the continent, " said Nawangwe.
Professor Vilakazi agreed with Nawangwe, adding that partnerships across various institutions in Africa need to grow in order to distribute intellectual, financial and administrative resources evenly.
"Regarding research excellence, I think both universities are ambitious and want to tackle big problems. Both universities have strong reputations of a hundred years upon which to build. That is the core DNA of these universities despite the historical challenges that we face," said Vilakazi.
"This MoU will certainly be one of the first steps, which will hopefully be giant leaps for the two universities to really get into the next orbit of partnership and leadership on the African continent."
Objectives of the MoU
The main objectives of the Memorandum of Understanding are to pursue collaborative academic and industry research and establish linkages in areas of mutual interest including ICT, engineering and construction, education, health, sanitation, welfare, environment, urban planning, agriculture and innovative solutions for improved service delivery.
It also seeks to promote strategic partnerships with international bodies which can enhance mutual interests and promote knowledge exchange and cooperation between the parties and other stakeholders.
In addition, it seeks to undertake interventions that target the development and implementation of appropriate and sustainable solutions in the city and mobilize resources, including funding and infrastructure for joint research and development projects.
Lastly, it seeks to build capacity through the training of staff and recognize the considerable benefits of providing internship opportunities that encourage knowledge exchange.
A relationship of partnerships