Developing equal partnerships in unequal societies
- Wits University
Wits strengthens EU partnerships through becoming a CIVIS Alliance strategic partner.
Wits University is one of six African strategic partners to the CIVIS Alliance, which committed to Deepening African-European science cooperation by tapping the potentials of European University alliances.
A delegation from Wits University, led by Vice-Chancellor and Principal, Professor Zeblon Vilakazi, signed the partnership agreement and position paper for cross-Mediterranean collaboration in higher education, on the final day of the three-day conference titled New Horizons for the European-African Partnership, co-hosted by CIVIS and its member university Aix-Marseille Université, in Marseille, France last week.
Academics and policymakers from both sides of the Mediterranean, including the French Minister of Higher Education Fréderique Vidal, Wits historian Professor Achille Mbembe and Peter Maassen, and numerous representatives of the European Commission attended the conference.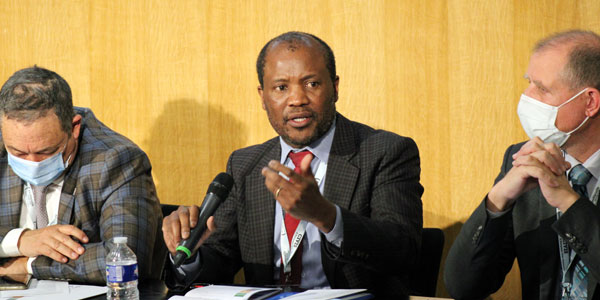 "We entered into an ambitious partnership agreement with CIVIS and five other African partners to collaborate on several fronts in the coming years," explains Vilakazi. "Although we have numerous direct partnerships with universities in the EU, this new agreement will institutionalise cooperation with the entire Alliance and its members. This is an opportunity for us to level the playing fields and to develop equal partnerships in unequal societies."
The position paper put forward makes the case for an EUI which:
Acts as a catalyst for challenge-based education, as seen in the CIVIS Hubs. Humanity now faces global problems, so the search for solutions must reach out to partners beyond Europe's borders.

Broadens the definition of student mobility to include exchanges and study visits which take European students outside Europe or bring students from around the world to European universities.

Supports equitable research partnerships, as foreseen in the agreement between the European Union (EU) and African Union (AU) on an EU-AU Innovation Agenda.
In terms of this partnership, the six African partners will be integrated into the CIVIS Hubs, where academics will work together to develop educational and other activities to respond to global challenges. "This could offer the chance for increased mobility (both physical and virtual) or create new opportunities to leverage our shared capacities to seek external funding. Together we can also build on our work with a positive social impact on our local communities," reads an extract from the statement.
CIVIS is a European Civic University formed by the alliance of ten leading research higher education institutions across Europe: Aix-Marseille Université, National and Kapodistrian University of Athens, University of Bucharest, Université libre de Bruxelles, Universidad Autónoma de Madrid, Sapienza Università di Roma, Stockholm University, Eberhard Karls Universität Tübingen, University of Glasgow and the Paris Lodron University of Salzburg.
It brings together a community of more than 470 000 students and 58 000 staff members including
35 000 academics and researchers.
Six African Strategic Partner Universities
The six strategic partner universities are: Université Hassan II de Casablanca, Morocco, Université of Sfax, Tunisia, Université Cheikh Anta Diop de Dakar, Sénégal, Makerere University, Uganda, University of the Witwatersrand, South Africa, and Universidade Eduardo Mondlane, Mozambique.