Wits hosts winter camps for high school learners
- Wits University
Wits University hosted grade 9 to 12 learners from across the country as part of its intervention programmes aimed at boosting their educational outcomes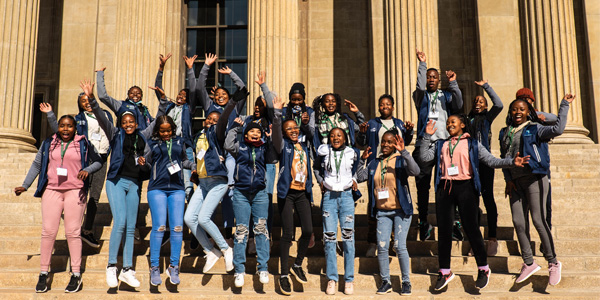 Approximately 600 learners took residence on main campus. The first group forms part of the Targeting Talent Programme, which marks 16 years of existence in 2022. The second group belongs to a new programme called Next Engineers, a global programme currently taking place in Johannesburg, the first city in Africa to host the programme.
A decade of supporting learners from disadvantaged communities
Wits University celebrates 16 years of the Targeting Talent Programme - a pre-university enrichment programme for grade 10-12 South African learners. Since its inception, the programme has supported 3022 learners from across the country, and primarily targets academically deserving learners from rural and township schools. Participating learners are selected in Grade 10 and are nurtured until they matriculate. TTP's grade 12 learners have a history of achieving high results and gaining access to programmes of their choice due to academic excellence.
The TTP pass rate for 2021 was 97% with 90% of TTP learners achieving a bachelors pass. This is compared to the 76% pass rate of the NSC matric class that achieved 36% a bachelors pass.
The programme consists of three residential sessions a year, one week each in the autumn and spring vacations and two weeks during the winter break.
The programme is designed to help learners develop their strengths that underpin successful performance at university level. Learners spend their days engaging in a holistic development programme by attending lectures in science, technology, engineering, mathematics (STEM), social research, English, computer sciences, critical diversity, sports as well as wellness programmes like yoga, pilates and dance.
The programme aids learners with critical university-level skills through the use of information technology, library resources, time management and the capacity for self-directed learning.
Educators and families to drive academic excellence
The involvement of families and the communities that the learners come from, is transformative and an integral part of the programme, says Zena Richards, Director of Student Equity and Talent Management Unit which oversees the programme. TTP maintains relationships with parents, educators, principals and provincial education authorities through annual provincial family workshops.
In addition, mathematics and physical science educators from targeted schools become part of the Educator Enrichment Programme. The teachers trek to Wits during the July break to build subject-specific and curriculum- specific knowledge.
The success of TTP speaks for itself as TTP alumni go on to secure placement across various South African universities and other institutions of higher learning, and ultimately secure employment.
Nqobile Mkhize is a TTP alumni currently studying towards her Masters in Finance at Wits and is volunteering as a TTP mentor. "I saw the role TTP mentors played in my life. I became a mentor because I wanted to pay it forward," says Mkhize. She commends the programme for giving her a voice and helping to build her confidence.
Next Engineers programme
The Next Engineers programme is a partnership between Wits University, General Electric (GE) and PROTEC. The programme is tailored towards young learners to encourage an uptake of science, STEM subjects to address the global shortage of engineers.
Open to grade nine learners from various schools in Johannesburg, more than 60 % of the participants are females, a positive development considering the low numbers of women in the field.
During the winter residential camp, learners got to explore different fields of engineering and were exposed to practical engineering problems. The camp complements other parts of the programme presented throughout the year.
Lebogang Chiloane from Letsibogo Girls' High School in Meadowlands, Soweto was ecstatic following a lab tour, saying she is excited about what she has learned on campus and looks forward to pursuing a career in mining engineering.
Chiloane does not dismiss the possibility of changing from engineering to other fields of the discipline as she has much to discover before she exits the programme in Grade 12.
The Next Engineers programme is a global project running in 25 cities. Johannesburg is the first and only city in Africa selected to join the programme this year. It is envisaged that upper grades will be included in the coming years.