'Digital activism is the future' – Commonwealth scholar
- Wits University
Albert Sharra, recipient of the Commonwealth Split-site scholarship, focuses on digital political activism and people power.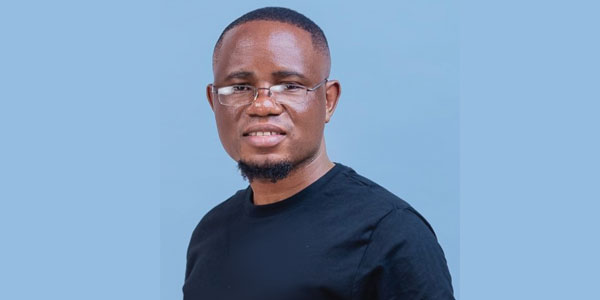 Social media has been praised for its ability to connect people and for mobilising action for change in communities, business and politics amongst other spaces. The 2010 Arab spring, #FeesMustFall, and #BlackLivesMatter were amplified by social media. Every day, digital tools help to set the agenda as individuals use these to call attention to what matters to them.
However, digital activism has been criticised for its lack of permanence in creating meaningful change beyond rage. There are a proliferation of topics, but these die without offline action.
Wits researcher in digital activism, Albert Sharra, holds a different view.
"Yes, digital political activism has the potential to lead to meaningful and even sustainable change. For the past two decades, people have tried to dismiss online activism, calling it 'clicktivism' in which people just tweet or share posts without a purpose. However, evidence shows the opposite. People are taking online activism seriously and we can see how activists such as Evan Mawarire in Zimbabwe are challenging established institutions such as government with online protests."
Sharra, a multi-award winning journalist from Malawi and a PhD candidate in the Department of Political Studies at Wits cites how African governments have taken surveillance to online platforms to silence dissent against government.
"So you have people who attack others on social media platforms and are sent by government officials. Other attacks are happening in real life as a result of online discussions. This means online activism has become more relevant. So, we have to take it: digital activism is the future."
African people power from Edinburgh
Sharra has been awarded the 2021-2022 Commonwealth Split-site scholarship at the University of Edinburgh in Scotland. Here he will spend a year at the Centre of African Studies (CAS) advancing his PhD studies in digital activism and people power in the Global South. The scholarship cements the partnership between Wits University and Edinburgh.
The Centre is a perfect place to be, says the three time-winner (2017, 2018, 2019) of the annual MISA-Malawi Media Overall Journalist of the Year Award.
"The University of Edinburgh is ranked amongst the top 10 in the UK and 30 globally. Apart from playing host to globally recognised experts in African Studies, CAS is a multi-disciplinary Centre crossing all the university's faculties conducting research on African issues, with a particular strength on African social media studies. This is the brain bank that I am targeting to help me sharpen my arguments. At the Centre, I will be presenting my work and receiving feedback, which I think will strengthen my theoretical arguments because my research work is more conceptual and adopts theories from different fields of study such as psychology, anthropology, and politics," says Sharra.
Sharra, who speaks highly of his Wits supervisor Professor Joel Quirk and colleagues, says that he has built a solid foundation for his studies and is confident as he embarks on his studies abroad.
"I am so thrilled with how Wits has uplifted me and made me a competitive candidate globally. Moreover, I am really proud of myself that I am not going to an ordinary university."
He further hopes that his stay at the UoE will help refine the process of converting his PhD work into a book, building on his growing list of academic publications. His debut book chapter, co-authored with Dr Trust Matsilele and edited by Professor Shepherd Mpofu, was published in November 2021. Several of Sharra's academic papers appear in the African Journalism Studies journal.
"The topic is very important because digital technology is here to stay, and the future of activism is in digital media. My study explores several emerging issues in digital activism and the findings show that even the governments are not sleeping trying to find mechanisms to regulate online activism, and we cannot sit down and watch. Most importantly, my study exposes the different tactics that activists are adopting to challenge their governments. This also shows how online activism is changing the way citizens interact with their governments. I would say some governments are slowly learning to listen to citizens' voices posted online, which is very good," says Sharra.
Sharra joined Wits in 2017 for his master's degree and started his PhD in 2019 after a 10-year career as a journalist at Nation Publications Limited in Malawi, where he held various positions. He began as a general journalist in 2009 covering sports and other beats. With time he moved to the current affairs desk and by the time he left Malawi in 2019, he had worked as an investigative journalist for Solutions Journalism and acting editor for three desks focusing on features, arts and entertainment and current affairs.
Journalism and teaching are his passions. Since 2019, Sharra has been teaching two courses – Comparative Politics and Conflict, and Stability and State Building in Postcolonial Africa – at Wits. In 2021, he was awarded the PhD Teaching Assistant fellowship, which saw him undergoing an eight-month Wits professional teaching training programme. In 2022 and 2023, he will be pursuing a Postgraduate Diploma in Higher Education in the Wits School of Education.
"Journalism is on the edge and we can only save its future by producing well-qualified journalists who can do a better job. Teaching is the key recipe for professional journalism, and I want to contribute to this through teaching and providing refresher courses for journalists in Africa," he says.
At UoE, Sharra will be hosted by Dr George Karekwaivanane, a lecturer and expert in African Studies.