Africa-UK partnerships for climate action
- Wits University
Wits Vice-Chancellor and Principal participates in strategic climate change conversation on COP26 and COP27.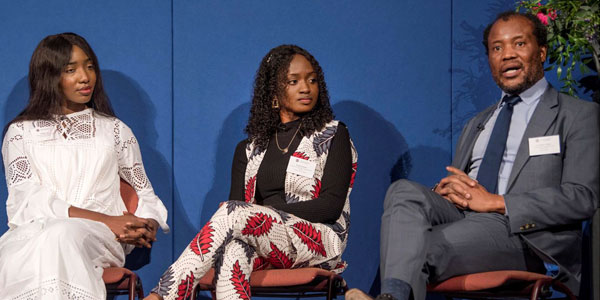 Professor Zeblon Vilakazi, the Wits Vice-Chancellor and Principal, participated in a strategic external COP26 conversation at the Playfair Library at the University of Edinburgh on 6 November, to explore ways in which to deliver on the goals of COP26 in the UK and COP27 in Africa, through the development of green industries and the provision of green skills and jobs.
The COP Presidency will pass from the UK Government to an African government in 2022, providing a crucial platform for ensuring the legacy of COP26 outcomes and the strengthening of UK-Africa partnerships for climate action through COP27 and beyond.
Vilakazi was welcomed by his counterpart, Professor Peter Mathieson, the UoE Principal and Vice-Chancellor, as well as leading experts from the UK and Africa who participated in this crucial discussion. "This event showcases existing UK-Africa partnerships for climate action through education, science and innovation," said Mathieson. "It seeks to cement existing links and forge new partnerships between UK and African agencies, institutions and individuals, focused on the collaborative provision of the education, skills and jobs required to realise shared climate goals and to further equality, diversity and inclusion."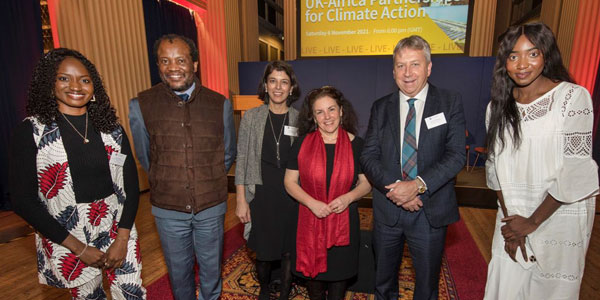 Wits and the UoE extended their partnership this year and will collaborate on several academic projects in the years to come, including on climate change.
Some of the challenges posed to panelists, including Vilakazi, focused on how to turn vision into action, and how to develop green skills and careers to address inequalities, to which Vilakazi responded decisively: "Higher education institutions are at the heart of the transition to a green economy. It is important for universities to foster innovative research and to develop the high-level skills (and especially green skills) to transform complex environments in Africa, many of which are plagued by poverty, unemployment and inequality," he said.
He expanded on the challenges that COP27 should address and emphasised the importance of acknowledging the contextual realities of environments in the Global South. "African universities should respond to their local challenges through developing high level green skills and research that can be replicated or adapted in similar situations around the world," he added. "Social engagement, education, advocacy, outreach and activism on climate change are essential activities that universities must undertake to advance the public good. Universities have a key role to play in creating awareness of the key challenges facing society, based on the best evidence and science available."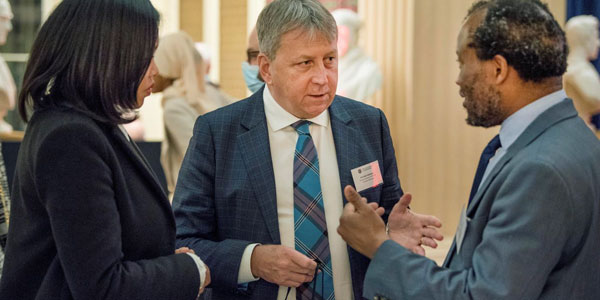 The panel was chaired by Professor Liz Grant who elaborated on the need for access to education at all levels, and the role that universities can play in providing a platform for multiple voices to be heard, and especially those of students.
On developing UK-Africa climate partnerships, Vilakazi emphasised the importance of symbiotic, mutually beneficial relationships: "Global, equal partnerships in an unequal world are very important. We need to think about how we create and share knowledge in more equal ways." When challenged on how what could be done differently in the lead up to COP27, he said: "Africa is a continent of 1,3 billion people and is growing. It wants to catch up with the rest of the world and to some extent wants to leapfrog development, but everything is centered around GDP. I would propose that we need to rethink 'wealth' and the indicators that we use to measure wealth."
Fellow panellist Devika Agge, the Director of Philanthropy at Health in Harmony sent a strong message to the global audience: "Planetary health is the way to go – if we want healthy people, then we need a healthy planet." She added that everyone should start radically listening, and build partnerships and network across academia, and the public and private sectors. "We also need to introspect and to change our lifestyles – we need to make simple choices. We are all guilty of consumerism, we are all guilty of having an enormous carbon footprint. By COP27, let us make a step change in the right direction."
Vahinala Baomiavotse Raharinirina, the Minister for Environment and Sustainable Development from Madagascar, delivered the keynote address, which focused on environment justice.
Her sentiments were echoed by Naomi Ekpoki, a sustainable energy systems engineer, and a social entrepreneur, who also commented on the important role of mentorship in addressing climate change. "We should actively mentor younger generations to develop a pipeline of essential talent for the future. Everyone needs to develop green skills," she said. On climate justice, she said: "Climate change solutions have to be just. For example, the US has over 300 million people and a power generation capacity of 1,2 million Gigawatts compared to the developing sub-Saharan African region which has a total of 81 Gigawatts of generation capacity. The move to renewable energy cannot be the same for both areas, and it is up to the international community to be just about transitioning to renewable anergy."
Maty Tall, an energy market analyst expanded on her entrepreneurship journey and approach to climate action. She added a different perspective: "Climate change is gendered. Women empowerment should be centered in all UK-Africa partnerships. Let's disaggregate the data, explore the evidence – both bottom-down and top-up, and remain cognisant of the contextual realities to make a real difference on the ground. Let us also not forget about the important role of the youth, our future leaders, as we transform to a green society," she concluded.
Vilakazi spent a few more days with Mathieson and His UoE counterparts in Scotland, including Professor Neil Turok at the Higgs Centre for Theoretical Physics, as well as his counterpart Dr Michael Spence, Principal and Provost of University College London. He then travelled back to London to meet with Wits alumnus and honorary graduand Sir David King and the former Wits Vice-Chancellor, Prof. Adam Habib, at SOAS, as well as with other key donors, alumni, and friends of Wits, in anticipation of Wits' centenary in 2022.