Science superstar reaching for the stars
- Wits University
The sky is the limit for science superstar and PhD student, Mpho Kgoadi.
A Wits alumnus, Kgoadi completed his Bachelor of Science from Wits. He holds a honours degree and a master's degree in Physics and Astrophysics from also from Wits.
Originally from Benoni, Kgoadi has a fascination about things that glitter in the dark, the stars, moon, and an overall interest about space and the universe.
"Ever since I was young, whenever I would feel depressed or sad, I would always go out in the night and look up and would always find peace in the stars."
An aspiring astrophysicist, Kgoadi is currently a PhD student in Astrophysics. His PhD, which focuses on dark matter is titled The Effect of Dark Matter in the Epoch of Reionization. He says studying towards a PhD has always been part of his plans. "I knew from first year that I wanted to do a PhD in order for me to be a fully-fledged astrophysicist and astronomer," he says.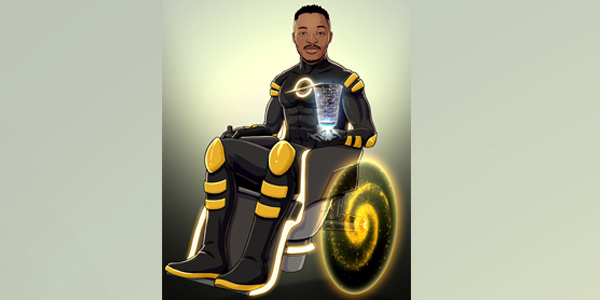 With his PhD and physics knowledge, he hopes to solve some of the universes' most complex problems. "The most important thing about Physics is solving the problems, acquiring the knowledge and bettering the community. I want to tackle the most fundamental problems of nature. There is nothing more satisfying then gaining knowledge."
Wits Disability Rights Unit enables success
Kgoadi, who now works as a Research Scientist intern at IBM says his student experience at Wits has been an enduring one, despite the challenges he experienced as disabled student in a wheelchair.
"I have always thought of myself as an adventurer in a way, a pioneer. I like to take risks. I like challenges and I am aware of the challenges there is.
He commends the support the Disability Rights Unit (DRU) at Wits has offered him throughout his studies.
"Whenever I was in trouble and needed to talk about anything. It could be literally anything in terms of support in terms of academics or someone to talk to, I would always fall back on the DRU. They were really helpful with any problem that I faced. I am quite lucky in that help has been there whenever I needed it. "
More than ten years ago, after feeling weak and collapsing in his home at the age of 11, Kgoadi started experiencing problems with his legs and struggled to walk. His condition worsened over the years, and in matric decided to make use of a wheelchair for support as could not walk long distances anymore.
Soccer icon, Cristiano Ronaldo is a greatest source of inspiration for Kgoadi, who loves football. He used to play the sport before being disabled.
"What inspires me about him is his ability to improve each and every time. He shows that hard work can beat talent. I do not see myself as particularly talented, however I do see myself as a very hardworking man. When people are doing something else, I am always working and each and every time I try to better myself and improve."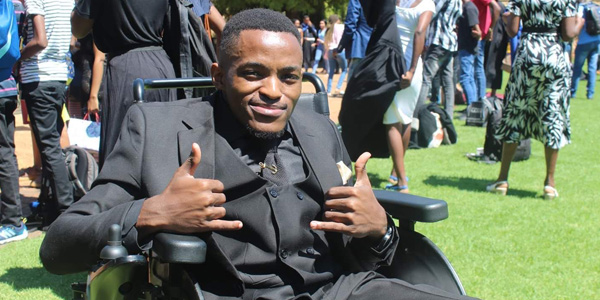 Symbol of hope for future generations
Kgoadi hopes to be a role model for many people, kids, future generations and misrepresented people especially in the sciences particularly black people and disabled people
"I want to be a symbol of hope for a lot of people and to show them that people's dreams are valid and can be attained if they put in the work. I want to be an inspiration for future generations," he says. He recently joined SuperScientists, an NPO that produces comic books to inspire young people and help them see themselves in the faces and life stories of scientists working today.
He attributes his successes and optimistic view in life to his late grandmother, who was his source of strength.
"My grandmother didn't allow us to think differently of ourselves. She would make sure that she protects us from the harshness or the unkindness of the world."
Kgoadi is a ball of fire and uses his skills, passion and life story to make a positive impact in the lives of others. He co-founded the Wits Astronomy club in 2015 where they host stargazing workshops and do outreach programmes at schools, and he volunteers at the Wits Planetarium.
He is also a member of the Faculty of Best Advisory Motivation, an organisation that aims to inform, uplift and empower the lives of people through provision of information through career guidance and facilitation of access to university for learners in rural and township schools.
He describes himself as "a typical geek", and enjoys watching cartoons, superhero movies, reading comic books and playing games on his play station.