Listening, speaking, learning, thriving
- Wits University
Therapy offered by the University Speech and Hearing Clinic enables communication and advances societal good.
Communication is the cornerstone of relationship building. For children, effective communication skills contribute to their social and academic development and enable them to express themselves with ease. Audiology [hearing], speech or language difficulties may inhibit effective communication and affect a child's self-esteem.
Services offered by the University Speech and Hearing Clinic (USHC) in the Wits Department of Speech Pathology and Audiology have enhanced the communication skills of speech-challenged children and ignited hope in their families.
The USHC, which serves as a student training facility and a public service site, provides hearing interventions such as hearing assessments and aural rehabilitation, as well as hearing aid fitting and management. The clinic's speech services provide interventions for speech delays and disorders, language delays and disorders, fluency disorders, stuttering, hearing assessments, hearing aid fittings and more.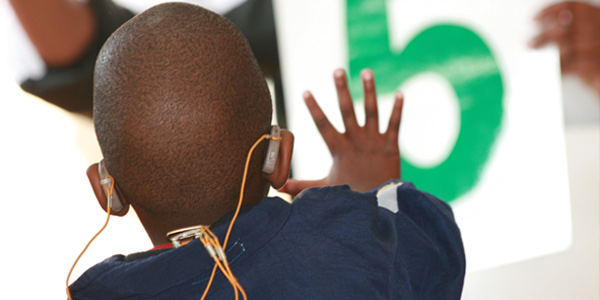 Dr Kim Coutts, a Lecturer in Speech Pathology and Audiology says the services of the Speech and Hearing Clinic aid in improving their clients' communication abilities.
"We assist people across the lifespan who have difficulties with communication. Communication is the essence of human life and the ability to communicate effectively is so important for the quality of life of so many people," says Coutts.
For Bonnie Tshabalala, improvement in her son's speech through services provided by the clinic has brought joy and tranquillity. Tshabalala reached out to the clinic in 2020 when she realised t a speech delay in her three-year-old son.
"Family members and relatives used to ask us why he was not talking at his age. I got a bit offended and thought they were picking on our child. This prompted us to take him for assessments and get him therapy," says Tshabalala.
She says her attitude to her relatives and the public has since changed as she now understands her son's challenges better because the clinic empowered her with information. Her son began therapy in March 2021.
Elizabeth Mokganya, mother to a nine-year-old boy who has communication difficulties due to stuttering, says that therapy sessions have positively transformed his son.
She explains that before therapy, her son's self-esteem was very low and schoolmates would mock him.
"He used to come home and tell me that his former class mates would ask him, 'Why do you speak like this?' Today, my son is very confident, such that he is able to tell his teachers to be patient with him when he is struggling to complete a sentence in class. He is doing very well at school," she says.
Although the lockdown in 2020 halted face-to-face services at the UHSC, Mokganya says the online sessions provided the opportunity for her to learn how to assist her son, as she occasionally joins the online sessions between the therapist and her son.
Both Tshabalala and Mokganya state that aside from techniques that they have learnt to aid their children's communication, they hail the USHC for teaching them patience.
Another parent, Saskia Cowles advises parents to seek professional help and start their children on speech therapy sooner rather than later. She is pleased with the therapy her son received from USHC.
"We got a report at the end of last year from the clinic, which showed us how his speech has improved from the various areas identified as problems. We are working on his pronunciation now and it is improving. He is starting to say words better now," says Cowles.
About the USHC
This year, USHC celebrates its 85th anniversary. It is the oldest clinic of its kind in South Africa. The public service speech and audiology facility offers both face-to-face and virtual therapy sessions and is committed to advancing the public good and providing professional services to the public at a low cost. Therapy is free for senior citizens and people who cannot afford the services. In a quest to continue offering services and assisting clients with communication challenges amidst the pandemic, the clinic provides data to clients who are unable to afford it for virtual sessions.