A posthumous award for Sibongile Khumalo
- Wits University
South Africa's first lady of song, Dr Sibongile Khumalo, has been awarded an Honorary Doctorate in Music posthumously by Wits University.
The doctorate was conferred this morning, 21 April 2021, at the virtual graduation ceremony where teaching students from the Faculty of Humanities received their degrees.
Accepting the award, Ayanda Khumalo, daughter of the late jazz singer and cultural activist, said the family is "humbled and filled with gratitude and pride at the honour of receiving this award on behalf of our mother, Dr Sibongile Khumalo."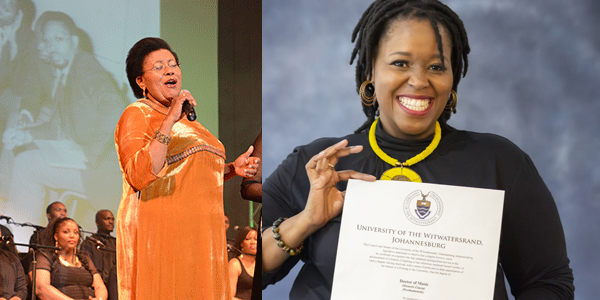 Ayanda recalled how ecstatic her mother was in March 2020 when she learned that Wits would confer an honorary doctorate.
"Sadly she never got to experience this moment physically, but I know that she is with us in spirit," said Ayanda.
The singer, who passed away on 28 January 2021, mesmerized audiences across the globe.
"She was an ardent proponent of arts education and how it can be used for social upliftment and justice. She inspired the creation of new music by South African composers, both in the classical and jazz genres," said Professor Garth Stevens, Dean of the Faculty of Humanities at Wits.
"It is fitting that the University of the Witwatersrand should honour Sibongile Khumalo and her work by bestowing on her a posthumous Honorary Doctorate Degree in Music," said Stevens during the graduation ceremony. Read the citation.
Khumalo came from a musical dynasty and her father, Professor Khabi Mgoma was also awarded an honorary doctorate in 1987 by Wits University for his contribution to the preservation and development of South African music.
Ayanda delivered an apt address, partly penned by her mother, to the graduating teachers. The speech reflected Sibongile's days as a child in Soweto and the music programme that operated from Room 2 in Orlando High School.
"Room 2 was a small space where dreams were born, nurtured, given wind and allowed to soar," despite the ravages of the apartheid environment.
Ayanda urged the audience to reimagine their communities, adding that every child deserved a Room 2.
Displaying storyteller talent, Ayanda invoked some of her mother's values, favourite poets and African philosophers before concluding that "we need to commit ourselves to a loving, joyful and compassionate world."
Sibongile Khumalo was a Wits alumna, a supporter of Wits University and gave freely of her time to enrich the lives of Wits students. Read how she used her voice to raise funds for academically deserving students in need of financial aid.