2020 Graduations: Wits honours national heroes, lauds graduates
- Wits University
Almost 10 000 students graduate from Wits in 2020.
"You represent hope for a nation, you demonstrate that it is possible to overcome and to achieve, despite the odds. You provide hope for society. You have the ability to heal the divides of our fractured past so that we come together as a country and a collective humanity. You are on the frontlines of creating a global academy of commons, and producing world-class science, technology and innovation to solve our transnational challenges be it COVID-19, climate change, inequality, renewable energy or social and political polarisation. You have the ability, in this historical moment, to use your scholarship to help build bridges of solidarity and to heal our fractured world," says Wits Vice-Chancellor and Principal, Professor Adam Habib.
Almost 10 000 students graduate from Wits in 2020
Wits University is awarding close to 10 000 qualifications in 2020, of which 2 500 will be bestowed during the December graduation cluster, using a hybrid model. The majority of degrees are conferred virtually and a limited number of graduation ceremonies will take place physically in the Wits Great Hall. All physical graduation ceremonies are live-streamed via: http://streaming.wits.ac.za/
The first in-person graduation (with all COVID-19 protocols in place) took place today, Monday, 14 December 2020, where about 175 students were awarded doctoral degrees from five faculties: Faculty of Commerce, Law and Management; Faculty of Engineering and the Built Environment; Faculty of Health Sciences; Faculty of Humanities; and the Faculty of Science. More ceremonies will run throughout the week.
A Deaf student, an 87-year-old nephrologist and an innovator awarded doctorates from Wits today
"The PhD graduation ceremony is about celebrating the fact that so many people from diverse communities can achieve the pinnacle of academic success," says Habib. "We need more scholars, researchers, postgraduate students and postdoctoral fellows to engage the global north in equal times. You are the future cohort of intellectuals who can advance a global academy of commons and enable the possibility of equitable opportunities in science, technology and innovation, which is both world-class and contextually relevant, to address the translational challenges of our time."
There were about 150 top graduates with high level and scarce skills who graduated from Wits this morning. The three stories that follow represent only a fraction of the talent emanating from Wits:
Professor Emeritus Anthony Meyers (87) was awarded a Doctor of Medicine degree this morning. The longest-standing member of the Wits Faculty of Health Sciences, Meyers was lauded for his work which explores the pivotal role of a kidney stone clinic, which could reduce mortality by 30%.
Michael Lucas received his PhD today for developing a new self-sanitising surface coating to address infection control in hospitals, food processing plants and public transport surfaces. [LISTEN] to his podcast where he explains how his innovation can stop infection before it starts.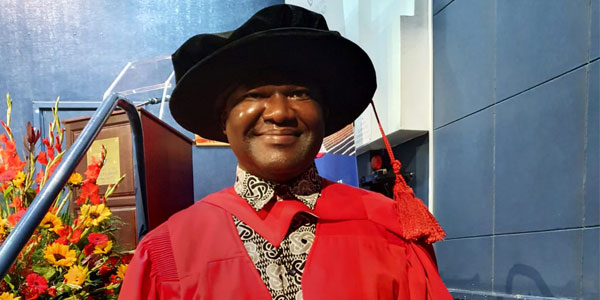 A respected Deaf educator and leader, Lucas Matsobane Magongwa, a Lecturer in the Wits Centre for Deaf Studies, graduated with a PhD today for his thesis titled The introduction of South African Sign Language as a first language subject in schools for the Deaf in Gauteng: Teachers' Experiences. The study explores the first implementation of South African Sign Language Home Language Curriculum in schools for the Deaf.
Honorary degrees for Henry Nxumalo (Mr DRUM), Prof. Lucille Blumberg, Prof. Skip Gates, Prof. Khaya Mfenyana, Richard Enthoven and Lyda Hill.
Wits University will confer honorary doctorates on six distinguished individuals during the December graduation cluster. They are Mr Henry Nxumalo also known as Mr DRUM (posthumous), Prof. Henry Gates Jr., Prof. Khaya Mfenyana, Ms Lyda Hill, Prof. Lucille Hellen Blumberg and Mr Richard (Dick) Enthoven. Dr John Kani who received his honorary doctorate in July will deliver a live address on Thursday, 17 December at 14:00 in the Wits Great Hall. Read the full citation and listen to his initial pre-recorded speech on receiving the honorary doctorate
Honorary doctorates are awarded for outstanding contributions to society and these recipients have left a lasting impact on humanity. Read more about the honorary graduands below.
ABOUT THE HONORARY GRADUANDS
Henry Nxumalo has been awarded a Doctor of Literature degree (posthumously) for his role in pioneering investigative journalism in South Africa during an oppressive period in the country. Nxumalo, whose nickname was 'Mr Drum', conducted daring journalism which brought to light many of the human rights abuses by the government be it in prisons or farms where his 1952 exposé of the conditions on the farms led to the famous national potato boycott. South Africa owes much to Nxumalo who was sadly murdered at the age of 40, whilst investigating a backyard abortion racket in Sophiatown.
Professor Henry Louis "Skip" Gates, Jr. has been awarded a Doctor of Literature degree for his contribution to African-American studies. Gates is an American literary critic, teacher, historian, filmmaker, and public intellectual who has elevated the study of African-American history and literature in the United States. The author of many books on literary criticism and African-American history, and the director of Harvard's W.E.B. DuBois Institute for African and African American Research (now the Hutchins Center), Gates has been a pioneer in African-American studies for decades. A recipient of the National Medal of Honor from the White House, Gates became the first African-American scholar to be awarded the National Humanities Medal and is the recipient of 55 honorary degrees.
Professor Khaya Mfenyana will be awarded a Doctor of Science in Medicine degree in recognition of his commitment to producing graduates who focus on social accountability though community practice. Born in the rural Eastern Cape in 1945, Mfenyana is a leader in family medicine and has championed community-based learning in health sciences education. He has served on the Council of the Health Professions Council of South Africa. In 2012 he was appointed to the Minister of Higher Education and Training's Joint Technical Task Team to advise on separating the Medunsa Campus from the University of Limpopo and to establish it as the Sefako Makgatho Health Sciences University. In 2011, he served on the Minister of Health's Task Team to advise on establishing the District Clinical Specialist Team as part of endeavors to re-engineer South Africa's primary health care system. His contribution in higher education and national health is deserving of Wits' highest honour.
Ms Lydia Hill will be awarded a Doctor of Science degree on 15 December 2020. Ms Hill is an entrepreneur, philanthropist and visionary whose life work has been transformational in community and global service and the support of research and science worldwide, particularly relating to assisting and promoting women in science, technology, engineering, and mathematics, and the exploration sciences. Her relationship with Wits extends over the last six years when she became involved at a critical moment in the discovery of Homo Naledi at the Rising Star cave system. Over the last five years, she has extensively supported research into human origins in South Africa and has made invaluable contributions to international society and science.
Professor Lucille Blumberg will be recognised with a Doctor of Science in Medicine degree for her work in the health sciences. A highly-respected infectious diseases specialist who sits on many national and international expert groups. Blumberg was instrumental in establishing and responding to many outbreaks of diseases in South Africa and abroad including rabies, malaria, acute respiratory syndrome (SARS), tumbu or mango fly parasitic infestation, lassa fever, LuJo; and more recently listeriosis. As a result of the early intervention and excellent leadership provided by Blumberg, these outbreaks were appropriately managed and controlled.
Richard (Dick) Enthoven is a highly distinguished and successful South African entrepreneur and philanthropist. Wits is proud to honour Enthoven's contributions to business and art in South Africa and to bestow a Doctor of Commerce degree on him (in absentia). Enthoven was instrumental in building iconic South African and international businesses including Hollard Insurance, Auto and General, Nando's, Direct Axis and the Spier Wine Estate. His extensive philanthropic impact on the arts in South Africa is particularly notable for its focus on supporting emerging and young South African artists, and building institutions in the arts. At Wits, his legacy has had a profound impact on the Wits Arts Museum where generous catalytic funding over the last eight years has enabled the development of a more than R30 million endowment, an almost doubled staffing complement and the capacity to catalyse significant additional funding. Enthoven's core personal beliefs around the centrality of the arts and artists to serve as catalysts for societal change has resulted in institutions that deeply value and sustainably include the arts in their operations.