Professor Segal and Dr Kani lauded for outstanding service
- Wits University
Wits University has awarded honorary doctorates to two distinguished South Africans for advancing humankind through their respective fields.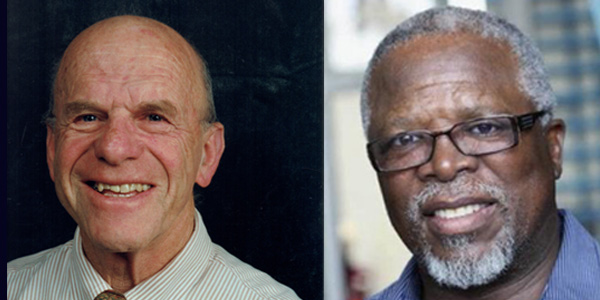 Professor Issy Segal, a renowned gastroenterologist and Dr John Kani, a veteran actor and playwright were recognised at a closed ceremony this week to mark Wits University's July 2020 graduation cluster.
[WATCH] the Wits 2020 graduation ceremony
"Wits University is proud to confer its highest honour on these two remarkable leaders who have in different ways contributed to the advancement of our country and society," said Professor Adam Habib, Wits Vice-Chancellor and Principal. "We would also like to congratulate the 1 257 graduands who would have walked across the stage in the Great Hall. Hopefully, they will still cross the stage when circumstances allow post-Covid19."
Professor Issidor "Issy" Segal was awarded an Honorary Doctor of Science in Medicine degree. Segal has led the teaching and training of gastroenterology specialists on the continent. His models of how these units should function have been used by global organisations. Segal started his career as a general practitioner in Soweto and established South Africa's first Gastroenterology Unit in 1975 at the then Baragwanath Hospital. The 87-year-old dedicated his life to ameliorating gastrointestinal disease in Africa, to improving the standards of healthcare for patients and to inspiring confidence that Africa can contribute to finding solutions to the continent's health problems. Read the full citation and his speech on receiving the honorary doctorate.
Dr Bonisile John Kani was awarded an honorary Doctor of Literature degree. Kani is one of the pioneers of contemporary theatre in South Africa and his legacy is embedded in performance cultures, theatres and learning spaces across the globe where it is studied, performed and archived for future generations. As an artist and social activist, Kani has used his work to interrogate complex sociopolitical matters and contributed, through his art, to the liberation of South Africa. Today, his voice remains as commanding, critical and forthright about our country's current social circumstances as it was during the darkest days of the anti-apartheid movement. Read the full citation and listen to his speech on receiving the honorary doctorate.
In his pre-recorded acceptance speech, Kani, who has served on Wits University's Council, the highest decision making body of the University, said he wishes to address the congregation as a concerned parent and a social activist.
Chief amongst his concerns are the persisting racial outbursts and violence against women and children. He also touched on the burdens of parents and their impact on children.
Calling on artists, Kani said that it is their individual and collective duty "to speak openly about the many challenges that our country faces including racism, reconciliation, sexual and gender based violence, the lack of humanity, Ubuntu, redistribution of the country's wealth and resources and an inclusive economy."
"However, action is needed more than just words. Now is the time for all of us artists, who have the luxury of a public platform, to campaign openly against what is wrong in our country – just as we did against apartheid – and hopefully contribute towards building a brighter and more promising future for all who live in this wonderful land of ours," said Kani.