Celebrating 30 years of teaching, research and social impact at the Wits Rural Campus
- Wits Communications
The Wits Rural Campus has enabled impactful interdisciplinary research, student training and community engagement in rural Bushbuckridge for 30 years.
"The Wits Rural Campus (WRC) is part of Wits University's fundamental agenda and is an exemplar of what universities need to do to change society for the better. We are a bridge between rich and poor, rural and urban, local and international, and a link between different countries and communities," said Professor Adam Habib, the Vice-Chancellor and Principal of Wits University, in his opening remarks at the launch of the upgraded WRC in Bushbuckridge, Mpumalanga on 6 September 2019. "On behalf of Wits University, I would like to thank all those who have worked to develop the WRC into the world-class Campus that it is today."
The opening coincided with the 30th anniversary celebrations of the Wits Rural Campus and the formal launch of the Wits Rural Knowledge Hub. It was attended by nearly 100 guests including senior University and government officials, vice-chancellors, Wits staff, and a range of other stakeholders such as local communities and NGOs.
One of the founding members of the Wits Rural Facility and a stalwart of Wits University, Professor John Gear, explained its early evolution: "The Health Systems Development Unit had the dream to train people, to develop policy and to empower and develop communities in the early 1980s. By the late 1980s we had 23 academics living at the WRF, with about 10 academic projects running including a law clinic, education outreach programmes, technology courses, a water resource development programme and even an architecture series. Interdisciplinary research was common and these projects bred larger endeavours like the Centre for Health Policy and the world-class MRC/Wits Rural Public Health and Health Transitions Research Unit which exists today."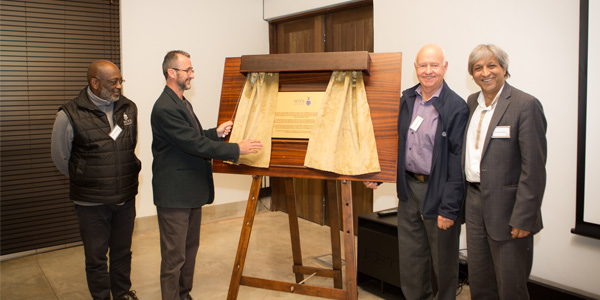 Gear served as the first Academic Director of the WRF when it was officially inaugurated in 1989, and together with his partner Joan, a social scientist, nurtured its development in the early years. However, the WRC was almost shut down by some short-sighted officials in the late 1990s. "Thankfully, Professors Loyiso Nongxa (former Wits vice-chancellor) and Yunus Ballim (former Wits deputy vice-chancellor) saw the value of the WRF when they took office and sought funding to reimagine its existence – the result is the facility you see today."
Director of the Wits Knowledge Hub and Associate Professor in the School of Animal, Plant and Environmental Sciences, Professor Wayne Twine, elaborated on the fundamental research and academic and social impact that results from the work undertaken out of the Wits Rural Campus. "The WRC is a world-class platform and knowledge hub for undergraduates, postgraduates and postdoctoral fellows who work on the Campus and in surrounding communities. The facility is used as a base for research in key themes including health transitions, social and population dynamics, environmental sustainability and teacher and school development," he said.
Thousands of students have passed through the WRC and particularly those undertaking studies in the health sciences, environmental sciences, and education, make the WRC their home.
Dr Mary Kawonga, a Senior Lecturer in the Wits School of Public Health, coordinates the rural block of the Graduate Entry Medical Programme, in which students gain experience and insight in primary healthcare environments with rural communities. "We take them out of an urban setting and tertiary academic training hospitals, tell them to take off their white coats and to work within surrounding communities to experience what it means to work in a rural area without the luxuries of stethoscopes and advanced technologies," she says. "Over 6 500 public health students have passed through the WRC – we want our students to understand that healthcare is multi-faceted and that patients and community healthcare workers are most important. Students are encouraged to understand the perspective of their patients and their context."
Student testimonies pay tribute to these experiences: "As medical students we are often only concerned about ourselves and spend very little time thinking about the part we are going to play in the communities that we will be serving. This rotation makes us think about our role – it places us in context and reminds us that being a doctor is about the people we can help". Another said: "The home visits gave me a genuine appreciation…and made me more empathetic towards patients and why they default on medication and clinic visits."
Professor Kathleen Kahn of the School of Public Health expanded on the significant longitudinal research undertaken over nearly 30 years in Agincourt, Bushbuckridge and surrounding communities through the Medical Research Council/Wits Rural Public Health and Health Transitions Research Unit.
The WRC is a second home to Kahn and her partner Professor Stephen Tollman, Unit director, who lived in rural Bushbuckridge for much of the 1990s, serving both as doctors in neighbouring communities and as University researchers. "This is one of the longest running population-based research platforms on the continent, which has nested life course studies of multiple generations of people in the area. The data enable us to identify trends and transitions related to the socioeconomic status of people in households and inequality among communities, the rapidly changing mortality and migration patterns, and the impact of compounding infectious and non-communicable diseases on already strained health systems," elucidated Kahn. "Our work influences healthcare policy on chronic conditions, HIV prevention and mental healthcare, contributes to validating national data, to influencing the distribution of social grants and has global impact via the World Health Organization (WHO)."
She also elaborated on how new technologies, including tablet-based electronic data collection, big data analytics, GIS maps and mobile devices are enabling researchers to collect data accurately in real time, and to make data available to the wider scientific community.
The Department of Science and Innovation (DSI) funded the first phase of substantial infrastructure expansion in support of transforming the WRC into a knowledge hub for rural development. The Department of Higher Education and Training (DHET) provided funds through the infrastructure development grant for the completion of the second phase.
"The Wits Rural Campus is an exemplary facility that demonstrates that our universities do not conduct elite research in ivory towers and teach in sheltered environments," said Dr Diane Parker, Deputy Director-General in the DHET. "It brings together academic excellence through education and research, innovation and social impact. In a nutshell, this facility impacts positively on communities and improves the lives of people."
"It is unusual to have two senior government officials at the same event, but the Wits Rural Campus is a unique development," said Dr Daniel Adams, Deputy Director-General in the DSI. "The Department wishes Wits University and the Wits Rural Campus another 30 years of growth in respect of knowledge generation and human capabilities, and making meaningful decisions to support interventions which inform and influence policies that lead to the inclusive, sustainable development of the country."
The Wits Rural Campus is now a world-class facility that offers over 150 beds, full conference and teaching facilities with WiFi, an ecology laboratory, swimming pools and an on-site restaurant in a tranquil bushveld setting, hosted by friendly and efficient staff. "It is a special place staffed by committed and loyal people, some of whom have been here for decades. We look forward to hosting more visitors from Wits and beyond at the Wits Rural Campus," concludes Cameron Watt, the WRC's Operations Manager. The Campus is close to Bushbuckridge, Acornhoek, the Orpen Gate of the Kruger National Park and many private game reserves.
For more information about the Wits Rural Campus, its teaching and research, its fauna and flora, things to do in the area and its accommodation visit https://www.wits.ac.za/campus-life/arts-and-culture/wits-rural-facility/ or call +27 (0)15 793-7500.