Walking in Madiba's footsteps
- Wits University
Wits staff members uphold Madiba's values of humanity and generosity by donating food and toiletries to the Wits Food Bank.
Thousands of South Africans across the country celebrated Mandela Day, which is commemorated annually on 18 July with special projects and gestures that positively contributed to their communities.
At Wits University, Nelson Mandela's alma mater, staff members took on the Mandela Day Food and Toiletry Drive Challenge by collecting non-perishable food items and toiletries in aid of students who are beneficiaries of the Wits Food Bank. The Challenge, which first started in 2016, is a call to action for staff members to display their spirit of giving to effect positive change.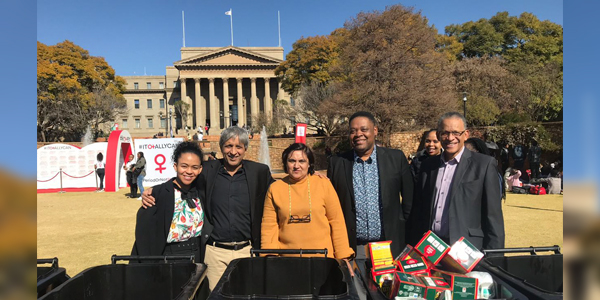 The Wits Food Bank, managed by the Wits Citizenship and Community Outreach (WCCO) supports over 4 000 students facing food insecurity. Heeding the call to action, to assist less fortunate students, the Wits Catering Department donated four wheelie bins full of food and toiletries. The Senior Executive Team, tried to match this with their donation of three bins.
Wits Dean of Student Affairs, Jerome September said that the food and toiletry collection was an effort to follow in Mandela's legacy.
"We are doing this in memory of our former president Nelson Mandela because his legacy is about dignity, restoring the dignity of people. He had a love and passion for young people. Today we are really trying to pay it forward by providing our students with the basics."
He urged the Wits community to continue supporting the Wits Food Bank and students throughout the year.
While the Challenge was for staff members, groups of students from various Schools joined in to engage their competitiveness. Postgraduate students in the School of Molecular and Biology Sciences challenged the School of Chemistry to see who would donate the most for their fellow students. Both Schools impressively managed to fill two bins with donations within a few days of knowing about the Mandela Day initiative.
PhD student from the School of Molecular and Cell Biology, Mihai-Silviu Tomescu and member of postgraduate committee of the School said they participated in the initiative because they wanted to make a difference within their own community – being Wits.
"There is no better task to be kind to others and to bring our own community together. Our goal as scientists is to make lives better everywhere. Everything that you do ultimately must be for the greater good", he said.
In total, over 16 bins of donations, with nearly 2500 food and toiletry items were collected for the Wits Food Bank from staff and students.