Lend a hand to students
- Wits University
Starting university was a dream come true for Talent Marange who spent years at home after completing matric.
When Marange passed her A-Levels (matric) in 2014 she already knew that she needed to start work immediately as her mother, the breadwinner, was no longer fit for domestic work or hawking due to arthritis. And so it was that the bright girl, born to a South African mother and Zimbabwean father found herself watching as her peers moved on with life while she juggled family responsibility and selling food to school children.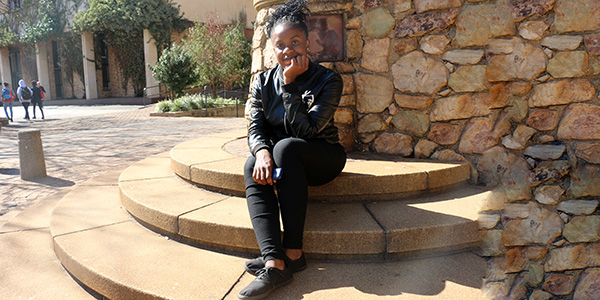 A lifeline came through her maternal aunt who invited her to return to South Africa where she was raised before her family moved to Zimbabwe at the age of 14 years.
Encouraged by her aunt, Marange applied for university admission and started a social work degree in 2017.
The family was already stretched financially and their generosity had to reach other relatives in similar condition, thus Marange was grateful for the opportunity to go to university with support from her aunt, and rotating around different family members for accommodation.
"In first year I had to learn to manage my hunger because I would leave home very early and only eat when I returned around five in the afternoon," she says.
"When you are hungry it's hard to concentrate and as a result you tire easily. All that you want to do when you get home is eat and this triggers sleep because you did not have energy the whole day," says the now second year student.
Discovering that the University has a food programme to assist students enabled Marange to focus on her studies. She is one of about 800 students who receive a cooked lunch from the Wits Food Bank.
This she says was a life-saviour and changed her study pattern. A meal at Wits meant that she could stay longer on campus and use the library and other facilities instead of rushing home because of hunger pangs.
The Wits Food Bank, which was established in 2012, currently supports nearly 4000 students facing food insecurity and need help. Students not only receive hot meals but also monthly food packs which come in handy especially for self-funding students who do not receive an adequate allowances from family as well as students who are partially funded by the National Student Financial Aid Scheme (NSFAS).
The Wits Food Bank, which is managed by the Wits Citizenship and Community Outreach programme (WCCO), relies on contributions from the public and private donors to help the many talented students who rely on these supplies.
The WCCO is embarking on a food collection drive this Mandela Day and is once again calling on the University community and the public at large to support its effort to bring dignity and promote student success. Donations of peanut butter, jam and soap are welcome. Individuals can craft a portrait of Madiba's face on the Library Lawns before the items are distributed by the Wits Food Bank. Drop off points are available across campus should donors be aunable to attend on 18 July 2018.
Marange, who quietly observed her 23rd birthday on 19 June by helping a friend to prepare for an exam, believes that her challenges have been eased by the support from the Food Bank and her friends who share resources including toiletries – as it often happens amongst the friends.
She is also deeply moved by the kindness of strangers, whom she says "donate and have faith in strangers whom they are unlikely to ever meet".
Her journey to attaining a qualification has provided many life-lessons. Lessons in and out of lecture theatres that cement her career choice. As a social worker, she wants to advocate for those disadvantaged and ensure that no one goes through the struggles she has faced.
To make regular and sustained monthly donations to the Wits Food Bank or other student support programmes, please contact the Wits Development and Fundraising Office.