Largest symposium in almost 50 years
- Gillian Anstey
School of Geosciences congratulated on "one of the best" International Platinum Symposiums ever.
South Africa produces 78% of the world's platinum and, as Associate Professor Judith Kinnaird of the Wits School of Geosciences points out, is seen as the ''home of platinum''. So she wasn't one bit surprised when at the previous International Platinum Symposium in Yekaterinburg, Russia in 2014, she was asked to make a presentation as to why SA should host the next such gathering.
Cardiff University had already put in a bid but she was told hers, presented to about 100 people, unanimously won the day.
Now Prof Kinnaird is being inundated with congratulatory emails from around the world – delegates from 18 countries registered for the 13th International Platinum Symposium held in Polokwane from 30 June to 6 July 2018, the third to take place in South Africa after a 20-year break. Its 201 delegates gave it the distinction of being the largest in the symposium's 47-year history.
"I made it as complicated as possible,'' said Kinnaird with barely the hint of a wry smile. Some attractions which contributed to the event's special flavour, yet added to the logistics for her and her main organising team of Natalie Brand and Danielle Simmons-Duarte, were providing transport to and from the airport; foreigners' registration including accommodation; and four half-day fieldtrips with an accompanying comprehensive 50-page field guide.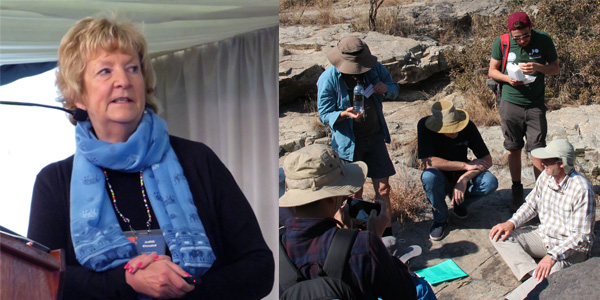 One highlight was the Braai in the Bush – although it was actually a potjie - which included watching the ranch's lions being fed. ''It was a major spectacle for all our overseas visitors, '' said Kinnaird, jubilant that delegates danced and partied until past midnight.
Obviously the core of the programme was academic. Apart from Kinnaird's own talk on the geology of the northern limb of the Bushveld Complex, there were three other keynote speakers: Steve Barnes from the Commonwealth Scientific and Industrial Research Organisation (CSIRO) in Australia on the topic ''What we know for sure (about layered intrusions) that (maybe) just ain't so'', Boris Tagirov of the Institute of Geology of Ore Deposits, Petrography, Mineralogy and Geochemistry, Russian Academy of Sciences (IGEM RAS) in Moscow on the hydrothermal mobilisation of gold and platinum, and José González-Jiménez of the University of Granada on the origins of platinum-group minerals in mantle-hosted chromitites.
There were 76 oral and 40 poster presentations and Kinnaird and her colleague, Professor Rais Latypov, are quick to brag about how well Wits scored in the student sections: PhD candidate Willem Kruger won best oral presentation and masters student Busisiwe Khoza came third in the poster competition.
''And just to keep it in the family,'' added Kinnaird, the best student poster award was won by Jordan Lindsay from the Camborne School of Mines at the University of Exeter, a PhD student of Hannah Hughes who was one of Kinnaird's postdocs at Wits from 2015-2016.
The conference covered its costs, thanks to R660 000 in sponsorship, the bulk of it from Ivanplats and AngloAmerican.
There were also three optional post-conference fieldtrips of up to six days each, to the Magaliesberg and Rustenburg area of the Western Bushveld, to the Burgersfort part of the Eastern Bushveld, and Nkomati and surrounds near Barberton.
In addition there was a four-day pre-conference Wager and Brown workshop. Convened by Latypov, Barnes and Christian Tegner of Aarhus University, it was to commemorate the 50th anniversary of Lawrence Rickard "Bill'' Wager and Malcolm Brown's definitive textbook, Layered Igneous Rocks.
Latypov and Sofia Chistyakova organised the workshop which focused on reviews and debates about recent developments in layered intrusions. It ended with a day trip to the Dwars River with its spectacular rocks, which Latypov referred to as "zebra-striped layering'': black chromitite alternating with white anorthosite – easy to see but with differing theories on how they were formed.
Seventy-four people attended the workshop with most staying on for the symposium. Marian Holness of Cambridge University said part of the workshop's success was its secluded location and beautiful surroundings which ''contributed to the overall good spirits of the assembled company. The discussions were excellent, and I really valued meeting so many people working on layered intrusions''.
Barnes declared the conference to be ''absolutely brilliant'' and ''one of the best I've ever been to. The format of field visits interspersed with the talks worked superbly, even if it was a bit relentless!''
Chris Ballhaus of the University of Bonn raved about its ''excellent organisation'', Andy Moore of Rhodes University echoed it was ''superbly organised'' and congratulated Wits for ''bagging the best student talk, which I thought was very well deserved despite all the other excellent contributions''. Alexey Ariskin of Lomonosov Moscow State University said: ''I will keep it in my mind as one of the best conferences I ever took part in.''
Kinnaird was touched by one of the waiter's comments at dinner on the last night: ''You look around and at every table there is young and old, and at every table there is black and white, and everybody's talking to each other and everybody's happy and that is how the world should work.''