Young digital entrepreneurs showcase cool innovations
- Wits University
Entrepreneurs at the Wits Digital Tshimologong Precinct show Johannesburg Executive Mayor, Herman Mashaba how creative they are.
Mashaba visited the entreprenuerson 16 May 2018 to explore how Wits University is developing digital entrepreneurs by incubating start-ups in the Tshimologong Precinct and also explored how the precinct is contributing to the elevation of Braamfontein into a tech-hub.
Tshimologong is an e-skills, software innovation and digital knowledge hub. It provides a venue in which it is possible to research and nurture tech hubs.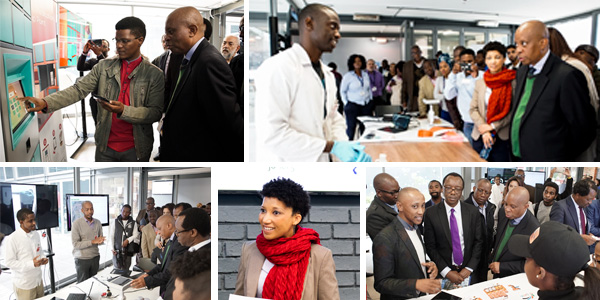 Welcoming the Mayor and his delegation at the precinct– which included Member of the Mayoral Committee (MMC) for Development Planning, Councillor Reuben Masango, MMC for Economic Development, Councillor Leah Ruth Knott and MMC for Finance, Councillor Funzela Ngobeni – Professor Tawana Kupe , Acting Vice-Chancellor at Wits University highlighted how the University is embracing new technologies by integrating digital methods into its teaching and learning strategy.
"We pride ourselves in integrating digital technology in all aspects of our teaching, learning, as well as research. We now have, under the Deputy Vice-Chancellor: Research and Postgraduate Studies, a division on e-research, for example, because we want to harness all these digital technologies in our quest to be a globally responsive, but also a University that uptakes new technologies. Also, the reason why we do this is to create access to education. The history of this country is the history of exclusion – educational exclusion, or even people get inferior education and also failing to develop and maintaining quality," said Kupe.
"We as Wits we are committed to increasing access but access to quality education that is cutting edge and adopts the new and latest technologies."
Lesley Williams, CEO of the Wits Tshimologong Digital Precinct and newly elected member of the Obama Leadership Programme explained to guests the essence of Africa making global contribution in technological advancements.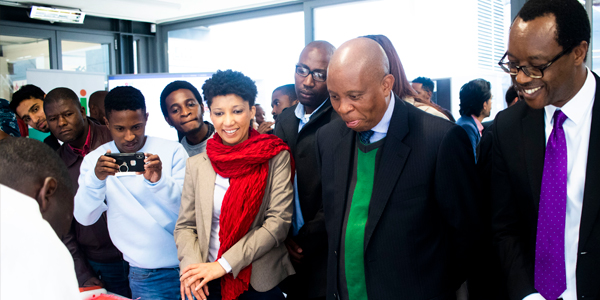 "For us, as Tshimologong, we believe in the narrative of Africa Rising. We also believe in the narrative of Joburg as a world-class city. Our contribution in that is making sure that we are contributing from a technological perspective. We want to take it a step further. As Africans, we believe, we have to go beyond being the consumers of world technologies. We need to be active producers – producers that are locally relevant, but producers that are exporting globally and that's why we exist."
During the visit, entrepreneurs exhibited their innovations to the mayor. Young innovator, Neo Hutiri and founder of Technovera - who won R1million in the 2016 #Hack.Jozi Challenge – showcased his innovation which enables patients to conveniently collect medication in under 2 minutes instead of spending hours on queues. This innovation is enabled through pelebox technology.
Another innovator, Skhona Khumalo, exhibited his brainchild, the Kwela Taxi app, which was launched last month. The app was designed to assist commuters with information pertaining to taxi prices, taxi routes and nearest taxi ranks.