Reptile laundering
- Delia du Toit
PhD candidate Shivan Parusnath plans to use social media and machine learning to help stop illegal reptile trade on global scale.
In 2017, a man who had travelled to South Africa from Japan was caught by Malmesbury police with 48 lizards he had poached from the wild and intended to smuggle out of the country. His sentence was 13 years imprisonment or a R1 million fine. A month later, another Japanese man was caught for the same offence, and a few months after that, two German men.
Parusnath, a PhD candidate in the School of Animal, Plant and Environmental Sciences at Wits, plans to help clamp down on the rampant illegal reptile trade, starting on social media.
His research on a threatened reptile species has already led to changes in the South African legislature.
His post-doctorate, for which he is currently procuring funding, will focus on the sale of South African reptiles on online forums, social media, and at international reptile fairs. His initial research reveals how crucial this study will be.
Parusnath's

documentary on

sungazers

,

Saving Dragons

, recently won the Simon

Mabhunu

Sabela

Award for Best Environmental Conservation film from the KwaZulu-Natal Film Commission
"Without much difficulty, I found several reptile trade groups selling South African reptiles on social media. I've even done some searches on the dark web, which came up empty-handed. Chances are that social media already provide such an easy means to conduct illegal trade that using the dark web isn't even necessary," he says – the dark web, often used for illegal trade, refers to websites that exist on encrypted networks and cannot be found through traditional search engines
Although some platforms have banned the sale of live animals, the rules are not always enforced. "There are many loopholes, such as creating secret groups on Facebook, or pretending to 'rehome' animals – those in the market will know that it's code for a sale, and will contact the person privately," explains Parusnath.
Getting a better idea of the species being sold in this manner, and in what quantities, will help inform legislature and scientific authorities to better protect species threatened by trade.
Besides manual searches and visiting international trade shows, Parusnath also employs machine learning for his research. After feeding an algorithm with training data (images of reptile species to be searched for), the software will be able to access data on which species are being sold online, where they are sold, and at what price, and even identify false keywords or guises used to cover up sales.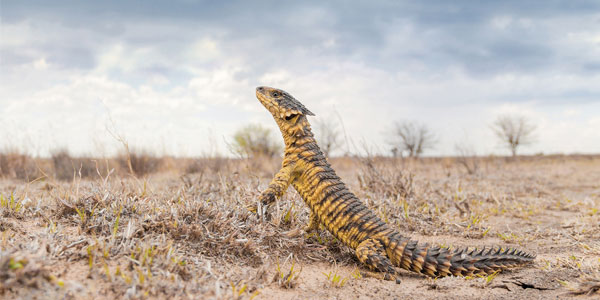 Genetic barcodes
Parusnath has so far concentrated most of his research on sungazer lizards (Smaug giganteus), named for their upward-arching stance when basking in the sun. Over the past decade, several of these vulnerable lizards were shipped or smuggled from South African shores into the hands of exotic reptile collectors, fetching thousands of dollars each. The biggest markets are in Europe, Japan and the USA.
In his PhD, Parusnath focused on investigating the genetic structure of the species by 'DNA barcoding' almost 200 sungazers in 13 different colonies in Mpumalanga and the Free State – their only natural habitat. This was done using microsatellites, special genetic markers he developed especially for the sungazer.
"Microsatellites allow one to understand more about the population and social structure of a species in the wild. You can, for example, determine if a baby belongs to a certain parent, if two animals are first cousins, or if they are not related at all. You can then use this information to learn more about their social behaviour, for example if babies and parents live together in a burrow or not," says Parusnath.
Secondly, the information can be used in regulating trade in the species. Sungazers are listed on CITES Appendix II, a multilateral treaty to protect endangered plants and animals, and species on this list may only be traded if bred in captivity. Microsatellites can help clarify whether animals were indeed bred in captivity when a trader applies for a permit.
The technology is so effective that it's been used to identify poaching hot spots for elephants. When a detailed enough network of DNA barcodes is collected from across a species' distribution, it can be used to determine where an animal came from. Parusnath's network is already big enough to determine if a confiscated sungazer came from the East or West Free State, for example.
Code Red
For his Master's, Parusnath reassessed the conservation status of the species, which was last done in 1978. Sungazer populations had declined 30% since the last assessment, and they're at the same level as rhinos on the National Environmental Management: Biodiversity Act (Nemba) list of Threatened or Protected Species.
His research led to the finding by the South African scientific authority that trade in wild-caught sungazers would be detrimental to the species. A legislative change followed, and trading in sungazers now requires proof of captive breeding before a permit is issued, effectively stopping what is known as reptile laundering, where wild-caught animals are sold under the guise of captive breeding.
Parusnath is also a professional photographer with a number of awards under his belt and uses his wildlife images to educate and raise awareness. "A good photo can make people see an animal differently, and make even spiders, snakes and scorpions more relatable. Some scientists judge their career on the number of papers they've published. For me, it's about making a difference."
Delia du Toit is a freelance journalist.

This article first appeared in 

Curiosity

, a research magazine produced by 

Wits Communications

 and the 

Research Office

. 

Read more in the

eighth issue, themed: #Code

how

our researchers are exploring not only the Fourth Industrial Revolution manifestations of code, such as big data, artificial intelligence and machine learning, but also our genetic code, cryptic codes in queer conversation, political speak and knitting, and interpreting meaning through words, animation, theatre, and graffiti. We delve into data surveillance, the 21st Century 'Big Brothers' and privacy, and we take a gander at how to win the Lottery by leveraging the universal code of mathematics.