New MOOCs for agents of change
- Wits University
Wits University has added two new courses to its free, online WitsX/edX learning platform.
Starting in October, the two courses, Activism and Citizen Journalism through Media and Civil Society and African Media Policy in the Digital Age, focus on various aspects of activism, media, journalism, social media, civil society, and media policy and practice.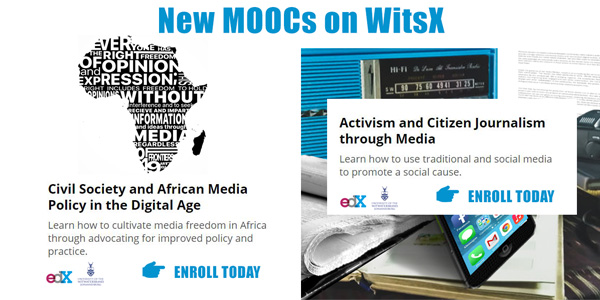 Course: Activism and citizen journalism through media
Media is a powerful tool for promoting social justice. If you are an activist involved in promoting or advocating for a social cause then this free online course is for you. Aimed at people working in civil society and NGOs, it provides a practical guide to using both traditional and social media to promote a social cause.

The course was developed in collaboration with the Centre for Learning, Teaching and Development (CLTD), under the WitsX partnership. The course is designed to equip participants to produce a journalistic story using mobile media tools, to promote social justice. Participants will learn to: identify newsworthy issues; define the limits and possibilities of different mobile platforms and tools, and identify an appropriate strategy and platform/tool to reach a defined target audience. The course also promotes ethical and safe media practices. The course draws on the innovative work of the Citizen Justice Network.
Course: Civil society and African media policy in the digital age
This free, six-week online MOOC offered on the WitsX/edX platform and delivered by Wits LINK Centre academics in cooperation with other African media policy experts.
Media play a critical role in democratic societies by informing citizens, facilitating and building freedom of expression, and fostering access to information. This course will help you to identify the principles and components of democratic media policy and practice, and to identify strategies for effective civil society engagement with these matters in African settings.
This course aims to empower civil society actors in support of a free, pluralistic and independent African media. It seeks to sustain the work of the late South African media activist, Jeanette Minnie, who was devoted to robust civil society engagement with African media policy. Her work showed the value of civil society and media personnel in impacting on state policy, law and administrative action in the interests of freedom, pluralism and independence for media.
About WitsX on edX
In 2014 Wits University became the first African University to partner with edX, the online learning destination founded by MIT and Harvard to offer massive open online courses (MOOCs) to a global learning audience.
The first three MOOCs on the WitsX platform was launched in 2016 and to date 47 477 students have enrolled for eight courses on the platform. Three more will be added to WitsX and will start running in the first half of 2019.