DigiMine strikes gold
- Wits University
Sibanye-Stillwater commits additional R30 million to further mining 4.0 research and development.
Mining company Sibanye-Stillwater has committed an additional R30 million over the next three years towards technology and innovation research at the Wits Mining Institute's Digital Mining Laboratory (DigiMine).
Announced by Alex Fenn, Sibanye-Stillwater's technology and innovation unit manager, at the second two-day DigiMine Seminar, the funding is in recognition for the research and development output already shown by DigiMine.
"Sibanye-Stillwater extends its commitment by an additional R10 million per year over three years towards technology research and innovation at DigiMine," Fenn said.
The funding will be directed towards five core focus areas: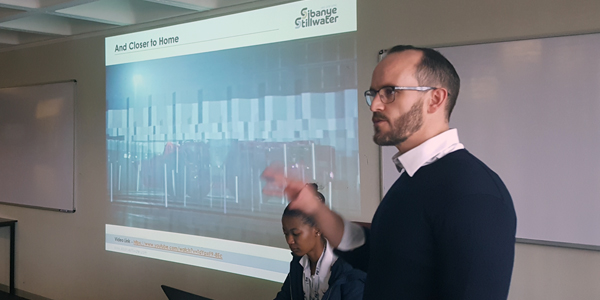 Fenn also read a comment from Neal Froneman, Sibany-Stillwater CEO: "This commitment represents Sibanye's recognition of the criticality of fundamental and applied research, bridging the gap between research and commercialisation, as well as talent and educational development to its technology and innovation strategy. We look forward to the outcomes of the programme as key enablers of our vision of superior value creation for all of our stakeholders through responsible mining and beneficiation of our mineral resources."
Professor Fred Cawood, Director of the WMI, said the Digital Mining Incubator at Tshimologong helps startup businesses in the digital mining space. "Innovators come to the incubator and if their idea makes sense, we link them up with research and development corridors in the University, such as DigiMine, to develop and roll out their idea for industry."
Together with DigiMine, the Incubator's aim is to develop mining-related skills and tools to effectively transform and develop South Africa's 21st Century mining sector.
The DigiMine Seminar focused on DigiMine and Partner Technologies for 21st Century mining, and attracted mining houses' and sector representatives who are interested in digital mining as applied to the underground environment. They gained first-hand insight into DigiMine's research agenda, research outcomes and state-of-the-art technological systems for the mining industry. The Seminar is also part of the DigiMine Short Course programme during which participants could qualify for a Wits Attendance or Competence Certification at NQF Level 7.
Presentations by postgraduate research students, as well as DigiMine past and current research and partner presentations and demonstrations of their system solutions gave attendees an in-depth view of how Fourth Industrial Revolution (4IR) technologies are disrupting and transforming the mining industry.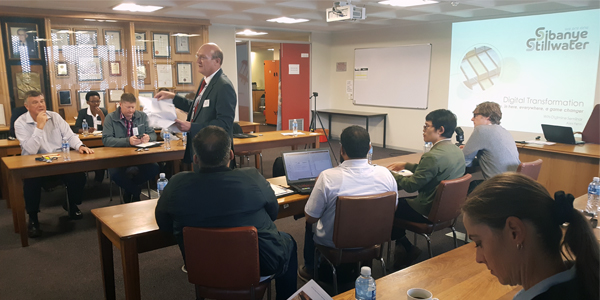 Cawood said due to South Africa's extremely deep underground mining practices, the focus at DigiMine is to make mining safer and sustainable using digital technologies.
This second DigiMine Seminar focused on the enablers for digital mining in South Africa:
Developing wireless communications systems to communicate in near real-time;
Improving surveying, mapping and navigation to know where who and what is in the mine, and to plot it in real-time on the mine map;
Create understanding and knowledge of how sensors can help to understand and detect risks for health, safety and security in mines;
Develop system and data integration for smart mining and decision-making.
"The Fourth Industrial Revolution has a significant impact on the way mines are financed, designed, operated and maintained. I often hear mining is slow to take up technologies but in the past mines have been fast to take up new technologies and were some of the first industries to adopt digital technologies," Cawood said.
"What makes it difficult in the South African mining environment is our harsh conditions underground; our unique ore bodies; the depth of our working; and the skills set of the people that are working with these systems."
He said digital is "the 'e-language' to support profitable, safe and intelligent mining. We have been developing technologies that work well above ground but we need to focus on what is required to extend these digital systems into our deep underground mining environment to enable real-time decision making."
About the Wits Mining Institute
The Wits Mining Institute (WMI) in the Faculty of Engineering and the Build Environment is a platform of long-established expertise in mining-related fields of study, dedicated to expedite the emergence of a 21st Century model of mining that is both sustainable and competitive. The future role of mining in the social economy depends heavily on innovation in every associated dimension. This includes extractive technologies, the full range of up-side and down-stream economic linkages, the distribution of socio-economic benefits, health and safety, environmental externalities and post-mining economic sustainability, while also establishing an enabling environment for the industry's future. The primary focus of WMI is applicable research of the highest quality addressing multi-disciplinary and complex questions. The WMI seeks to influence the world through generating new knowledge, influencing policy, building strategic partnerships and leading society.
About the Sibanye-Stillwater Digital Mining Laboratory (DigiMine)
DigiMine is a one-of-a-kind facility in which the Chamber of Mines Building on the Braamfontein Campus West has been converted into a simulated mining operation, complete with a mine surface (using the flat roof of the building), a vertical shaft (using a stairwell in the fourth quadrant of the building) and a mock underground mine with control room in the basement.
DigiMine is equipped with digital systems to enable research for the mine of the future; our research agenda is to transfer surface digital technologies into the underground environment, enabling a mine to automatically observe, evaluate and take action. The ultimate objective is to use technology to put distance between mine workers and the typical risks they are exposed to on a daily basis.