The Revival of Business Groups' Risk Sharing
When:
Thursday, 28 October 2021 - Thursday, 28 October 2021
Where:
Online Event

Zoom
Start time:
13:00
Enquiries:
RSVP:
The School of Construction Economics and Management invites you to this talk by Dr Masaki Mori, Associate Professor at Ecole hôtelière de Lausanne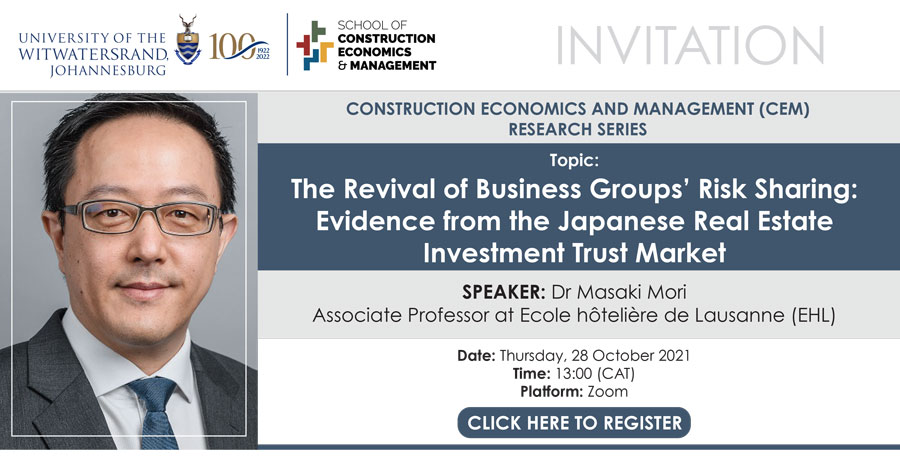 We examine the business groups' risk-sharing hypothesis in the Japanese Real Estate Investment Trust (REIT) market in which the unique external management system seems to be reinforcing power relationships among firms affiliated with the modern Japanese business groups, called keiretsu. We find that REITs whose sponsors belong to one of the keiretsu groups (keiretsu REITs) have significantly lower volatility of profitability than REITs whose sponsors do not belong to the keiretsu groups (non-keiretsu REITs).
There is no significant difference in profitability between keiretsu REITs and non-keiretsu REITs, controlling for firm and property characteristics. The abnormal portion of the profitability unexplained by firm characteristics is also significantly lower with keiretsu REITs.
We also find that the keiretsu affiliation reduces the systematic volatility of affiliated REITs, while such an effect is not observed with the idiosyncratic volatility, suggesting that the risk-sharing effect may be beneficial for the value of REITs. Using the difference-in-differences design with propensity score matching, we find that the negative impact of the Great East Japan Earthquake on the profitability was significantly smaller with keiretsu REITs than with non-keiretsu REITs. Keiretsu REITs were also able to stabilise their capital structure by shifting some short-term debts to long-term debts without increasing the cost of loans under the uncertain situation caused by the Earthquake. Keiretsu REITs were able to borrow money from their affiliated group banks even right after the earthquake, while non-keiretsu REITs seem to have struggled to secure loans from those banks.
Dr Masaki Mori
Dr Masaki Mori has international educational and research experience in Real Estate Finance and Investment in Japan, U.S., Singapore, U.K., and Switzerland. Masaki Mori is constantly ranked as one of the world's academic leaders in the area of Real Estate. Before joining Ecole hôtelière de Lausanne, Masaki Mori was a manager at Nomura Asset Management, Associate Professor of Finance at the International University of Japan, Assistant Professor at the National University of Singapore, and Associate Professor of Real Estate Finance and Investment at the University of Reading. He also served as Associate Dean of Graduate School of International Management of IUJ and Programme Director of Master in Real Estate Finance at Reading. He has taught Real Estate and Finance courses such as Real Estate Finance and Mortgage Banking, Investment, Portfolio Management, Derivatives Markets, and Debt Securities Markets for undergraduate and graduate students as well as for business professionals. He was awarded University-level and School-level teaching excellence awards at NUS. He is also the recipient of a Fulbright Scholarship. Add event to calendar