Are we coping with Covid-19 in SA and Africa? A webinar by Wits Journal of Clinical Medicine
| | |
| --- | --- |
| When: | Thursday, 11 June 2020 - Thursday, 11 June 2020 |
| Where: | Off campus |
| Start time: | 16:00 |
| Enquiries: | |
| RSVP: | https://bit.ly/2zOK7IT |
| Cost: | Free but registration required. |
The Wits Journal of Clinical Medicine & Wits University Press, sponsored by Sabinet, present a Covid-19 webinar on 11 June,16:00 CAT (10:00 EST). #WJCMCovid-19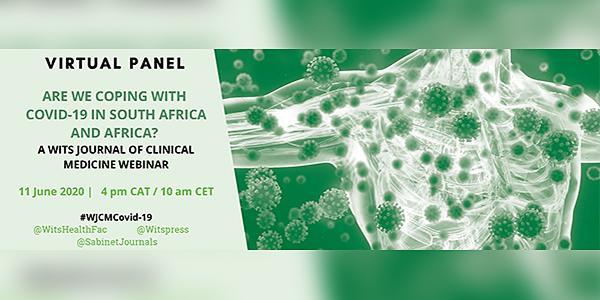 Join medical experts in discussion about current management protocols and the impact of Covid-19 in South Africa and other parts of Africa. (16:00-17:00pm Central Africa Time and 10:00-11:00am Eastern Standard Time for the US & Canada). #WJCMCovid-19
AGENDA
TIME

TOPIC

SPEAKER

SPEAKER BIOGRAPHY

16:00

Introduction to the Covid-19 Webinar

Chair: Prof. Pravin Manga

Editor in Chief: Wits Journal of Clinical Medicine, Emeritus Professor Internal Medicine, School of Clinical Medicine, Wits University

16:05

Covid-19 Diagnostic Testing and Epidemiological Modelling: Controversies

This talk will focus primarily on the controversies surrounding diagnostic testing, taking into account the principles, application and interpretation thereof

Dr Warren Lowman

Pathologist, Clinical Microbiology & Infectious Diseases, School of Pathology

Wits University

16:12

Covid-19: An African Perspective

This talk will cover the management of COVID-19 in Ghana, the projections of COVID-19 spread in Ghana and the rest of Africa, and whether African healthcare systems can cope.

Dr Dwomoa Adu

Consultant nephrologist, Honorary Senior Research Fellow, University of Ghana Medical School




16:19

Covid-19 in the Workplace

This talk with cover staff and unit preparations for Covid-19; Occupational Health and Safety issues; staff isolation, testing and precautions.

Adjunct Prof. Feroza Motara

Academic HoD in Emergency Medicine in the Department of Family Medicine, Wits University; Head of the Emergency Medicine Unit, Charlotte Maxeke Johannesburg Academic Hospital; and Cluster Head of Gauteng Emergency Medicine.

16:26

Covid-19 Therapy: Recent Advances and Research Trends

This talk will cover the up-to-date evidence for various treatment options and current research trends.




Prof. Guy Richards

Emeritus Professor of Critical Care, Wits University

16:33

Preventing Covid-19: Modifying Behaviour


Where the government's response to Covid-19 has been driven by infectious disease experts and epidemiological modelling experts, this talk will cover the need for this to now be boosted by the active engagement and involvement of behavioural scientists, using the best behavioural science available to assist in guiding the ongoing Covid-19 response.

Dr Mark Tomlinson

Co-Director, Institute for Life Course Health Research, Department of Global Health, Stellenbosch University

16:40

Q&A

All Speakers
The Wits Journal of Clinical Medicine is a peer-reviewed, Open Access scientific research journal published triannually, and was established to provide a forum to showcase scientific research from the School of Clinical Medicine at the University of Witwatersrand, Johannesburg as well as from other institutions nationally and internationally. Submissions are welcomed and the journal has a particular focus to encourage clinical and translational research especially from new academics, including students, fellows and junior consultants.

This journal is indexed with PubMed Central.
The current issue of the journal is a Covid-19 Special Issue. The next issue of the Wits Journal of Clinical Medicine will be published in July 2020. Add event to calendar