Events
The Alley and the Killwatch
When:
Monday, 24 April 2017 - Saturday, 29 April 2017
Where:
Braamfontein Campus East
Wits Theatre
Start time:
19:00
Enquiries:
RSVP:
Cost:
Full price = R80.00; discount price = R55.00 (students, pensioners and Wits staff)
The Wits School of Art, Division of Theatre and Performance and Wits Theatre are staging a student production of Dambudzo Marechera's THE ALLEY and KILLWATCH.
The play is directed by Dr Samuel Ravengai, a senior Lecturer and Head of Theatre and Performance. Samuel Ravengai revived No Good Friday in the Wits Downstairs Theatre in 2014 to much public acclaim and directed an Africanised Vumani Oedipus at the Market Theatre in 2015. He has directed over twenty works in Cape Town and Zimbabwe. Although Marechera's other plays have been produced elsewhere, not many have tackled his absurd plays. We take up that challenge and make history by being the first to produce the work in a professional space.
Dambudzo Marechera's work is normally regarded as modernist. His version of modernism is absurdism. Marechera's two plays, The Alley and Killwatch are, arguably, the only absurdist plays he has written. The theatre of the absurd is intent on making its audience aware of humanity's precarious and mysterious position in a world characterised by the decline of religious belief. This theatre does so through a non-plot based story and a pattern of poetic images that produces an essence.
Zimbabwe's liberation struggle that ended with a ceasefire in 1979 was one of the bloodiest and most prolonged wars in the world. Dambudzo Marechera derived his inspiration from the aftermath of this war compelling Marechera to investigate its psychological ramifications that manifested as madness, hallucinations, insomnia and so on. Marechera drew on the experiences he witnessed, in the streets and wrote his absurd plays, The Alley and Killwatch that will be presented as a single production.
His characters in The ALLEY, Robin and Rhodes are outcasts that society has neglected and forgotten. They stick together to while away time and so there is no logical life purpose which one would find in a traditional realist play. Robin mental illness, a Marechera fascination manifests in hallucinations, violence and a fixation on the past while Rhodes has a milder version of madness compounded by his alcoholism. These characters have lost all sense of time.
The Alley depicts characters that fought on the opposite side of the Rhodesian conflict. Rhodes was a medic in one of Zimbabwe African National Liberation Army's (ZANLA) platoons while Robin was party of Ian Smith's Rhodesian Forces. These two characters are now tramps living in a Harare alley. By the end of the play, the two characters, Robin and Rhodes are exactly in the same situation that they were at the beginning of the play. The problem has not been solved. There has been no catharsis. The answer to the questions raised is one play with a series of poetic images that complement each other, but don't form a discursive narrative.
If the rules of good playwriting demand that a play develops a story/plot, in Killwatch, there is no story. If a good play is judged by the revelation of characters who go through an emotional journey that reveals their character traits, in Killwatch this subtlety of characterisation and motivation is absent. If a good story develops on the basis of revealing the backstory about characters, Killwatch does the opposite or if a good story is judged by the depiction of a coherent theme which is neatly exposed and resolved at the end, Killwatch has no beginning and ending.
The whole play, Killwatch, is a transgression of realist/naturalist rules. On the surface, Marechera seems to present before his audience a realist world. However, in this seemingly realistic world, we are confronted by a set of characters that are mysterious. They are metaphysical beings of a nature between deities and humans. They inhabit both our world and that of the spirit world. Furthermore, the two watchmen do not have a past and a future. The playwright does not provide any information about their past and the reasons why they have to be in a café, park and cemetery. Marechera does not explain their actions, thoughts and feelings. Everything happens by impulse. The watchmen derive their pleasure from watching the grief of others in the cemetery. They are sadistic characters. The questions raised are not answered.
Although the plays, The Alley and Killwatch, are entirely dialogue based, the sum total of the utterances does not develop a story at all. The interaction of these characters is in fact a single poetic image to underline the fact that we live in a world of tragedy that we seem to escape. It is Marechera's response to the events of his time characterised by a brutal liberation war and the subsequent civil war with ended in 1987. Because nothing is certain, we deal with versions of truths as opposed to a single truth. This uncertainty is celebrated throughout the plays.
Wits Theatre and Wits School of Arts/Division of Theatre and Performance
PRODUCTION: THE ALLEY and KILLWATCH
VENUE: Wits East Campus, Braamfontein
SEASON: 24 April – 29 April 2017
RUNNING TIME: 60 minutes
BOOKING: www.webtickets.co.za
Full price = R80.00; discount price = R55.00 (students, pensioners and Wits staff).
Tickets are available at the door. Full price = R85.00; discount price = R60.00 (students, pensioners and Wits staff).
Wits Tix R10:00 online and R15:00 at the door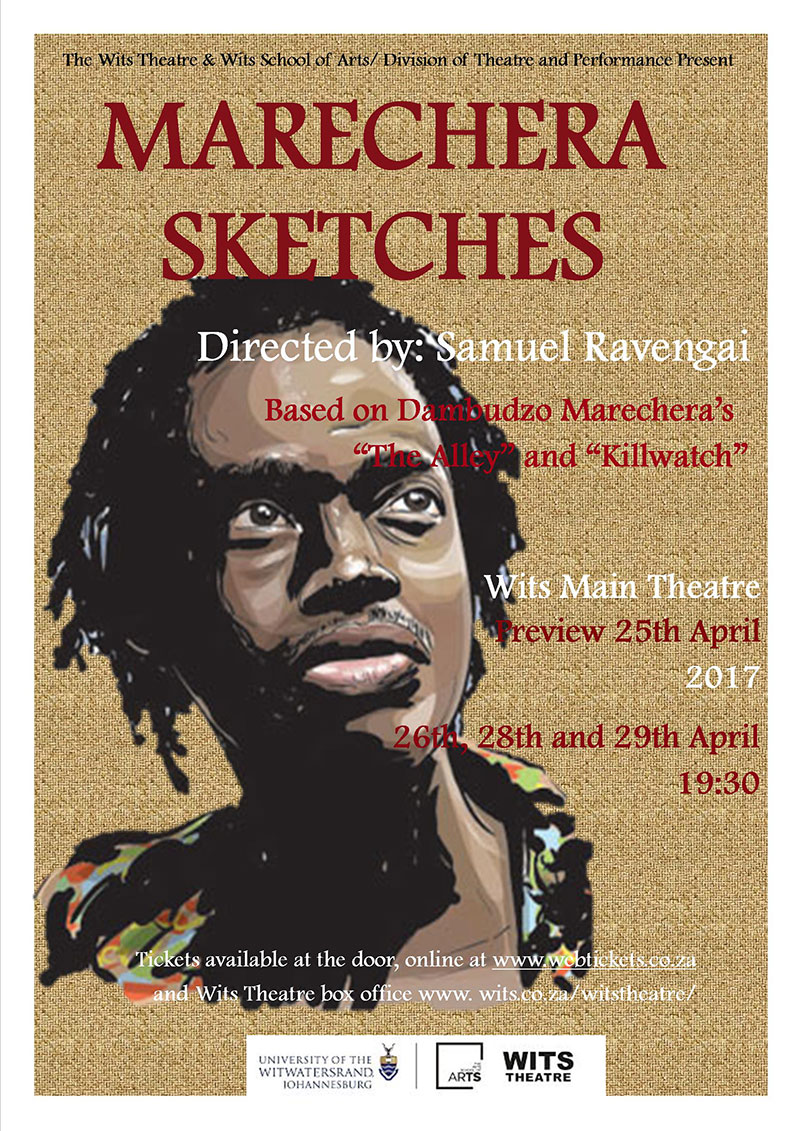 Add event to calendar
Share
Tweet