When the US sneezes...
- Delia du Toit
Different nations' responses to the pandemic should serve as a warning to exercise extreme caution in choosing leaders.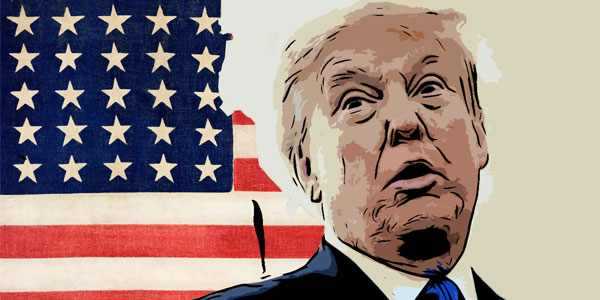 As Covid-19 took hold in Wuhan, China, in December 2019 and the city was quarantined and locked down, experts the world over fiercely debated the ethics and effectiveness of such measures.
And, as the virus rapidly spread across the world in the following months, different nations and their leaders' responses ran the gamut – some enforced strict lockdowns, others seemingly ignored the threat, and headlines of dubious decisions ran almost daily.
In Colombia, the days that residents could leave the house depended on their ID number; President Alexander Lukashenko of Belarus recommended vodka and saunas as protective measures; while Sweden only began instituting lockdown restrictions in December. US President Donald Trump, at one point, speculated publicly on whether injecting disinfectants could kill the virus, leading some disinfectant manufacturers to promptly issue statements warning against ingesting their products.
South Africa was lauded for its early response to the pandemic and later criticised for some bizarre decisions, such as banning tobacco and alcohol, and widespread corruption that dampened relief efforts.
Narcissism trumps science
It soon became clear that some leaders and countries fared better than others, though the issue is much more complex than mere governance. In broad strokes, those leaders who are egotistical and right-wing, including Trump and Brazil's President Jair Bolsonaro, tended to favour denialism and put the economy before lives – and lead in infections and deaths, says Professor Lawrence Hamilton, National Research Foundation/British Academy Bilateral Research Chair in Political Theory at Wits and Cambridge University.
"Countries and leaders that were organised and empathetic in their approach and followed scientific guidance, such as South Korea, New Zealand and Finland, were able to control the spread of the virus and fake news from the outset," says Hamilton.
John Stremlau, Honorary Professor of International Relations at Wits, says these dynamics were at play long before the pandemic. "Covid simply accelerated their effects. Trump is out of sync with the traditions of science and serious inquiry, attempting to discredit the Centers for Disease Control and World Health Organization, and is only interested in himself. Such narcissistic leadership styles were disastrous for managing Covid. These nations became outliers in a time when collective action is the only way to deal intelligently with the problem."
Indeed, several countries started banning travellers from nations that fared poorly in managing the pandemic. After decades of having one of the most powerful passports in the world, US citizens found themselves barred from much of the world, including the European Union nations, the UK, China, Japan and Australia.
Squabbles dismantle BRICS
At the other end of the spectrum, more open-minded leaders and those that approached the problem with science rather than politics – interestingly, most African countries – were able to solicit support from beyond their borders, says Dr Bob Wekesa, Coordinator of partnerships, research and communications at the African Centre for the Study of the US at Wits.
This, however, did not apply to all the BRICS nations (the emerging economies of Brazil, Russia, India, China and South Africa), he adds. "While the BRICS did well through support for member states through the New Development Bank, Brazil's denialism is perhaps the worst case of pandemic mismanagement in the BRICS and, at the same time, tensions escalated between India and China on their common border. What a time for the two emerging powers to go into a fight!"
Knives out for nationalism
Though these varying reactions will have potentially serious implications for politics and international relations, the ramifications won't necessarily be due to Covid, says Hamilton. "If and when normality returns, there's a greater chance of nations returning to the 'normal' dictated by their institutional makeup, rather than being completely different. Those with narcissistic leaders with trust deficits will still face those issues. Right-wing leaders like Trump, Bolsonaro and Russia's president Vladimir Putin are simply not interested in international institutions and have taken the opportunity of Covid to strengthen their nationalistic approach."
The pandemic did cause image problems for some nations, says Wekesa. "Trump's behaviour rendered the US elections a referendum on whether the US should maintain its global leadership or sink further into its America-first isolationism.
"China, where the pandemic originated, will struggle to regain its global soft power even though it managed to control the pandemic earlier than most, suggesting that it will be ahead of the curve in terms of economic recovery. This has great implications for the current geopolitical set-up and so-called decline of the West.
"On home soil, corruption will remain a major economic challenge to South Africa."
Covid has shown how serious the scourge of corruption is, says Hamilton. "If President Cyril Ramaphosa has any chance of getting the ANC and country behind him, he has to find a means of opening the economy and cracking down on corruption."
One thing is sure, agree the experts: the world needs to start working together to prepare for the next pandemic. In an online lecture at the Wits School of Governance in September, Minister of International Relations and Cooperation Dr Naledi Pandor reiterated that a nationalist approach is outrageous.
"We're one people," says Stremlau. "The pandemic was and is a defining moment globally, a reminder that real threats require collective action. It will change the global system. In the case of Trump, who came to the job as a reality TV star and failed casino boss, and did not grow into the job and probably cannot do so, and similar leaders, we have to hope that the change of administration brings leaders who can make use of the talent and expertise surrounding them and understand their obligation."
There are indeed two important lessons here, agrees Hamilton. "First, we must use it to find a roadmap for how we can properly make the health and wellbeing of a state's population the raison d'être of its government. Second, given that it is no accident that those leaders who have responded worst to this crisis have also been the main sources of countless conspiracy theories and misinformation, we must learn to keep oligarchs away from political power."
Delia du Toit is a freelance writer.
This article first appeared in Curiosity, a research magazine produced by Wits Communications and the Research Office.
Read more in the 11th issue, themed: #Viral. Inspired by the SARS-CoV-2 global pandemic, content relates to both the virus that causes Covid-19, as well as the socio-economic, political, and environmental ramifications.