Washing away our heritage
- Kerishni Naidoo
The effect of water on rock art is a major concern, particularly due to climate change.
Droughts, floods and the building of new dams are all threats to South Africa's heritage of rock art – some of which is over 4 000 years old.
Our ancestors might have glazed their rock art with egg white, created brushes from acacia trees and sought pigment from blood, or clay to paint memories, stories and objects of their lives and love.
Much of our rock art is undiscovered, and most of it is unprotected as it is under threat – and water is the most common destructor.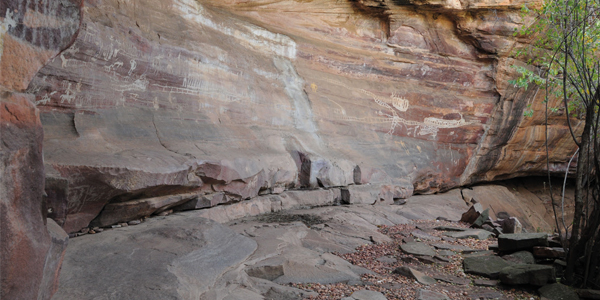 Rock art is threatened by a number of sources says Elijah Dumisani Katsetse (MSc) in the School of Geography, Archaeology and Environmental Studies. But water, dampness and moisture has always been the enemy of preserving art, just ask the curators of the Louvre museum.
Katsetse's masters' research papers have investigated the Impact of Water on Rock Art and solutions, in his subsequent writing, A conservation model for rock art in South Africa: A management perspective.
"The evolution of humanity has placed value on artefacts and preserving heritage and developing techniques to do this. Think of your favourite coffee mug. If you are attached to it but it falls and breaks, you would glue it so that you still have the mug with you, in some form. That's the whole notion of conservation," says Katsetse.
Unlike a coffee mug however, rock art goes back to ancient times, where San beliefs about sacred animals which inspired rain, stories of life of old Sotho civilisations and Khoi self-portraits were captured, often in secret, hidden spaces.
Katsetse says some of his favourite rock art is in the Game Pass area of KwaZulu-Natal.
"Over time, they will disappear. We don't even know the size or extent of the art there. They are from 2 000 or 4 000 years ago… different motifs, eland, Anthromorphs."
The effect of water on rock art is a major concern, particularly due to climate change. "It is a natural element, which means that water varies from place to place. Climate has an effect on the rate of deterioration. With evaporation and condensation over time, water accelerates the rate of decay. We found that guano of birds, when mixed with dust and water, is causing mineral dissolution and deterioration in the Western Cape," said Katsetse.
Last year, a report by the Wits Rock Art Research Institute (RARI) investigated the removal of rock art affected by the rising of the Clanwilliam dam wall in the Western Cape. While that dam is severely affected by drought, its expansion once threatened Cape heritage. The South African Department of Water and Sanitation built a higher wall at the dam which would have flooded 27 rock art sites. The provincial heritage agency approved the removal of three pieces of rock art in April and May 2016. Removal is one method of conserving the art.
Since then, the drought in that province has not helped with art preservation. Along with wind, wildfires and drier conditions, rock art could be adversely affected by salt deposits from evaporation.
Professor David Pearce at RARI says dams are problematic when at capacity, and can literally wash the art away. "We also have a lot of sandstone that is permeable by water, which can destroy the entire rock. But water can assist in some ways too. Mineral deposits from water can act as a sheen and protect rock art by adding a layer of minerals like calcium oxalate."
But Katsetse says while water is a major risk to destroying rock art, he has compared conservation practices in South Africa to that in Australia, America, and Egypt and found another issue.
Katsetse found in South Africa, that there is a lack of conservation intervention planning and research is not directed towards developing conservation treatments or measures that are specific to our climate. Then there are traditional beliefs which come into play, including that only those who have undergone initiation practices can visit some sites.
"We have to draw knowledge from past ways of life and rock art offers a window into the past. We need to preserve this art and access our past, in their context, which means preserving them in their original context," he says.
"One of the ways to conserve art is to engage with the community and to share the significance of rock art with them. At the same time, we must establish good relationships so whatever systems and methods of conservation we use, the community is educated – and they can educate us too – to create strategies to preserve the material of the past."
Read more about the research conducted across faculties, disciplines and entities to help secure humanity's most important resource for survival: water, in the fourth issue of Wits' new research magazine, Curiosity.