Understanding suicide
- Ufrieda Ho
Suicide risk may start in the womb and studies also connect it to factors including smoking, social media and social inequality.
A few days of feeling down followed by a few more down days can pull many into the dark terrain of despair. But for about 800 000 people a year that despair sinks to the rock bottom of suicide.
World Health Organization (WHO) statistics equate these numbers of those who kill themselves to a life lost to suicide every 40 seconds globally. Even more concerning is that the WHO estimates that, for every suicide, there are 20 attempted suicides.
Young people and students in particular are a high-risk group because of the complex range of personal circumstances and pressures they face during this period of their lives, says Fezile Mdluli, a Wits Institutional Researcher who leads the Wits Fit Minds Project.
Wits students and suicide
The project started in 2018, partly to focus on mental health issues after several suicides amongst students. These incidents quickly became an area of strategic importance for the University, but there just wasn't enough data.
"We need our own contextually relevant data and statistics and more research in this area," says Mdluli. "It is the best chance we have to recognise the problems leading to suicide and thoughts of suicide, and to have the relevant university strategies and policies in place that could save a life."
University reality calamity
The university experience can be challenging for many young people, especially those who are the first in their family to attend university.
"Wits has a highly heterogeneous group of students. At least a third of recent student cohorts are first generation university students. They arrive academically capable but the expectations from their families for them to succeed can be overwhelming," says Mdluli.
At the same time, as they advance in their academic careers, the gulf between these students and their families can widen, heightening the sense of isolation.
Students interviewed in the Fit Minds study have remarked that even the portrayal of universities in sit-coms on TV creates a false image for their families, but it is sometimes the only reference point that parents or grandparents have of university life in a big city. The result is that many students believe that their families feel ill-equipped to emotionally support them or are unable to conceive the problems they face.
Professor Nicole De Wet-Billings, who lectures in Demography and Population Studies, is aware of these pressures through her connection to students Wits. Their narratives and experiences, she says, inspired her to examine death notification forms and hone in on the connection between abortion, self-harm, pregnancy and young mothers as one of her key research areas. Her paper on this is expected to be published later this year.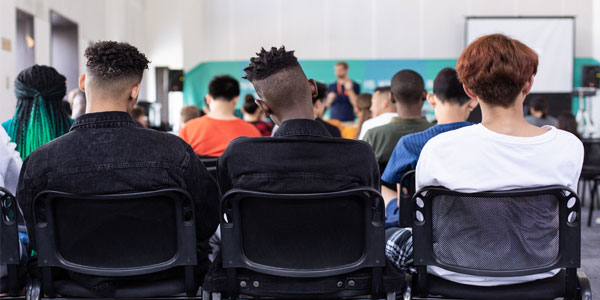 Big picture triggers
De Wet-Billings says it is the connecting points, rather than the specifics, that are worth pausing at to understand suicide risk among young people. The zoomed-out picture shows multiple nexus points, which hold clues to understanding the complexity and the triggers for suicide. It also allows for an examination of the nature of stress and the effect of society's stigmas, unhealthy social norms, and how these factors affect the quality of responses and interventions to minimise suicide risk.
"We have to look at suicide and suicide risk through a lens of inequality, through a historical perspective, a gendered perspective and also through understanding current-day pressures and realities that include what society has stigmatised and normalised," she says.
Stress at university is too easily made a badge of honour – the notion that suffering to achieve is noble and worthy. It can become dangerous when additional personal pressure or a sudden traumatic incident is piled on top of this, says De-Wet Billings. It could be homesickness, a relationship break-up, social media peer pressure, rape or sexual assault, falling pregnant unexpectedly, or losing a loved one. What was a just-manageable pressure spins into the realm of uncontrollable. The student feels singled out and doomed to fail.
"In this age group, things escalate very quickly – pressure turns to withdrawal and silence, then depression, and then self-harm and suicide," says De Wet-Billings.
She says a better response starts with greater awareness of mental health issues from society, more open conversations, and ultimately empathy and compassion.
"It is not normal for students to stop eating properly, or to only be sleeping for a few hours and to be studying for 17 hours to achieve. It leaves an emotional and physical toll on the body and it causes health risks later in life," says De Wet-Billings.
Saving students
Resources and services need to be more accessible, relevant and flexible to adapt to personal needs, she adds. Responding better also means an emphasis on teaching, sharing and practising coping mechanisms that include recognising stress and building support networks. Ultimately, she says, it is just being more human and more mindful, recognising that people may carry more burdens that they don't show.
"We who are in positions of authority, such as lecturers, need to recognise that not everybody starts from the same base. Some students miss classes because they don't have toiletries to have a shower and they know some people may make fun of them. Some students may be late on an assignment because they had to care for a sick parent or have suffered a sexual assault and can't tell anyone. It is up to us to be willing to see, even if we can't fully understand," she says.
Where self-harm begins
Deeper understanding also calls for broader research perspectives into suicide. This is what recently brought visiting academic Dr Massimiliano Orri from McGill University's Department of Psychiatry in Canada to Wits. He presented some of his research at Wits in March, delving into possible factors in utero [in the womb] that may determine lifetime suicide risk.
Orri and his colleagues' work focused on 42 cases and explored possible links between everything from a mother smoking while pregnant to the consequence of a Caesarean section birth over a natural birth, the effect of parents' education levels, and the age of a mother when she gives birth.
His findings have a caveat, though, because "existing evidence is sparse and contradictory", but he and his colleagues write that they can show "prenatal and perinatal characteristics are associated with increased suicide risk during the life course, supporting the developmental origin of health and diseases hypothesis for suicide".
However, Orri says gaps remain. At the same time, the vast unknowns stand as an urgent call to put mental health research higher up on the agenda because knowing more and acting appropriately could save somebody's life.
The Wits Student Crisis Line 0800 111 331 (24/7/365). More information on understanding suicide risk can be found at https://www.wits.ac.za/ccdu/counselling/mental-health-topics/suicide/
Ufrieda Ho is a freelance writer.
This article first appeared in Curiosity, a research magazine produced by Wits Communications and the Research Office.
Read more in the 10th issue, themed: #Mood how our mental health and wellbeing are impacted by the socio-economic, political, psychological, legal, ethical, cultural and technological interpretations of our world.