Traditional answers to mind-body-spirit questions
- Buhle Zuma
Indigenous knowledge is critical in helping people cope with mental health issues that western medicine may not address.
Queue-marshals at taxi ranks are usually a useful source of knowledge when it comes to directing a lost traveller. But when Desiree Malope, a Wits student in Medical Anthropology, travelled to Mamelodi to find the Itsoseng Clinic, the marshals at the Bree taxi rank in Johannesburg couldn't help her. Malope was saved by remembering that the clinic was located inside the township campus of the University of Pretoria.
The Itsoseng Clinic offers psychological support to the community of Mamelodi. Although it is located on a busy main road, it is largely invisible and unknown. Perhaps this indicates the discomfort people have when it comes to seeking help for mental health issues from formal institutions. In contrast, the homes of traditional healers are well-known landmarks in this township as in many African communities. At the taxi rank, you only need to provide the name of the healer and you will be assisted with relative ease.
Holistic healing
For centuries traditional healers or spiritual healers have treated people for physical and mental conditions. These healers are called by ancestors into the profession. However, the former undergoes ubungoma (divination) training while the latter is spiritually inclined and draws on either African or Christian religions. Acceptance of these healers lies in the richness of indigenous therapies, which promote overall wellbeing and are based on the understanding that a person consists of a mind, body and spirit.
Wits Psychology master's graduate, Mahlodi Sehoana, says it is believed that persistent physical and mental illness occurs when there is instability between an individual and their surroundings, which may include family, society and the individual's ancestors.
"The role that the spirit plays in the life of living beings is what makes indigenous health systems unique, providing relevant interventions to users," says Sehoana.
In the traditional African sense, an illness is described as a spiritual illness if it involves an element linked to the intangible or supernatural environment.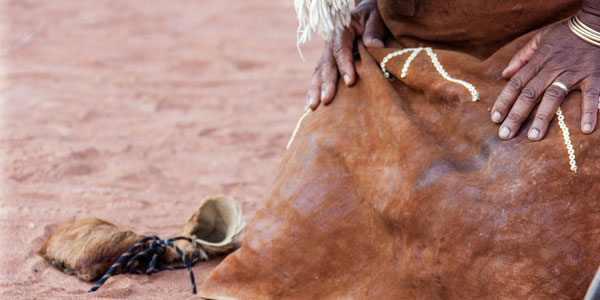 Spirit solutions
A study analysing illness conceptualisation in the African, Hindu and Islamic traditions found that these emphasise that all parts of the self – mind, body and spirit – interact continuously to maintain a harmonious balance in the body. The study, conducted by Professor Sumaya Laher in the Department of Psychology at Wits, found that these traditions all recognise the spiritual dimension and share similarities in how they manage physical, mental, and spiritual conditions.
Sinethemba Makanya, a PhD candidate in Medical Humanities at the Wits Institute for Social and Economic Research (Wiser), is conducting research into African systems of healing and mental health. Makanya says indigenous methods of therapy offer many ways to understand the human condition.
"For example, the cultural interpretation of a person medically diagnosed with depression may yield a different meaning regarding the spiritual state of the person," says Makanya.
Clinical psychologist Anele Siswana incorporates both African epistemologies and Western-Euro ways in his practice. He concurs that depression is a state of 'dis-ease' and may be a symptom of something that warrants ancestral attention. Diagnosis and treatment is guided by the gifts and methods of the diviner, spiritual healer or sangoma.
Depression could be related to not knowing your real surname, which produces conflict among the ancestors (spirits) and results in behaviour change. Makanya says such matters can only be understood through indigenous therapies and would not be evident through Western diagnostic tools, which work through a dual system that considers only the body and mind.
"The true nature of spiritual illness can only be determined by the diviner through the throwing of bones, which is a combination of natural elements and reading these for a message from ancestors," says Makanya.
African understanding of mental health
A 2017 study in Bushbuckridge comprising of 27 in-depth interviews and 133 surveys with traditional healers suggests that the healers believed that relying on modern medicine for mental illness is fruitless, as treatments from clinicians would at best only control symptoms but never cure the disorders, which could only be achieved through traditional care.
The study, by the MRC/Wits Agincourt Research Unit, sought to understand the causes of five traditional illnesses known locally as Mavabyi ya nhloko [sickness of the head] and the treatment practices for mental, neurological, and substance abuse disorders.
Other studies have confirmed that common mental disorders such as depression, anxiety and social difficulties were more likely to respond to traditional treatments. However, these studies found that indigenous systems were less successful in treating major illnesses such as schizophrenia and bipolar disorder – a point that is open to debate, according to Makanya.
Spiritual solutions for millennials
While the Agincourt study says the predictors for seeking traditional care were older age, black race, lower education levels, unemployment, and anxiety or substance abuse issues, Makanya and many others like her don't fit this mould.
As a spiritual healer with a background in psychology and drama therapy, Makanya runs a practice in Soweto where she sees a significant number of millennials, born between 1981 and 1995, and Generation Z-ers, born between 1996 and 2010. Her patients are young and well-educated.
"They feel that something is not working in the system and that their parents have not fulfilled their role of teaching them about African knowledge systems and beliefs. They are looking for direction and trying to make sense of their world," she says.
Leading healers and guides, notably Gogo Dineo Ndlanzi of the Institute of Spiritual Healing and the Umkhulu VVO Mkhize of Umsamo Institute, have legions of followers on social media and other public platforms, signalling the resurgence of African belief systems and spirituality.
Laher, who is an advocate of cultural competency amongst healthcare practitioners, argues there is a need for the mainstream texts used in training to begin actively engaging non-Western [traditional] understandings of illness and critically discussing methods to deal with these. This will enhance practitioner skills and ultimately affect the therapeutic experience and outcome for the patient.
"The ground is already shifting to make way for cooperation between the different perspectives," says Laher.
Main reasons why people use traditional healers:

Less stigma associated with going to traditional healers;

They are accessible;

People understand traditional healing practices; and

Traditional healers are mostly affordable.
Buhle Zuma is Senior Communications Officer for Wits University.
This article first appeared in Curiosity, a research magazine produced by Wits Communications and the Research Office.
Read more in the 10th issue, themed: #Mood how our mental health and wellbeing are impacted by the socio-economic, political, psychological, legal, ethical, cultural and technological interpretations of our world.