Thirsty for change
- Buhle Zuma
Profile: As a photographer, swimmer and researcher, Dyani Jeram's life is all about water.
She is interested in how companies use and account for water and believes that captains of industry should realise water is more than just a resource to ensure profits for their shareholders.
Jeram has always been fascinated by water. Whether she is marvelling at the vastness of the ocean or capturing the coastline with her camera, water seems to have a hold on her. Since the age of 11, Dyani has competed in the Midmar Mile, one of the country's most famous open water swimming races, held annually in Pietermaritzburg, KwaZulu-Natal. The event, which draws thousands of swimmers, has variously been affected by too much or too little water, with participants having to manage varying water levels.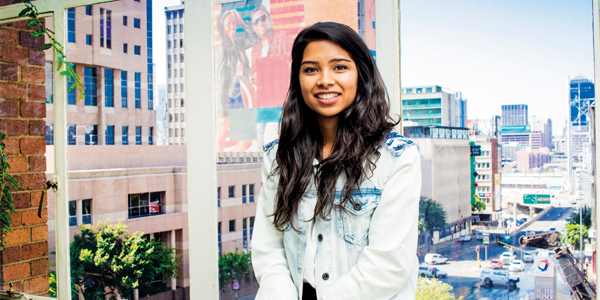 It is little wonder that, whilst working on a project aimed at empowering small urban farmers in Johannesburg, Jeram once again found herself pondering water. Two years ago she had the opportunity to work with farmers belonging to Izindaba Zokudla (Conversations about Food), a multi-stakeholder engagement project that promotes urban agriculture and sustainable food systems in Soweto.
The disparities in water supplies to different parts of the community quickly became evident – whilst some farmers had uninterrupted access to water, other subsistence farmers had no reliable water to grow gardens and keep hunger at bay.
"The importance of water to business came from this exposure. My question became: If water could have such an impact at a local level, how then do major companies manage water risks?" asks the Master's candidate at the Global Change Institute (GCI) at Wits, whose research investigates Water stewardship and resilience in South African businesses: challenges and opportunities.
Watered-down profits
Water stewardship means that businesses should adopt a beyond the-fence approach when it comes to water, and treat it as more than just a resource. They need to see it as an integral part of the environment, society and the economy.
"I am particularly interested in how they [businesses] make use of water and deal with climate change adaptation, how they frame water risks and assess it, who governs water issues, and also the viability of water stewardship and its feasibility for South African companies," says Jeram.
Although South Africa is not the only country facing a prolonged drought – Argentina, Brazil, California in the USA, and Kenya are on a knife's edge and Dublin in Ireland is on high alert – the Cape Town crisis has heightened business awareness in the country.
Analysts predict that the ongoing drought in the Western Cape will slow South Africa's economic recovery. Agriculture, tourism and many other water intensive businesses have felt the impact on their operations and profits. In the face of climate change and drought, water security has become a serious concern.
Whither the water?
Due to the complexity of water issues, Jeram is using a multipronged approach to measure businesses' relationship with water.
As a starting point, she is assessing 40 companies listed on the Johannesburg Stock Exchange that are water intensive, using data from 2010 to 2016.
In addition to using primary data, such as company reports, Jeram is interviewing sustainable development practitioners in major organisations. The National Business Initiative, which is a voluntary coalition of companies working towards sustainable growth and development, has been useful in facilitating contact and easing the data collection process.
An equally important component of her research is to critique the usefulness of voluntary disclosure tools. One such tool is a global water survey administered by international non-profit,
CDP (formerly the Carbon Disclosure Project), since 2010. CDP is a worldwide disclosure system that enables companies, cities and governments to measure and manage their environmental impacts. Regarded as the international benchmark, CDP is credited for driving unprecedented levels of environmental disclosure.
Despite such disclosure tools and advances, Jeram believes there is still room for improvement.
"It is important to move away from the tick-box approach to compliance. Companies need to use disclosure tools to bring about change," says the water warrior, whose Master's research will be completed at the end of 2018.
Water stewardship and profits
Although Jeram is encouraged that companies are making a move towards adopting sustainable practices (with water being just one of many) sustainability departments in companies and their captains struggle to speak the same language, she says. It's a problem of short-term versus long-term gains.
"Most things in nature are long-term. It is sometimes difficult for business leaders to understand the need to change now, when cautioned about their practices. This is why the concept of business stewardship is important," she says.
Johannesburg could see the same problems that Cape Town is experiencing, sooner rather than later, cautions Jeram. The challenges faced by the hospitality industry, for example, which had to mount campaigns to change customer behaviour and attitudes towards water use, highlight these challenges.
It is common to see businesses and schools closing early in Johannesburg when there are water interruptions as a result of infrastructure maintenance and repairs. This reaction, unfortunately, is a sign that the public and businesses are ill prepared for prolonged water threats.
"We need to change now, so that there is no delayed response when it hits us [Johannesburg]," urges Jeram.
Water warriors wanted
For her part, the Lenasia resident tries to educate people about environmental issues and places importance on small changes.
"You don't need to make drastic changes to make a difference. Together, making the small adjustments in our own way can and will contribute towards the change we need," she says.
Jeram considers herself lucky to be working in this field when global attention is focused on climate change and the problem of too much or too little water. Like her name, Dyani – which means "one who gives" – she hopes to make a contribution to water research in Africa.
Her honours research contributed to the City of Johannesburg's Climate Change Adaptation Framework document, led by Professor Coleen Vogel at the GCI. Now Jeram is part of a team of young researchers at the GCI assisting experts in reviewing South Africa's long-term adaptation scenarios.
Read more about the research conducted across faculties, disciplines and entities to help secure humanity's most important resource for survival: water, in the fourth issue of Wits' new research magazine, Curiosity.