The long haul to partial recovery
- Ufrieda Ho
So-called Covid long-haulers afflicted with 'Long Covid' are showing how long and frustrating the journey to recovery can be.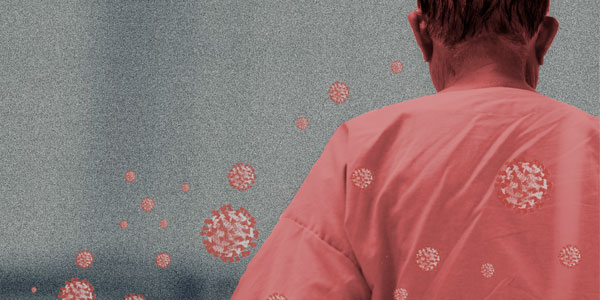 A bit of make-up, sunshine and the laughter of her grandchildren are gifts of a happy life for Faye Khan. After being hospitalised with Covid-19 and surviving, she says she never takes small joys for granted.
Walking a long road to full recovery makes Khan a so-called "long-hauler" of chronic Covid. For doctors, long-haulers signal a necessary shift to focus on the long-term impacts of the virus. Workplaces too will have to adapt as employees may feel unwell for weeks – even months – after getting back to work.
For Khan, Covid-19 came to her as terror and doom and at one of the lowest points of her life. Khan, who works in Marketing and Communications at Wits, received shattering news of her twin sister's death at the beginning of July.
"There was a lot of traffic in and out of the house in Koster [in the North West] and I think that's where I got infected," she says.
Suspicious symptoms
Back in her Johannesburg home a week later, she started feeling tired then suffered severe diarrhoea and vomiting. Her family doctor thought it might be food poisoning but recommended a Covid-19 test if her symptoms did not improve.
Khan says these symptoms felt different and when she lost her sense of taste and smell, she was convinced it was Covid-19. Covid-19 symptoms at the stage of infection can be as varied as dizziness, coughing and shortness of breath, to confusion, leg pains and rashes, including chilblain like lesions on the toes and fingers, known as 'Covid toe'.
The subsequent Covid-19 positive result sent Khan to hospital. As a diabetic with hypertension, she was "terrified".
"My husband had to drop me at the entrance, and they took me to the Covid ward where all the nurses and doctors were in full PPE, you couldn't see their faces. All around me were very sick people on oxygen. I was convinced I was not going to get out of there. I never slept because I was so scared that I wasn't going to wake up again, and not being able to see my family was the worst," she says.
Managing comorbidities
With a shortage of beds Khan was discharged after five days when she was considered to be out of immediate danger. She was given an after-care booklet and instructions to self-isolate.
And so began her long convalescence. Only after six weeks did Khan feel like leaving her home. She says even video chats made her feel low as her self-esteem plummeted and depression set in.
"You just feel tired and sick. Even now I have sores in my mouth from being so dehydrated. I lost so much weight so fast. My doctor said all my organs were affected and my immune system was completely run down so he's had to change my medication."
She had to have counselling for the grief of losing her sister and the impact of Covid-19 and was prescribed a temporary course of anti-depressants and sleeping tablets. Mounting medical and dental bills are also a worry.
Doctor as patient
Fatigue and exhaustion after exertion were also the persistent symptoms that affected Professor Emeritus Guy Richards, a Critical Care specialist at Charlotte Maxeke Johannesburg Academic Hospital and Wits, who contracted Covid-19.
He calls it a hazard of the job, but Richards says his biggest fear materialised when his wife and son were infected.
"My second biggest concern was not knowing the degree of severity that the virus would have on each one of us," he says, adding that up to 20% of people require hospitalisation and 5% of people will need to be in ICU.
He monitored himself and his family by testing levels of oxygen in their blood and levels of inflammation. His son got better quickly but he and his wife had to start on treatments of dexamethasone, a corticosteroid used for its anti-inflammatory and immunosuppressant effects.
Richards says: "It is difficult to document long-term symptoms and effects directly linked to Covid-19 because there isn't something like a blood test you can do."
Lingering malaise
Long-haulers have reported everything from persistent cough and fatigue to gastro-intestinal problems, racing heartbeats to brain fog and ringing in the ears. When doctors can't pin-point or treat people effectively, they can feel unsupported and their anxiety worsens. Post-traumatic stress and depression also takes root.
Richards says doctors have to listen more to patients' individual, and wide-ranging complaints. "Once you've ruled out respiratory complications, blood clotting issues and heart complications, then it's about helping patients adapt and accept that there are some things that they will not be able to do as well as they did before they got ill, and this can be for weeks or months even."
Richards flags that Covid-19 has helped to bring renewed awareness of Post-Intensive Care Syndrome (PICS), which can occur when any patient who has needed treatment in ICU does not return to their former level of physical, mental or cognitive function for months, even years, after being discharged.
Online support groups for Covid long-haulers have sprung up. The South African Facebook group had 13.8K members as of October. It calls itself a platform to "give each other emotional support and any other useful information while in the fight of Covid-19 quarantine".
A World Health Organization report released in September confirms growing data on lingering symptoms. "There are many case reports from people who do not regain their previous health … and risk factors for persistence of symptoms include high blood pressure, obesity and mental health conditions."
The report highlighted data from the 2003 SARS (also a coronavirus) outbreak, stating that patients reported "persistent and significant impairment of exercise capacity and health status over 24 months. Health workers who had SARS experienced even more marked adverse impact and 40% of people recovering from SARS felt chronic fatigue symptoms 3.5 years after being diagnosed".
Richards says it means not dropping the ball on prevention. And the message hasn't changed: wear your mask, wash and sanitise your hands and keep to social distancing guidelines and well ventilated spaces."
Ufrieda Ho is a freelance writer.
This article first appeared in Curiosity, a research magazine produced by Wits Communications and the Research Office.
Read more in the 11th issue, themed: #Viral. Inspired by the SARS-CoV-2 global pandemic, content relates to both the virus that causes Covid-19, as well as the socio-economic, political, and environmental ramifications.