The first homes at Wits
- Deborah Minors
The history of housing, student accommodation and segregated living at Wits University.
Before Wits became a University officially in 1922, it was the School of Mines. In 1911, the School acquired Sunnyside, Lord Milner's former residence in Parktown. Sunnyside was to become a Wits student hostel and building began in 1920. College House, the men's residence, was first occupied in 1921 while Dalrymple, the women's residence, received its first students in 1922.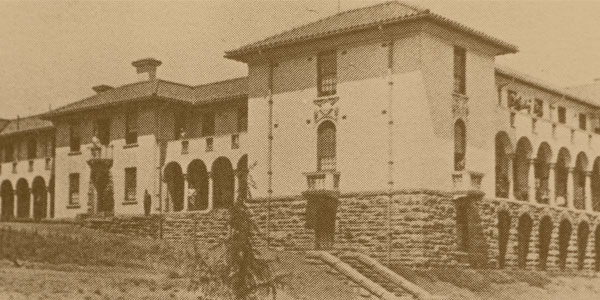 Men's Residence, 1929
In 1928, hostels were allocated £60 000 of the £500 000 budget from the Government Building loans. In 1930, the women's residence at Milner Park opened. That year, the student numbers totalled 1 609, rising to 2 544 by 1939. At that time, 53% of students came from Johannesburg, 11% from other Reef towns, and 18% from elsewhere in the Transvaal. The Orange Free State and Cape Provinces each provided 6% of the student population, and Natal, 3%.
Out-of-town students were accommodated in three residences – College House, Dalrymple House for 150 men, and Sunnyside (later Isabel Dalrymple) for 100 women. The remaining students who didn't live at home resided in training college residences, or in private lodgings in Berea, Auckland Park and Braamfontein, north of Jorissen Street.
The majority of black students who came to Wits in the 1940s came from outside of Johannesburg. Initially, black students attending the Wits Medical School stayed at Wolhunter Native Hostel in Sophiatown, west of Johannesburg. In 1944, the Native Affairs Department agreed to £30 000 for construction of a residence for black medical students. The Douglas Smith House for Africans, located on Showground Road (today Enoch Sontonga Avenue) opened in 1946 for 30 men and six women – unique amongst Wits residences in that it accommodated both men and women.
The University made no provision for Indian students despite their petitioning for a hostel in 1941. Indian students had to find lodgings in religious hostels or private households, predominantly in Fordsburg, Vrededorp and Newtown.
Student housing more than doubled after World War II with the creation (for white students) of new residences and bungalows. Cottesloe Military Hospital in Auckland Park accommodated ex-war volunteers, including 400 single men and 30 married couples. Further afield, at Frankenwald, bungalows were built for 60 male students who were taking the Soil Conservation course at Wits.
On campus, College and Dalrymple House for women accommodated 270 students. Other men stayed in Knockando and women in Medhurst. Around one third of the fulltime student body lived on campus on the immediate surrounds.
At the end of the 1950s, Wits residences accommodated some 750 students – around 15% of the student population. The men's hall of residence on campus, College House and Dalrymple House, accommodated 150 men; Isabel Dalrymple House ("Sunnyside") housed 160 women; Cottesloe, 400, and the Douglas Smith House for Africans, 36. Today, Wits accommodates about 6 200 students, although the demand for accommodation is estimated at 14 000.
Sources:
Wits the Early Years, A History of the University of the Witwatersrand, Johannesburg and its Precursors 1896-1939, Bruce K. Murray, Wits University Press, 1982.
Wits the 'Open' Years, A History of the University of the Witwatersrand, Johannesburg 1939-1959, Bruce K. Murray. Wits University Press, 1997.
Deborah Minors is a Senior Communications officer in Wits Communications.
This article first appeared in Curiosity, a research magazine produced by Wits Communications and the Research Office.
Read more in the seventh issue, themed: #Ekhaya (isiZulu for 'home') about our homegrown research that crosses borders and explore the physical spaces we inhabit, where we feel we belong, where we're from and what we identify with, including the physical/psychological space we may return to – or reject.